Crufts accused of cruelty after German Shepherd with sloped back wins best in breed
Many viewers criticised Crufts for allowing the German Shepherd dog to enter and win the competition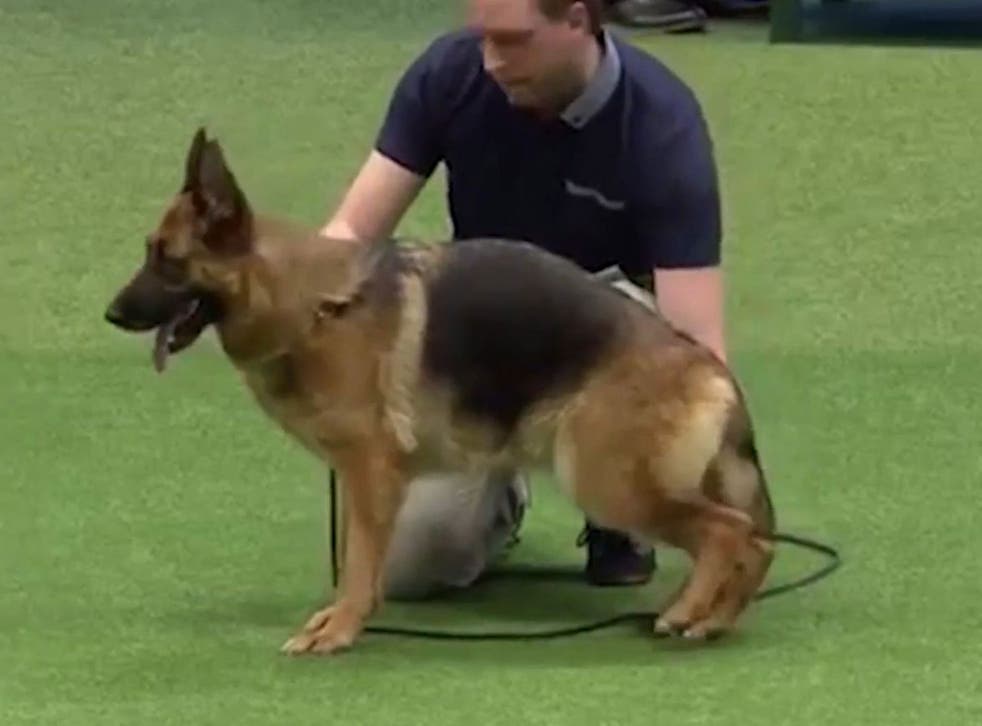 Crufts has been accused of perpetuating cruelty to animals after a German Shepherd with a sloped back was named best in breed by judges.
Hundreds complained to the Kennel Club over footage of Cruaghaire Catoria which shows the dog with a slanting back seeming to impede the movements of her rear legs.
Many viewers criticised Crufts for allowing the three-year-old dog, bred by Susan Cuthbert, to enter and win the competition.
A statement from the RSPCA said it was "shocked and appalled" to see a dog with "such poor conformation that it could not move freely winning Best of Breed".
"We would question how the dog had been allowed to have qualified for Crufts. In doing so, this dog, like all Crufts competitors, would have been awarded on at least one other occasion, suggesting this is unlikely to be an isolated incident.
"Fault cannot lie solely with the judge at Crufts but is also the responsibility of those who have previously awarded this dog and enabled it to progress so far in the process to be appearing in the Crufts showring."
The RSPCA added: "Many other dogs at Crufts showed visible signs of poor health and/or discomfort as a result of their exaggerated conformation. For example, the winner of the Toy group, a Pekingese, was panting heavily and struggling to breathe. This illustrates why there is an urgent need to review the breeding and judging process."
Crufts Dog Show 2016

Show all 20
A statement from the Kennel Club said: "Concern for the health of German Shepherd Dogs is reflected in the fact that the breed is classed as 'category three' under the Kennel Club's Breed Watch scheme. Many of the category three breeds have seen vast health improvements but we know that some breeds still have further to go.
"We will be looking at what support we are giving to particular breeds to ensure continued improvement, and we will also be reviewing judges who appear to disregard the health instructions they are given since they play a significant part in this process.
"The Kennel Club Charitable Trust has recently funded a study by the University of Surrey looking into the conformation and movement of German Shepherds, as part of our commitment to improving the health of this breed."
Register for free to continue reading
Registration is a free and easy way to support our truly independent journalism
By registering, you will also enjoy limited access to Premium articles, exclusive newsletters, commenting, and virtual events with our leading journalists
Already have an account? sign in
Register for free to continue reading
Registration is a free and easy way to support our truly independent journalism
By registering, you will also enjoy limited access to Premium articles, exclusive newsletters, commenting, and virtual events with our leading journalists
Already have an account? sign in
Join our new commenting forum
Join thought-provoking conversations, follow other Independent readers and see their replies