Majority of drivers involved in fatal collisions with cyclists avoid jail time, figures show
Just a third of drivers lose their licence following a deadly crash involving a bicycle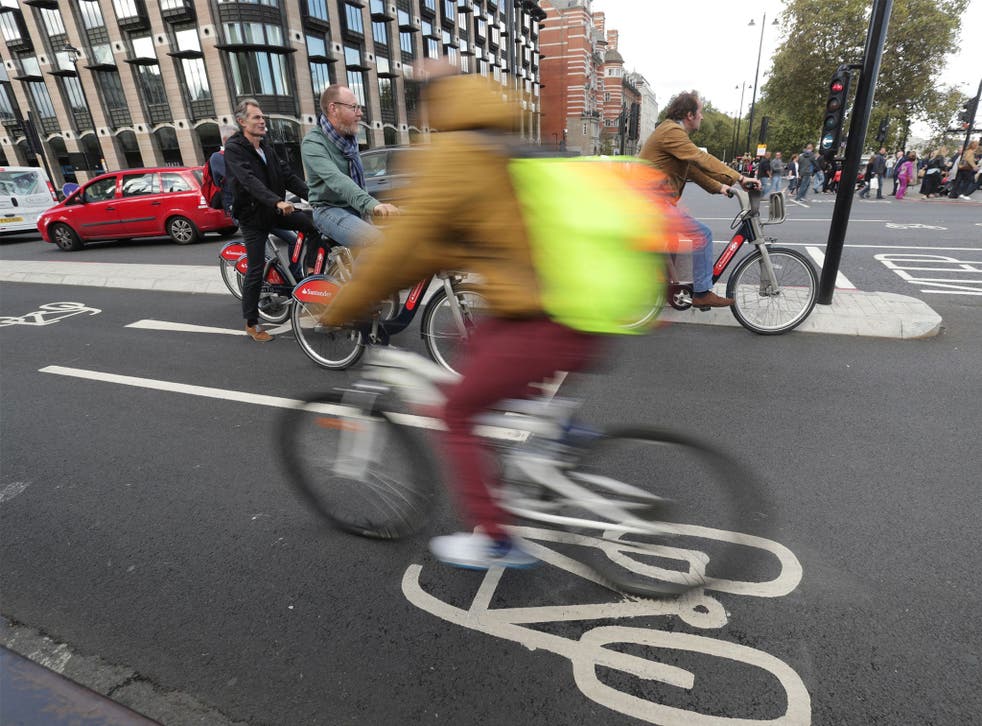 Less than a fifth of drivers involved in fatal collisions with cyclists receive a custodial sentence, figures suggest.
Just a third of drivers lose their licence following a fatal crash involving a bicycle, data obtained by Cycling UK revealed.
Figures released by 10 police forces under the Freedom of Information Act covering the period from 2007 to 2017 showed 209 cyclists' deaths were recorded.
Of those, 86 drivers were charged with a 'causing death' offence, either by careless or dangerous driving, of whom 66 were successfully convicted.
Just 31 of those received custodial sentences.
Cycling UK's head of campaigns, Duncan Dollimore said: "Back in May 2014, the government saw sense and announced its intention to hold a wide scale review of road traffic offences. Four years on and with thousands of lives lost on our roads, little has been done. That's short sighted and is a shocking failure to act that ignores the greatest dangers on our roads."
The figures do not include the majority of the country's 43 police forces, with many stating they did not hold the information. Among those not to provide the data was the UK's largest force, the Metropolitan Police.
In February 2014, 70-year-old teacher Michael Mason was cycling on Regent Street in London when he was hit from behind by a black Nissan Juke. He died 19 days later having never regained consciousness.
Gail Purcell, 59, was cleared of careless driving following a crowdfunded private prosecution.
Dashcam video captures moment child cycling in Bromsgrove is almost hit by car
Cycling UK's Cyclists' Defence Fund (CDF) took up the case after the Metropolitan Police refused to refer it to the Crown Prosecution Service for advice on whether to charge Ms Purcell.
The organisation brought the prosecution with support from more than 2,000 people who donated more than £80,000 to help fund the case.
Mr Dollimore said at the time that he was "disappointed and concerned about the message this conveys to the general public regarding driving standards", adding that "careless driving is supposed to be driving which falls below the standard expected of a competent and careful driver".
Since the government promised its review of road traffic offences four years ago, an estimated 465 cyclists have died as a result of collisions with motor vehicles in England and Wales.
Mr Dollimore said Cycling UK accepted a prison sentence was "not always the answer" and backed far greater use of driving disqualification.
"Drivers who pose a risk have no place on our roads, and the law should be strengthened to ensure their removal," he said.
"Whether you're walking, cycling or driving, we all deserve traffic laws that deliver justice and it's about time the government ensured that they did."
Register for free to continue reading
Registration is a free and easy way to support our truly independent journalism
By registering, you will also enjoy limited access to Premium articles, exclusive newsletters, commenting, and virtual events with our leading journalists
Already have an account? sign in
Register for free to continue reading
Registration is a free and easy way to support our truly independent journalism
By registering, you will also enjoy limited access to Premium articles, exclusive newsletters, commenting, and virtual events with our leading journalists
Already have an account? sign in
Join our new commenting forum
Join thought-provoking conversations, follow other Independent readers and see their replies