Cyclist numbers fall across England as ministers urged to double cycle spending
Government spends £7 per head per year on cycling in England outside London – less than half the £18 per head spent in the capital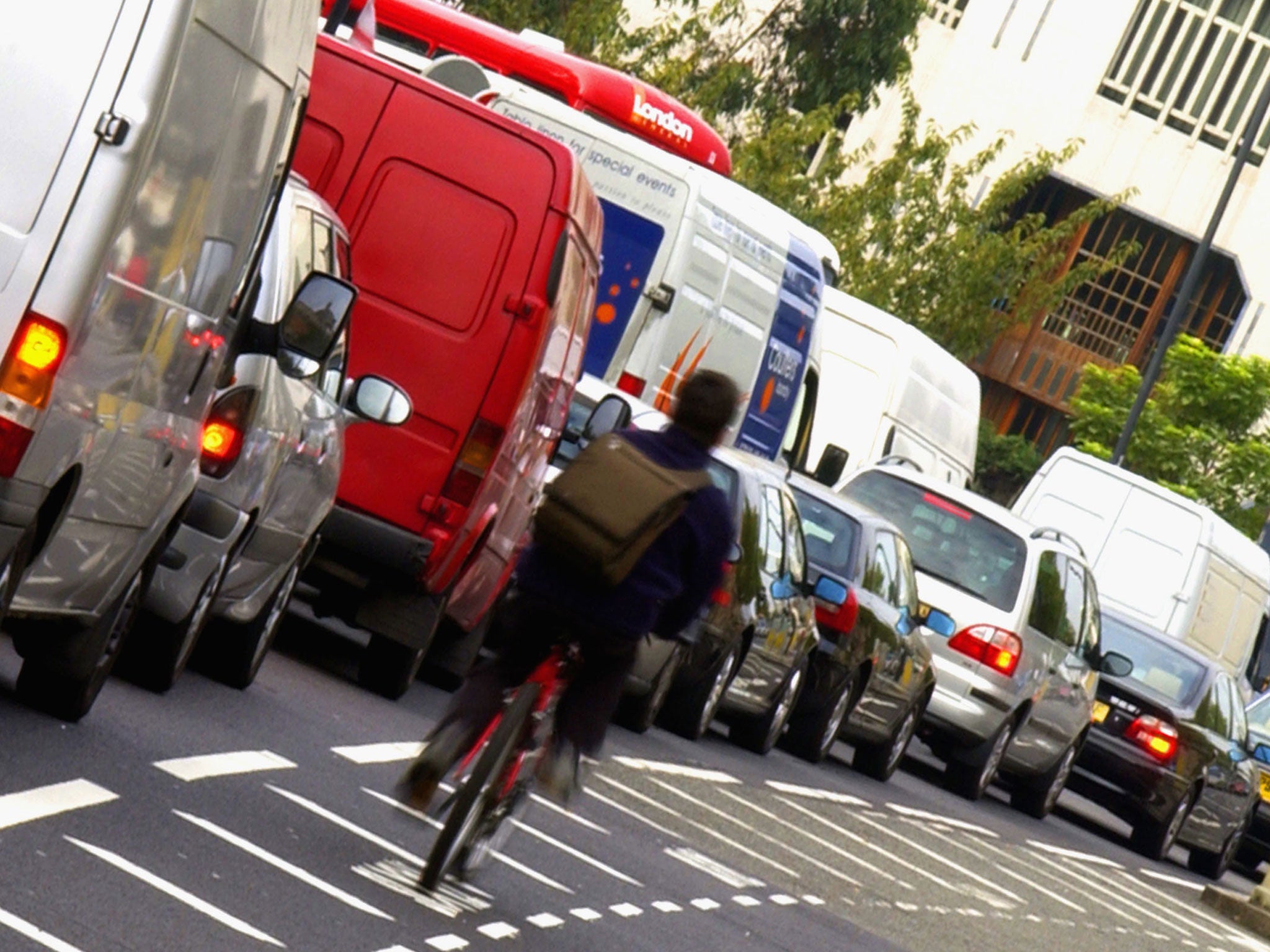 The number of people travelling by bicycle in England fell last year, according to official figures, prompting campaigners to call on the government to ramp up spending on cycling.
Across the country as a whole, the proportion of adults cycling at least once a week fell from 12 per cent in 2015/16 to 11 per cent in 2017/18. The Department for Transport described the drop as "statistically significant".
That came despite increases in cyclist numbers in major UK cities, including London where cycling journeys grew by 5 per cent last year.
Campaigners pointed to the disparity between cycling rates in the capital and the rest of the country as proof that more money was needed to improve road safety and encourage greater numbers onto their bikes.
The government currently spends £7 per head per year on cycling in England, excluding London - less than half the £18 per head spent in the capital.
Britain's stupidest cycle lanes
Show all 13
Surprisingly, the City of London recorded the largest decrease in cyclists, from 22 per cent to 11 per cent.
However, the report cautioned that the small sample size of the central London district may have skewed the result.
Men continue to outnumber women on bikes by more than two-to-one, the report showed. A perception that it is too dangerous to ride a bike is still the main reason people are put off switching to two wheels.
Male cyclists made an average of 25 trips per year compared with just 10 trips for women, with those aged 40-49 most likely to cycle.
The survey suggested little progress has been made nationally in promoting cycling as an efficient, healthy and cost-effective mode of transport.
Despite efforts to increase cycling uptake to tackle air pollution and reduce greenhouse gas emissions, just 2 per cent of all trips made in England are completed by bike – amounting to just 1 per cent of the total distance travelled.
That compares with close to two-thirds (61 per cent) of journeys being made by car and around a quarter (27 per cent) on foot.
Support free-thinking journalism and attend Independent events
Duncan Dollimore, Cycling UK's head of campaigns, said: "Despite government recognising the need to encourage and enable more people to cycle regularly for health and environmental reasons, unfortunately the proportion of trips made by bike has remained largely static for 20 years. When asked what stops people from cycling more often, the common response is that it's too dangerous.
"The reality is that cycling is not a dangerous activity, but it's this perception which needs to be tackled.
"To do this, we need to build cycling routes separated from motor traffic, safe for a 12 year old to ride along. That requires at least a doubling of current spending on cycling and walking, which must be a priority for the Department for Transport in the forthcoming Spending Review."
Join our commenting forum
Join thought-provoking conversations, follow other Independent readers and see their replies