50 cyclists killed or seriously injured every year because of Britain's poor roads
Total of 46 people killed or seriously injured because of unsafe road surfaces in 2015, statistics show
Tom Batchelor
Thursday 19 January 2017 19:37 Comments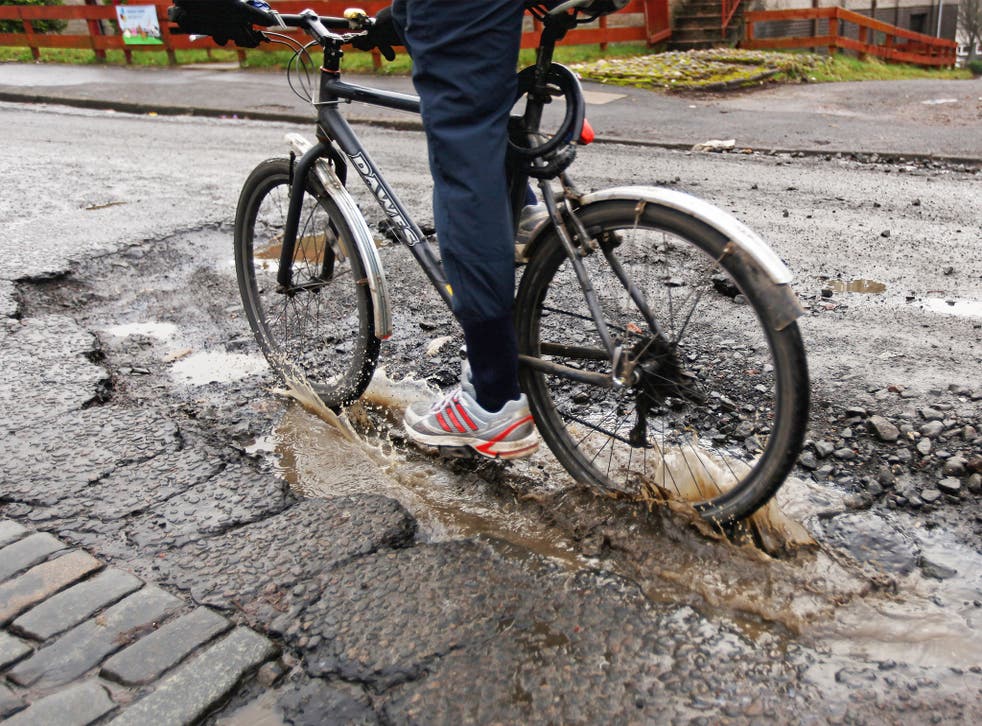 Dozens of cyclists are being killed or seriously injured every year because of poorly maintained roads, figures show.
Cycling groups have warned of a "worrying" upward trend of deaths and injuries on British roads after new data revealed almost 100 people had died or been left with life-changing injuries as a result of accidents caused by potholes and cracks in the tarmac over a two-year period.
In 2015, the last year for which figures are available, 46 people were knocked off their bikes because of unsafe road surfaces. A year earlier, 53 cyclists were killed or seriously hurt.
The total of 99 for the period is likely to be even higher as one in four accidents does not have the cause of crash recorded by a police officer.
Iranian women continue to defy cycling ban
Former Olympic and Tour de France cyclist Chris Boardman warned that while cyclist fatalities are "extremely rare, far too many people are being injured on our roads".
Speaking to The Independent, the British racing champion said the Government had failed to deliver a coherent strategy for how to double the number of cyclists on the country's roads – a pledge made by the Department for Transport in 2014.
"Investment in cycling infrastructure is set to fall to less than £1 per head during the course of this parliament," he said.
"It is ludicrous to expect country-wide action with this amount of funding; it will take us in the totally wrong direction."
Transport minister Andrew Jones revealed the latest figures in response to a question by Liberal Democrat leader Tim Farron, who has previously called for greater protection for rural cyclists.
The statistics suggest the situation for the country's road users is deteriorating, with 2014 seeing a spike in cyclists' injuries and deaths.
In the four years prior to that, stretching from 2010 to 2013, 158 cyclists were injured or killed - an average of 40 per year.
Sam Jones, campaigns coordinator at Cycling UK, said: "While the number of KSIs [killed and seriously injured] due to defective road surfacing for 2015 was thankfully down from 2014, the overall trend is on the up, and very worrying.
"With a pothole problem that is estimated will cost £14bn to fix, the Government's commitment of £6bn is a bit like using a sticking plaster to fix a broken leg.
"Defective road surfaces are particularly worrying for our most vulnerable road users, as it is trips to the hospital not the garage that they potentially face."
In one high-profile accident, a cyclist was killed when he hit a pothole during a charity ride from Land's End to John O'Groats. His wife was awarded a six-figure payout in 2015 .
A Department for Transport spokesperson said: "Britain has some of the safest roads in the world but we are committed to reducing the number of cyclists killed and seriously injured. On top of a THINK! campaign to improve cycle safety we are spending £300 million on cycling funding in this Parliament and are also providing over £7 billion to improve the condition of our road surfaces to make them safer for all road users."
Register for free to continue reading
Registration is a free and easy way to support our truly independent journalism
By registering, you will also enjoy limited access to Premium articles, exclusive newsletters, commenting, and virtual events with our leading journalists
Already have an account? sign in
Join our new commenting forum
Join thought-provoking conversations, follow other Independent readers and see their replies