Cyclists stage another mass 'die-in' protest at Bank in continuing battle to raise awareness of cycling safety in London
Mayor must 'close this murderous junction and spend 10 per cent of the transport budget on cyclist safety', says campaigner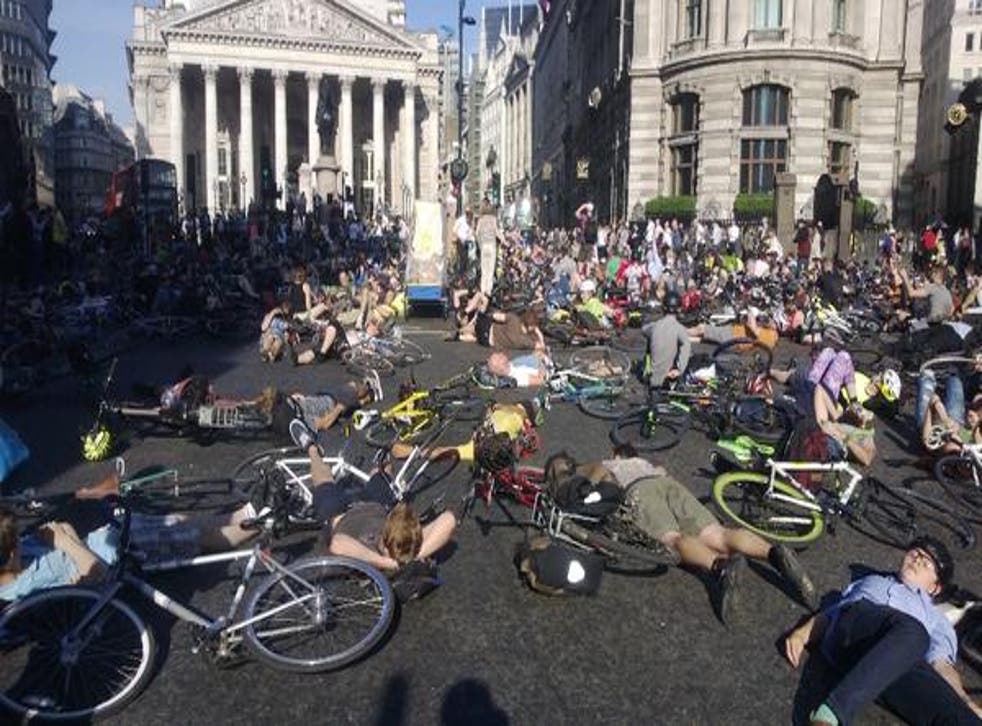 Hundreds of cyclists sent London's Mayor 'a huge, dignified, silent roar from the heart of the City' last night as the crowd stepped off their bikes and 'died' at the busy Bank junction.
The mass protest – organised by Stop Killing Cyclists' co-founder, Donnachadh McCarthy – marked one week since the death of an Oxbridge graduate and was the third demonstration to happen in London in just six days as campaigners continue to battle to raise awareness of cycling safety.
Mr McCarthy added that the cyclists' message to the Mayor was: "Close this murderous junction and spend 10 per cent of the transport budget on cyclist safety."
26-year-old Ying Tao was hit by a lorry outside the Bank of England last Monday during the morning's rush-hour and, despite being treated by paramedics on the street, she succumbed to her head injuries and was pronounced dead at the scene 40 minutes later.
The PricewaterhouseCooper strategy consultant's husband joined the protesters last night – after only celebrating his one-year wedding anniversary with Mrs Tao last month.
An events officer for an environmental charity, Amy Everard, told the London Evening Standard she felt compelled to attend last night's event as she frequently cycles herself.
She added: "It's a shame the government and local councils seem to disregard the safety of cyclists.
"I get annoyed about people who blame cyclists and lorry drivers I think it's about everyone working together to make the infrastructure better for everyone."
Yesterday's protest came on the same day that two other female cyclists were hurt in crashes with HGVs.
One was rushed to hospital after a collision with a lorry near Blackfriars Bridge yesterday morning and the other was involved in a crash at nearby Old Street – just as the protest was getting underway.
Mrs Tao is now the eighth cyclist killed in London this year and the seventh to be killed by a lorry.
Register for free to continue reading
Registration is a free and easy way to support our truly independent journalism
By registering, you will also enjoy limited access to Premium articles, exclusive newsletters, commenting, and virtual events with our leading journalists
Already have an account? sign in
Join our new commenting forum
Join thought-provoking conversations, follow other Independent readers and see their replies