Dachshunds should no longer be bred with 'exaggerated' features, new guidance says
Dogs, which suffer back problems due to short legs, now 'the breed of choice' on social media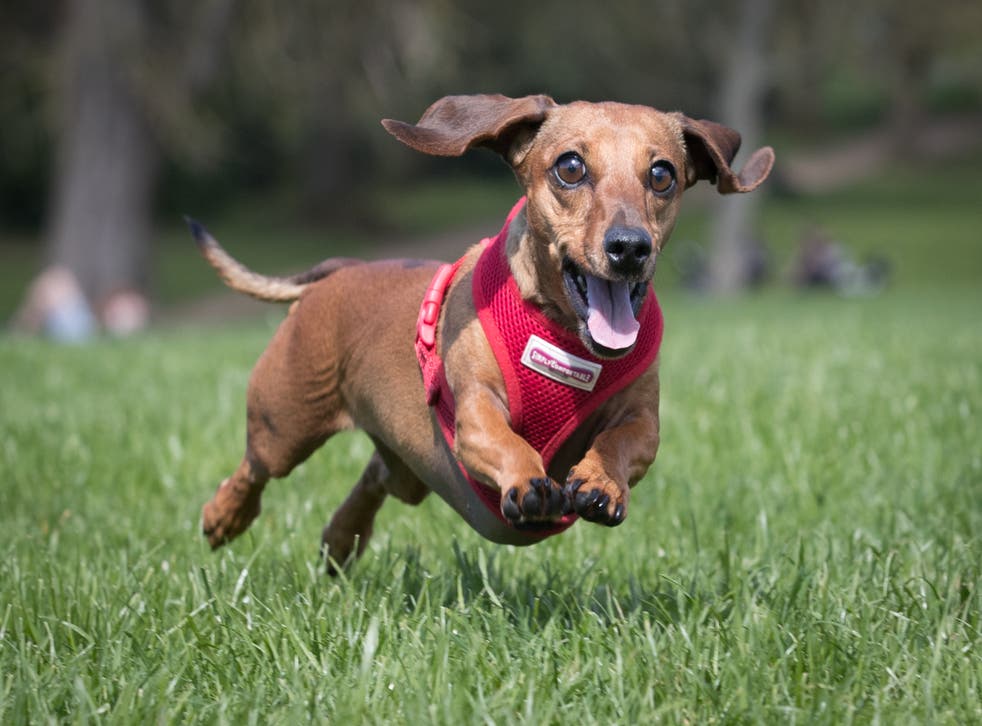 Dachshunds should no longer be bred with often-harmful, exaggerated features to make them appear "cute", The Kennel Club has said.
The organisation confirmed it was tightening its rules for breeding after a "huge increase" in the dogs' popularity in recent years, describing it as, "the breed of choice for advertisers, on social media and with celebrities".
The authority on breeding standards last updated its stance in 2014, also advising against exaggerated features but specifying that the dogs' bodies should be "moderately long and low".
The guidance now stipulates that dachshunds should be "moderately long in proportion to height", in a move aimed at cracking down on the breeding practices which can cause back problems.
The bodies should have specific proportions to ensure "enough ground clearance", according to the guidance which The Times reports is in consultation with the Dachshund Breed Council, which represents the UK's breed clubs.
The Kennel Club, which organises Crufts, said it hoped these "small but important" changes to its rules – concerning six kinds of dachshund – will "ensure they cannot be misinterpreted".
"Dogs with over-exaggerated physical features are one of The Kennel Club's biggest priorities and all breed standards, which are a detailed guide to breeders and judges to what a breed of dog should look like, are regularly reviewed," a spokesperson said.
"These reviews take place by looking at ongoing breed-specific health information and are explicit that any physical exaggerations should be avoided.
"Dachshunds have been impacted by a huge increase in popularity over recent years, largely due to them being the breed of choice for advertisers, on social media and with celebrities.
"This has meant that certain exaggerated examples of the breed that may be perceived to look 'cute', can gradually become seen as normal and desirable, when in fact it could mean that they are more predisposed to back pain and disc disease.
"These small but important changes have been made to the Dachshund breed standard with the aim to ensure they cannot be misinterpreted and that any dogs within The Kennel Clubs' sphere of influence are being bred with their health and welfare as the absolute priority."
UK news in pictures

Show all 50
The British Veterinary Association (BVA) estimates that a fifth of all the dogs will show signs of intervertebral disc disease, with research suggesting very long miniature dachshunds have double the risk of slipping a disc by the age of five compared with the shortest dogs of the same breed.
"Mechanically, it's a lot of weight to be carrying on a very long part of your body. Their backs go and they end up unable to walk. It's a real problem," Daniela Dos Santos, vice-president of the BVA, said.
More than 14,000 pedigree puppies were registered by The Kennel Club in 2020 in comparison with 7,200 in 2016.
The club spokesperson added: "While some dachshund varieties have become increasingly popular, our advice is the same when considering buying any puppy.
"Potential owners should do their research and find a good breeder who places health and welfare at the top of their agenda, is aware of any health concerns and uses the relevant tools and health schemes to breed the healthiest puppies."
Additional reporting by PA
Join our new commenting forum
Join thought-provoking conversations, follow other Independent readers and see their replies