Daily Mail accused of 'appalling sexism' for comparing Theresa May and Nicola Sturgeon's legs on front page
'The 1950s called and asked for their headline back,' says Ed Miliband
Maya Oppenheim
Wednesday 29 March 2017 12:36 Comments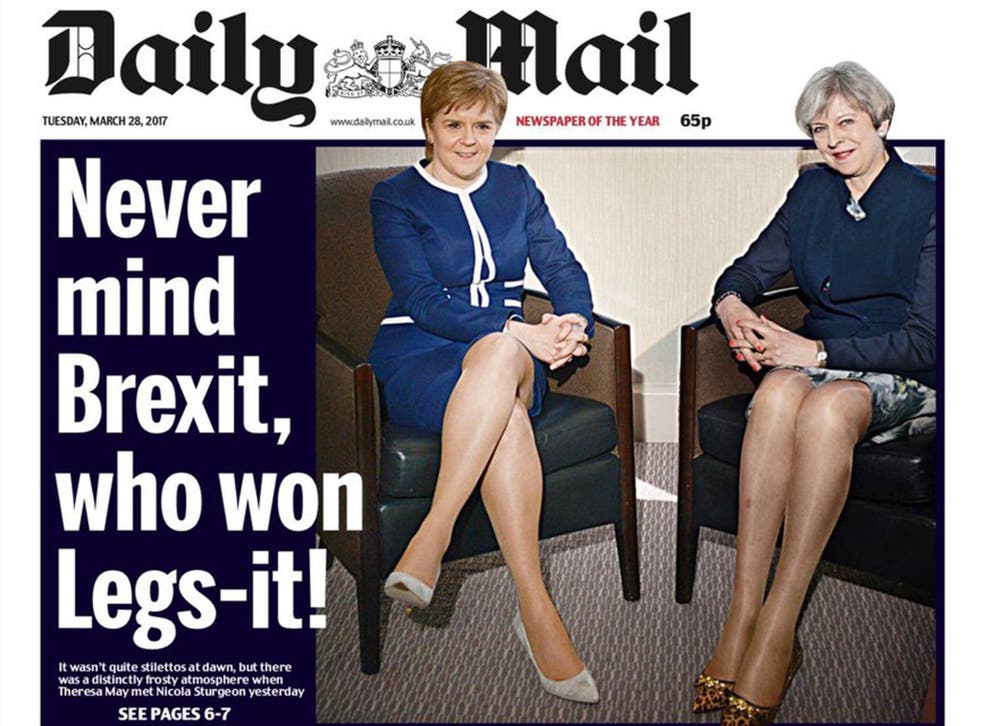 A Daily Mail front page showing Theresa May and Nicola Sturgeon in skirts has prompted widespread outrage.
The tabloid has been accused by many of sexism after it compared the Scottish First Minister and British Prime Minister's legs rather than focusing on their meeting about the process that will see the UK leave the European Union.
The leaders met for an hour in Glasgow on Monday to discuss a second referendum on Scottish independence and the triggering of Article 50 on Wednesday.
While the front page was titled "Forget about Brexit, who won Legs-it!", inside the paper, a headline read: "Finest weapons at their command? Those pins".
A piece written by Sarah Vine, long-time columnist and wife of Conservative politician Michael Gove, referred to Ms Sturgeon's legs as "altogether more flirty, tantalisingly crossed, a direct attempt at seduction".
The front page drew immediate criticism from politicians, commentators and members of the public after it first appeared on Twitter on Monday night. Conservative MP and former Education Minister Nicky Morgan accused the paper of "appalling sexism".
"Seriously? Our two most senior female politicians are judged for their legs not what they said #appallingsexism," Ms Morgan said.
Labour MP Yvette Cooper joked that the clocks had "gone forward this weekend, not 50 years back", while former Labour Leader Ed Miliband wrote the "1950s called and asked for their headline back".
Labour leader Jeremy Corbyn argued such representations of women should be relegated to history, saying: "It's 2017. This sexism must be consigned to history. Shame on the Daily Mail".
Theresa May in quotes

Show all 10
A row about the front page also erupted on the Radio 4's Today Programme. While Catherine Mayer, co-founder of the Women's Equality Party argued the page undermined and sexualised women, Angela Epstein, a Daily Mail columnist herself, insisted there was nothing wrong with it and that men were also scrutinised for their appearances.
Ms Mayer said: "What a typical Daily Mail gambit. Not only to ignore the fact that one of the reasons we ended up with Brexit was the sidelining of women but then when women are in there attempting to wrestle some workable solution to then sideline, sexualise and minimise them".
Ms Mayer criticised the paper for including a piece by Vine and argued this was an example of pitting women against women.
But Ms Epstein defended the UK's second biggest-selling paper and said she was "bored of Daily Mail bashing".
She said: "I think these women know exactly what they're doing. Both Theresa May and Nicola Sturgeon have done photo shoots for Vogue.
"They both understand that clothes are a tool by which we can communicate who we are. Anybody who is in the public eye will be scrutinised for their appearance, just as we scrutinise Jeremy Corbyn, Ed Miliband and Michael foot. There has been a litany of male politicians who have been criticised for their lack of professional appearance."
Ms Mayer responded: "This isn't treating women about professionals this is treating two national leaders as unlikely sex symbols the point about that it's meant to diminish their power.
"The media frames all women and the things we talk about via our appearance and a set of very reductive ideas."
The Daily Mail has been contacted for comment.
Register for free to continue reading
Registration is a free and easy way to support our truly independent journalism
By registering, you will also enjoy limited access to Premium articles, exclusive newsletters, commenting, and virtual events with our leading journalists
Already have an account? sign in
Join our new commenting forum
Join thought-provoking conversations, follow other Independent readers and see their replies