Home Office splits British man from his wife 10 months after she gives birth to their daughter
Refusal letter from Home Office claims Ms Zamora's family life can be maintained through 'visits'
May Bulman
Social Affairs Correspondent
Monday 09 October 2017 18:44 Comments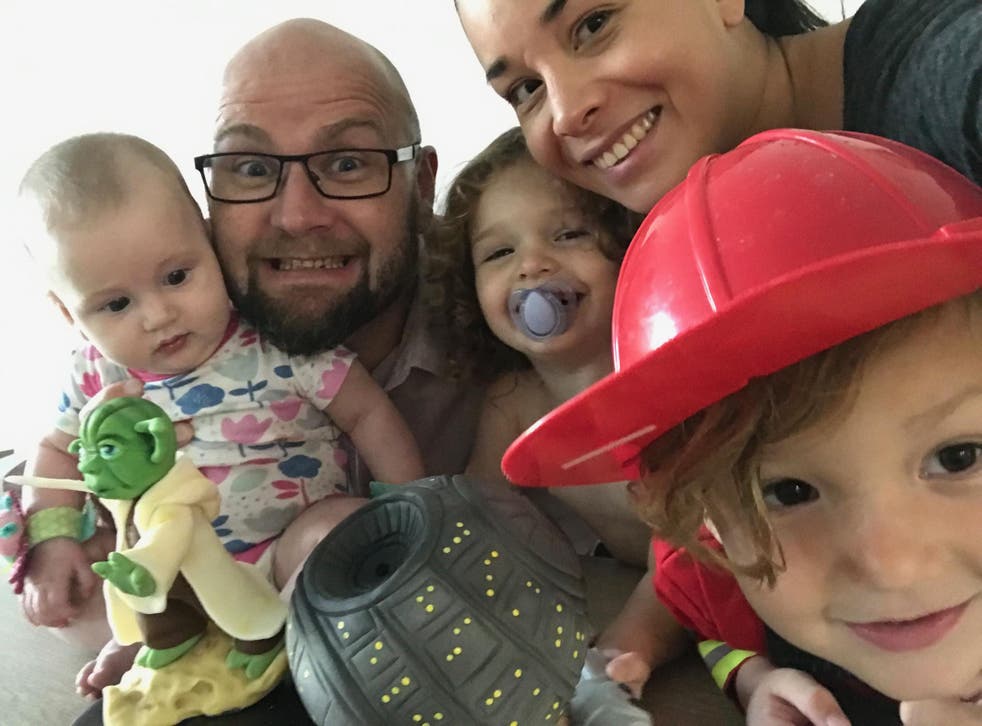 A British man has been told his Ecuadorian wife cannot settle in the UK despite the couple having three young children, including a baby who is still breastfeeding.
Dan Newton, 41, lived with his wife and three young children in Abu Dhabi in the UAE for nearly five years. The couple had previously lived in the UK for a year, where they had their first child.
In June, Mr Newton was told his employment in the Abu Dhabi was to be terminated with three months notice and no previous warning, so the couple decided to return to the UK.
As a result, his wife, Carla Zamora, who is still breastfeeding their 10-month-old daughter, applied to the UK Visa and Immigration branch of the Home Office for a Spouse Settlement Visa. But their request was refused in September.
Manchester native, Mr Newton, told The Independent they were "dumbfounded" by the refusal.
"I can't believe they have the audacity to suggest that my wife not being able to be with my family would have absolutely no impact on our family life or on the upbringing of my children," he said. "I can't believe they actually suggested that they can see them periodically in a third mutual country. It's ridiculous."
The Home Office letter said she had been rejected on the grounds that the eligibility financial requirement could not be met, because her husband was not present and settled in the UK and at that point unemployed in the UAE.
Mr Newton said he had he been actively looking for employment in the UK, but not yet been able to secure a job because most companies require a face-to-face interview. As the sponsor for his family in Abu Dhabi, he is unable to leave his family there without him.
He had assumed, because of the complexity of the situation, that his wife would be able to come to the UK under exceptional circumstances grounds.
But the refusal letter from the Home Office, seen by The Independent, said that it did not believe her refusal could or would result in "unjustifiably harsh consequences" for her or her family.
Her family life could be maintained with her living outside the UK with "visits", it said, adding that there were no "insurmountable, serious obstacles" preventing them from pursuing family life this way.
"We are not satisfied your family life could not be maintained through regular contact with your sponsor and children in the UK and/ or visits," it read. "Whilst I acknowledge that you and your family wish to settle in the UK, we are not satisfied that that you have presented evidence of any insurmountable, serious obstacles preventing you from pursuing a family life.
"The right to family life is qualified and balanced against the need to maintain an effective immigration and border control."
It said that Ms Zamora did not fall for a grant of entry clearance outside the Immigration Rules on the basis of "compassionate factors", adding that they did not "warrant a grant of entry clearance outside the Immigration Rules."
The couple appealed the outcome, but were told in October that Ms Zamora's application had again been refused because she did not meet the financial requirement.
Not being with her husband and children would have no impact on their family life, it said.
Mr Newton contacted the British Embassy in Abu Dhabi for support, but they told him they could not help and that it was not their responsibility.
"I've gone from being frustrated to sad, to now just very angry," he said. "I'm angry with what has been suggested by my Government in regards to my children and my wife.
"I'm angry that my Government doesn't seem willing to help. We're not emigrating, I'm British born and raised, and my kids are British. That's four of us already who want to return to their home country, and my kids need their mum, there's no two ways about it.
"For the Home Office to say they don't see how my wife not being with her kids won't have any impact is ridiculous. It's absolute breach of our human rights. All you have to read is the guidelines that the UK Visa and Immigration should have followed, but rejected to do so."
It comes after The Independent revealed the number of children, partners and dependant relatives of British nationals granted the right to live permanently in the UK has plummeted by 73 per cent in the past decade.
Analysis of immigration statistics also showed that the number of family members being granted entry clearance visas, which they must obtain in order to move to Britain to apply for settlement, has also dropped by 46 per cent since 2006.
Campaigners and politicians said the figures reflect an on-going clampdown on immigration by the Conservatives through the introduction of more restrictive requirements for people wanting to join British family members, which they said has seen families "torn apart".
UK news in pictures

Show all 50
The financial requirements for a spousal visa is a gross annual income of at least £18,600, with an additional £3,800 for the first child and an additional £2,400 for each additional child.
As Mr Newton is not present and settled in the UK and unemployed in the UAE, the family cannot meet that criteria.
Mr Newton has now set up a GoFundMe page in pursuit of raising the money to meet the minimum gross annual income required for a spousal visa.
The Independent has contacted The Home Office for comment but none had arrived at the time of publication.
Register for free to continue reading
Registration is a free and easy way to support our truly independent journalism
By registering, you will also enjoy limited access to Premium articles, exclusive newsletters, commenting, and virtual events with our leading journalists
Already have an account? sign in
Join our new commenting forum
Join thought-provoking conversations, follow other Independent readers and see their replies