Dario Gradi covered up sex abuse complaint, ex-Chelsea youth player claims
Exclusive: Mr Gradi, former assistant manager of Chelsea and now Crewe Alexandra's director of football, denies any wrongdoing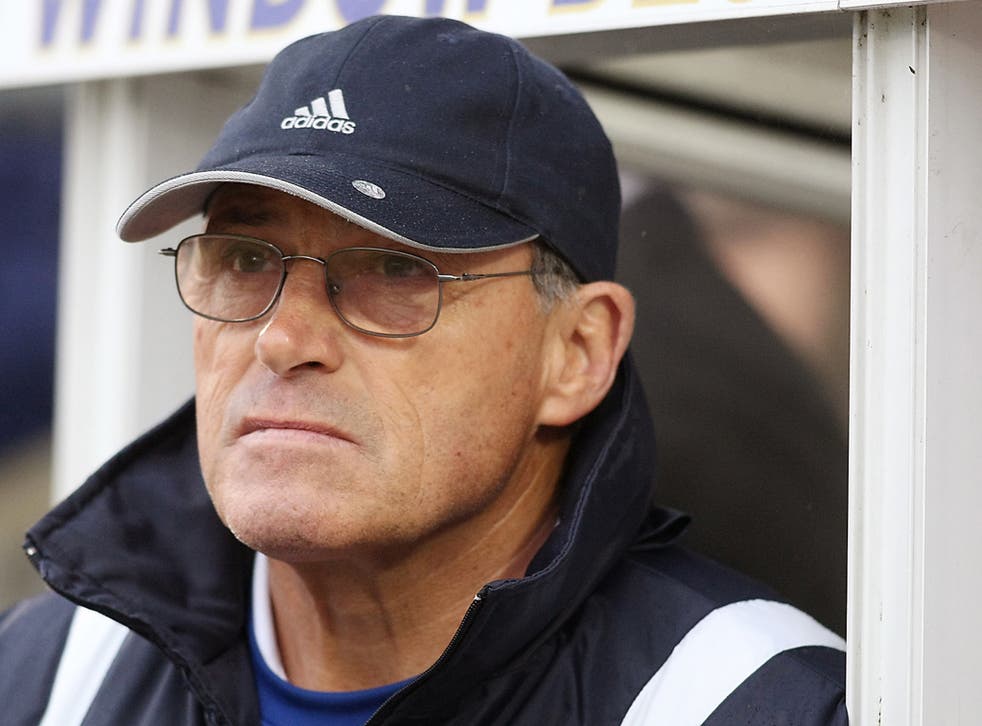 Dario Gradi visited the parents of a Chelsea youth team player to "smooth over" a complaint of sexual assault against chief scout Eddie Heath, it has been claimed.
The former player, who cannot be identified for legal reasons, told The Independent that then-assistant manager Mr Gradi was sent to the family's home by Chelsea following the complaint against Heath when the pair worked at the club in the early 1970s.
He said Mr Gradi, who was in his thirties at the time, was at the house for an hour and seemed to indicate in the conversation that he knew Heath was "closer" to boys than he should have been.
The former player said: "He [Mr Gradi] came to visit my parents and me to smooth it over. I remember him saying something like: '[With] Eddie, [football] is his life and he gets a bit close to the boys. I'm sorry if he's overstepped the mark in his fondness this time.'"
No action was taken against Heath, who left the club in 1979 and who is thought to have died in 1987 or 1988.
Responding on Friday to The Independent''s approaches about the allegation, Mr Gradi said in a statement: "Aside from denying any wrongdoing, it would be inappropriate and unfair on all parties to comment piecemeal through the media at this time in connection with historic allegations.
"Suffice to say, I will do everything within my power to assist all investigatory authorities into what is becoming a wide-ranging and important enquiry into historic sexual abuse."
Mr Gradi, 75, is now director of football at Crewe Alexandra, which is at the centre of an investigation into its own former scout Barry Bennell.
Bennell was this week charged with eight child sex offences.
The former youth team player interviewed by The Independent said he had been a young player at the club for two seasons when Heath, a charismatic coach known as "the Star Maker", began groping and touching him inappropriately.
"He would put his hands up your shorts, touch your genitals and laugh," the alleged victim said. "Sometimes you would be able to fend him off. Other times he would catch you unawares."
The alleged assault in question took place in 1974, when Heath was alone with the 15-year-old player.
"He went behind me and put his hand up my shirt at the front and said 'close your eyes'," the former player said. "Then he started rubbing me. He said: 'You wouldn't know if that was a man or a woman'. For some reason, I remember thinking at the time that: 'Actually, I would know the difference.'"
It was this incident which led the player to tell his parents about Heath's behaviour and they immediately telephoned Chelsea to report it.
Soon afterwards – possibly several days – he says Mr Gradi arrived to meet the family at their home.
"He [Mr Gradi] was told about this incident, that Eddie Heath had interfered with me several times and that I was fed up with it," said the alleged victim. "He stayed for about an hour. He talked about how good this youth team was at the time and that he had a good crop of players. The conversation went off at tangents."
Dario Gradi career timeline

Show all 7
Heath did not appear to change his conduct after the complaint when the young player returned to training for the first time after the alleged attack. "When I went back the first time, Heath called me over and said: 'Do you still love me?'" the former player said.
"I left the following year. I can't say I left Chelsea because of that, but it didn't help."
The alleged victim said that initially he had experienced no problems with Heath. "He was very affable. He would make you laugh," he said. But one of the first occasions when he felt the scout's conduct suspicious came when he telephoned him during a summer break, persistently asking him to go to the training ground to do unspecified tasks.
"He spent an inordinate amount of time trying to persuade me to come over to the club for a few things that needed doing," he said.
"He was so insistent it made me determined not to go."
Heath's conduct affected the teenager's enthusiasm for the game and willingness to make four-hour round trips on public transport to and from training.
"It spoiled my potential to go and express my enjoyment of football and love the game," he said.
"The atmosphere changed after I had complained. It was only after I had left that I began to enjoy my football again."
The former player said Mr Gradi – then assistant to manager Dave Sexton – was "likable" and professional.
Chelsea said the club was unable to comment on the case, though it urged anyone with evidence to approach the police or NSPCC. The club did not comment on Friday about the case of another former youth player, Gary Johnson, who waived his anonymity to reveal in the Mirror that he had been paid £50,000 from the club two years ago over abuse he received by Heath at the same period as the alleged victim spoken to by The Independent.
It is thought that Chelsea was advised by lawyers and insurers that the payment should be made, with a standard confidentiality clause. Though the clause was binding to both sides, Chelsea is thought to have indicated to Mr Johnson's lawyers on Tuesday that they were willing to waive it.
When Mr Johnson made the allegations about Heath, very few remaining staff at the club knew anything of him. But other players have testified to the unsettling environment at that time.
Defender Pat Van Den Hauwe described in his autobiography how he was unsettled by the conduct of another unnamed coach who "seemed a bit too friendly". Mr Van den Hauwe, 55, has indicated that he does not now wish to discuss the identity of the coach in question, nor whether it was Heath.
Mr Van Den Hauwe said the coach used to drive the trainees around "in a clapped out minibus" and hand out the menial tasks.
"One day he told me that he needed to show me the games room that the first team players frequented," he said. "We went up in the lift and I got a feeling that he was standing a bit too close to me, and when we got in the games room for the life of me I didn't know why he had taken me there. I made some excuse and made a quick exit and was so upset by the blokes presence I even told my father.
"He told me to steer well clear, and I did, but soon after I was told that despite trying as hard as I could Chelsea had decided I was not good enough and I was released with about a dozen others."
Mr Van Den Hauwe, who went on to have a successful career with Birmingham City, Everton, Tottenham Hotspur and Wales, said he did not consider the encounter with the coach a serious incident.