With family wealth like David Cameron's, who needs offshore funds anyway?
The Panama Papers have turned the spotlight on the family wealth of the Prime Minister who wants us to call him Dave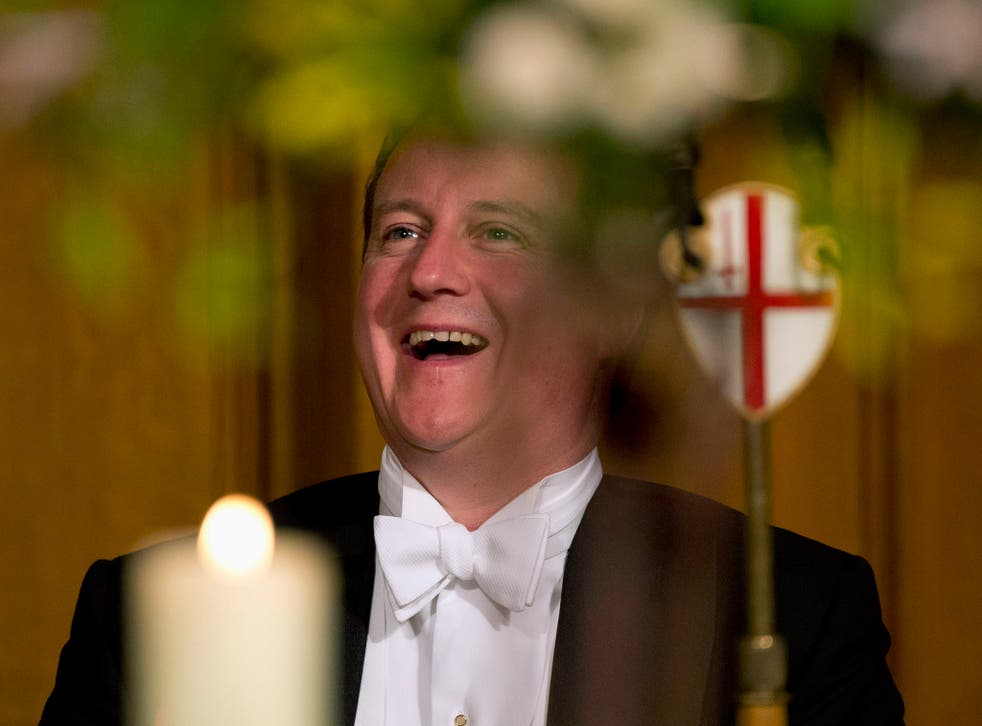 In 1884 on a slight promontory overlooking a beautiful stretch of the River Deveron, Alexander Geddes, the laird of Blairmore, built for himself a large and beautiful mansion house.
His Aberdeenshire fastness had all the wonders of the modern world: electric lights, 150 of them, not just for the big house but for the stables and coachman's accommodation too, all powered by water taken from the Deveron in an aqueduct about 1,200 yards above Blairmore house.
Small wonder then that pride in Blairmore passed through the generations, to the laird's daughter Rachel who in 1905 married one Ewen Allan Cameron, in what the Aberdeen People's Journal called "a fashionable wedding" attended by "a number of the tenantry".
The tenantry presented the happy couple with "a very handsome antique James II silver bowl", and were rewarded with permission to enter the big house, for "an opportunity of viewing the presents, which were laid out in the billiard room".
Ewen Cameron, who became a senior partner in the stockbrokers Panmure Gordon, and his wife seem to have passed the affection for Blairmore onto their son, who became a senior partner in the stockbrokers Panmure Gordon, and who in turn passed it on to his son, who became a senior partner in the stockbrokers Panmure Gordon.
How entirely natural then, that in 1982, when the last son in this sequence helped set up an offshore fund in the Bahamas, he should name it Blairmore Holdings Inc. After all, what could be embarrassing about that? It wasn't exactly likely that his son would grow up to be Prime Minister, with slogans like "We're all in this together", was it?
Alas, Ian Cameron's son did not become a senior partner in the stockbrokers Panmure Gordon.
Prime Minister David Cameron has – finally – admitted he benefited from Blairmore Holdings, selling his shares in 2010 for a £19,003 profit.
He has also insisted that it was a "fundamental misconception" that Blairmore was established with the idea of avoiding tax, because "it was set up after exchange controls went, so that people who wanted to invest in dollar-dominated shares could do so".
Downing Street sources, moreover, have argued that no Prime Minister has ever been so open and transparent about their financial affairs.
The Panama Papers leak has, though, rather focused minds on the Conservatives' image as the "party of the rich", and on a Prime Minister whose family wealth seems so great it almost feels you have to go back to the laird of Blairmore, Mr Cameron's great-great grandfather, before you find any of those "ordinary hard-working people" politicians so love to speechify about.
Alexander Geddes began life, according to one 1902 obituarist, "as a poor boy on the small farm of Bodylair" – although after making a fortune in the Chicago grain trade, he died the "absolute owner of two thirds of his native parish".
And a few generations on, Ian Cameron was named in the 2009 Sunday Times Rich List, a year before he died, as having a personal fortune of £10 million.
So when David Cameron told ITV News that he had inherited "quite a lot of money … £300,000" from his father, some might have been forgiven for noticing the "quite" and asking: with wealth like this, who needs offshore funds anyway?
World leaders linked to 'Panama Papers'

Show all 15
It's not just the laird of Blairmore. Another great-great grandfather was Sir Ewen Cameron, London manager of the Hongkong and Shanghai Banking Corporation, who helped the Rothschild banking dynasty sell war bonds during the Russo-Japanese conflict of 1904-5.
Then there is the great grandfather on Mr Cameron's mother's side, Sir William Mount, 1st Baronet, who, The Times recorded in December 1930, died "while crossing a meadow at Aldermaston while riding with the South Berks hounds from his residence at Wasing Place [a Grade II-listed mansion house in Berkshire]."
One of "Dave's" grandfathers was an Eton-educated baronet and Lieutenant-Colonel. The other was a stockbroker (again, a senior partner in Panmure Gordon), who married the granddaughter of Emile Levita, the director of the Chartered Bank of India, Australia and China.
And geneologists claim, if you go back far enough, that Mr Cameron is the great-great-great-great-great grandson of King William IV, albeit via a royal mistress, which supposedly makes the PM a fifth cousin, twice removed, of the Queen.
Oh, well, there's always the in-laws.
Although, perhaps unfortunately in today's political climate, Mr Cameron's father-in-law is Sir Reginald Sheffield, 8th Baronet, schooled at Eton, with recreations listed in Debrett's as "shooting and stalking", a member of Pratt's and White's gentlemen's clubs – even though in 2008 David Cameron resigned his 15-year membership of the latter club, where his father Ian had once been chairman, over its refusal to admit women.
The Sheffield family once owned a London pied-à-terre called Buckingham House. But there's another lot in there now, who have renamed it Buckingham Palace.
Equally inconveniently, Mr Cameron's mother-in-law's second marriage was to Viscount Astor, whose Scottish family estate - for entirely legitimate, historical reasons that he stresses have nothing to do with tax – is now owned by a company based in the British Virgin Islands.
Viscountess Astor, Samantha Cameron's mother, also did well in business, co-founding the furniture company Oka, giving her a 22 per cent stake in a company whose 2015 statement showed pre-tax profits for the year of £1.6m.
Mrs Cameron too has made a few bob for herself.
During her time as creative director of upmarket stationery firm Smythson of Bond Street she acquired shares in the company. Which meant that when the firm was sold to a consortium of City Grandees in 2005, she received, according to the Guardian, a windfall of £400,000 before tax. It was also reported that she received a five-figure sum when the company was sold again in 2009.
But if such sums seem "quite a lot of money", we should all remember, as our ex-Eton, ex-Bullingdon Club Prime Minister, told us: "I have never hidden the fact that I am a very lucky person [who] had wealthy parents. I have never tried to be anything I am not."
Poor man. It has, he confided to ITV's Robert Peston, "been a difficult few days".
He would have had a much quieter life as a senior partner in the stockbrokers Panmure Gordon.
Join our new commenting forum
Join thought-provoking conversations, follow other Independent readers and see their replies