David Cameron plans to make parenting classes 'normal'
Cameron also hopes to reduce the number of separations, with £70m for relationship counselling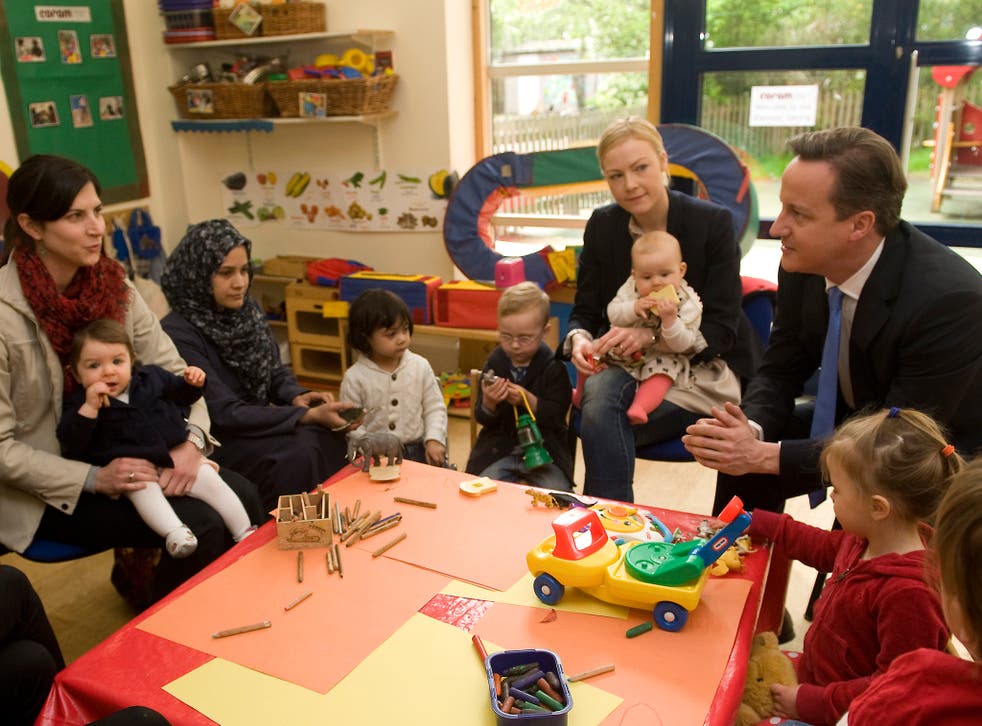 David Cameron wants to make it "normal" and "even aspirational" for people to take up parenting classes to help them communicate, discipline and play with their children.
Parents could receive vouchers to encourage them to continue with classes, even as their children grow older, as part of a wide-ranging plan to put family life at the heart of the PM's second term. Mr Cameron will also double funding to help more than 300,000 couples save their relationships as he looks to tackle poverty by reducing the number of separated parents over the next five years.
The Prime Minister wants to make parenting classes more accessible for families, he will say when he unveils what he will dub a Life Chances Strategy on 11 January. He is expected to say: "It will examine the possible introduction of a voucher scheme for parenting classes and recommend the best way to incentivise parents to take them up.
"In the end, getting parenting and the early years right isn't just about the hardest-to-reach families, it's about everyone. We all have to work at it. And if you don't have a strong support network – if you don't know other mums or dads, having your first child can be enormously isolating.
"Of course they don't come with a manual, but is it right that all of us get so little guidance? We've made progress. We've dramatically expanded the number of health visitors, and that is crucial.
"But it deals with one particular part of parenting – the first few weeks and months. What about later on, when it comes to good play, communication, behaviour and discipline? We all need more help with this – the most important job we'll ever have. So I believe we now need to think about how to make it normal – even aspirational – to attend parenting classes."
The Government will also provide £70m over five years for couples' counselling, supporting charities such as Relate, One Plus One and Marriage Care. About 160,000 couples were helped in the last Parliament from just £35m of funding; the extra cash will double that number and help train 10,000 relationship experts.
Mr Cameron is expected to say: "Families are the best anti-poverty measure ever invented. They are a welfare, education and counselling system all wrapped up into one.
UK news in pictures

Show all 50
"Children in families that break apart are more than twice as likely to experience poverty as those whose families stay together. That's why strengthening families is at the heart of our agenda."
Conservative sources said this "cradle-to-grave" offer would help the party seize anti-poverty territory from Labour at a time when the opposition is distracted by infighting that has resulted from Jeremy Corbyn's protracted reshuffle. They think the message will help dampen criticism that the Tories' efforts to balance the nation's books after the financial crisis have created greater inequality.
Relate chief executive Chris Sherwood said: "Relationship support can help to reduce family breakdown, which is a key driver of poverty and can result in poor outcomes for children. Relationships are under increasing pressure. Currently over a million people every year access support from Relate, but this is the tip of the iceberg. This funding could make a real difference to the life chances of thousands of children."
The £70m will be delivered through contracts with charities and local authorities. The Department for Work and Pensions invited bids from family and relationship support organisations for some of the money in November. Those who have been successful will be notified in the next few weeks.
The organisations who have bid to deliver this support are from the family and relationship support sector, most of whom have extensive knowledge and experience in delivering family and couple support.
The Gingerbread charity has estimated that there are around 2 million single parents in the UK, accounting for one in four families with dependent children. The majority of single parents do not receive child maintenance from the absent parent, while two in five children in single-parent families live in relative poverty compared with one in four of those raised by couples.
Mr Cameron previously tried to present himself as a prime minister who puts families at the heart of domestic policymaking when he spoke at the Relationships Alliance Summit in 2014. He said: "So for those of us who want to strengthen and improve society, there is no better way than strengthening families and strengthening the relationships on which families are built.
"Whether it's tackling crime and anti-social behaviour or debt and drug addiction; whether it's dealing with welfare dependency or improving education outcomes – whatever the social issue ... the answer should always begin with family."
Join our new commenting forum
Join thought-provoking conversations, follow other Independent readers and see their replies