Pro-Brexit Twitter account with 100,000 followers could be part of Russian 'disinformation campaign'
Experts warn thousands of fake and automated accounts are currently online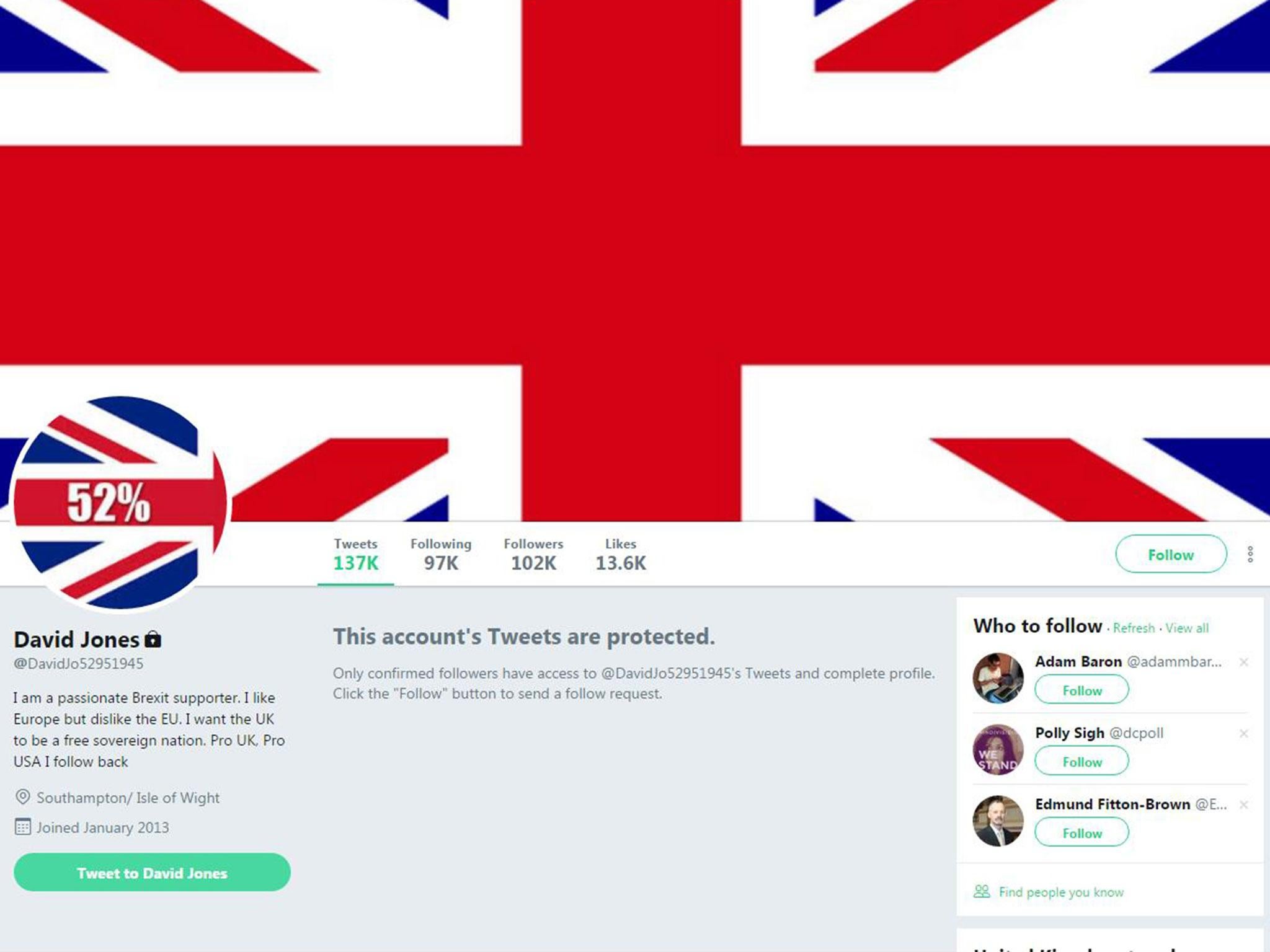 A "passionate Brexit supporter" with more than 100,000 Twitter followers could be in the pay of the Russian government as part of an international disinformation campaign, analysts have said.
"David Jones" has been tweeting from the handle @DavidJo52951945 for more than four years, amassing an extensive following and interactions high-profile figures including Tommy Robinson and Ukip spokesman John Bickley.
The account has a profile picture of a union flag and the figure 52 per cent, which as was the winning proportion of votes last year's EU-referendum.
The user, who claims to be from "Southampton/Isle of Wight" has sent more than 137,000 tweets, followed 97,000 accounts and gathered 102,000 followers.
The bio describes "Jones" as "Pro UK, Pro USA", adding: "I am a passionate Brexit supporter. I like Europe but dislike the EU. I want the UK to be a free sovereign nation."
The account was set to private following a report by The Times, with a tweet claiming that allegations of Russian connections were false and "completely defamatory", adding: "I am not pro Kremlin at all, I am just a Brexit supporter."
But attempts by journalists and analysts to verify "Jones's" identity have so far failed and the person running the account has not responded to contact from The Independent.
Recent interactions with Mr Robinson (real name Stephen Yaxley-Lennon) include sharing uncensored footage showing victims of the Barcelona van attack, which the former EDL leader had used to call for people to "wake up" over Islam.
The account has been tweeting prolifically in support of Ukip, Brexit, Donald Trump, Bashar al-Assad and – tellingly – Russia.
Research by a US-based analyst going by the name of Conspirador Norteño showed that the intensity of messaging has coincided with key points of Russian government interest, including its annexation of Crimea in 2014, intervention in Syria and the wider support for Mr Trump and Brexit seen in state media.
Data appears to show the account tweeting regularly between 5am and 5pm UK time – 8am to 8pm in Russia – seven days a week.
The inclusion of eight digits at the end of a Twitter handles like @DavidJo52951945 has also been observed in many automated and "troll" accounts, which often amplify each other's messages.
Ben Nimmo, a fellow at the Atlantic Council's Digital Forensic Research Lab, said all signs pointed to the person or people behind "Jones's" account being employed by the Russian government.
"You cannot give 100 per cent certainty, but you can look at all the different behavioural signs and put it together," he told The Independent.
"Why would somebody living somewhere in the Solent getting up before 5am in the morning and spending 12 hours tweeting far-right and Kremlin talking points seven days a week.
"What kind of human being does that?"
Russian whistle-blowers have already exposed what is known as "The Troll Factory" in St Petersburg – a nondescript building where hundreds of agents are paid by the Russian government to operate social media accounts in multiple languages advancing the Kremlin's interests and viewpoints.
Mr Nimmo said the "factory" workers also worked 12-hour shifts during Russian working hours, adding: "There's a pattern into which this account fits."
The analyst said that although many of the viewpoints espoused by "Jones", such as anti-immigration, nationalism, anti-Islam, "deep state" conspiracy theories and opposition to leading Western figures like Angela Merkel, cross over with the far-right, there were also more niche Russian interests.
Examples include claims that the shooting down of Malaysia Airlines flight 17 by pro-Russian rebels in Ukraine was a conspiracy theory, arguments the annexation of Crimea was legitimate and heavy criticism of Turkey after the country shot down a Russian fighter jet.
​Keir Giles, an expert on Russian security at Chatham House, said @DavidJo52951945 was "not an isolated phenomenon", with thousands of similar Twitter accounts currently online.
He described a scale of Kremlin-backed online activity ranging from automated bots sharing information from state media and trolls who "contradict and abuse" critics, through to more subtle efforts.
"The pattern suggests that this account one of the very high end ones," he told The Independent.
"It's consistent with the overall Russian strategy. The setting up date in 2013 is also at the time when Russian was putting its troll and bot campaign into high gear.
"But this is just one account. Multiply that across the thousands and thousands of other fake accounts that are out there and you begin to see the scale of the challenge."
Mr Giles, who wrote a Handbook of Russian Information Warfare published by Nato, accused Western governments of underestimating the threat posed by hostile disinformation campaigns.
He added: "This is not a British Government matter alone, this affects all countries that have adversarial relations with Russia.
The biggest names involved in the Trump-Russia investigation
Show all 17
"It is a huge challenge to identify who these people are and even more to do anything about it."
Mr Giles said it was difficult to measure the impact of such accounts on political discourse in the UK but for ones like "Jones" with tens of thousands of followers, it could be significantly furthering Russian interests or simply "sowing doubt and confusion".
"There are lots of ways that current social trends in the West coincide with Russian interests and it can ride the wave for its own ends," he added.
Mr Nimmo said unless an existing person is impersonated with stolen information, there was no known framework to pursue anonymous accounts except using Twitter's own terms of use.
"If the analysis is right, it's a covert information and influence operation engaging with UK citizens in a hostile campaign," he added.
"This is influence by an agent of a foreign government – this account was interacting with real people who believed it was real."
Global scrutiny of Russian state media, alleged disinformation campaigns, cyber attacks and espionage has increased amid rising tensions over the US election, Ukraine, human rights and Moscow's support for the Syrian regime.
Vladimir Putin has repeatedly denied Kremlin involvement but conceded that "patriotically minded" Russian hackers may have launched attacks.
Join our commenting forum
Join thought-provoking conversations, follow other Independent readers and see their replies