Dead body of 36ft-long whale washes up on Kent beach
The whale is believed to have choked on a plastic bag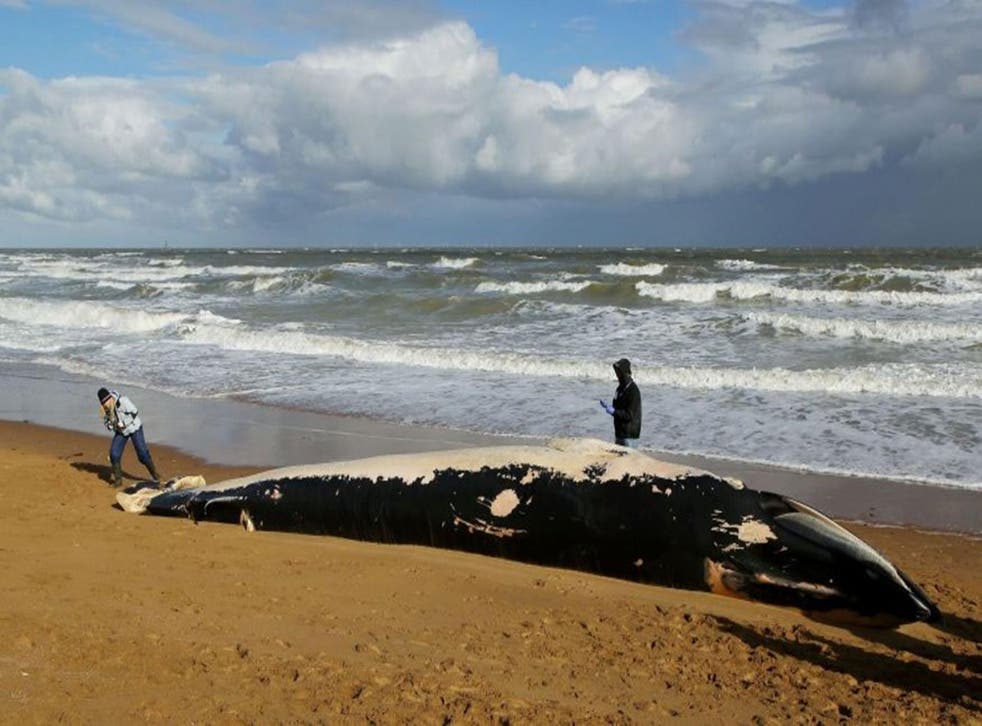 The dead body of a 36ft-long (11m) whale has washed up on a beach in Kent.
The huge creature, believed to be a minke whale, was found on the shore at Foreness Point, near Cliftonville.
Police have since placed a cordon around the animal's lifeless body.
A Coastguard spokesman told Kent Online that the whale appeared to be around four-years-old. It likely died after eating a plastic bag or a similar piece of waste, because whales sometimes confuse floating debris as jellyfish.
Staff members from the Institution of Zoology have been alerted. The organisation is partnered with the UK Cetacean Strandings Investigation Programme (UK CSIP), which documents examples of beached and dead cetaceans, basking sharks and marine turtles.
They will also soon begin dissecting the minke whale, Kent Online reported.
Experts from the Natural History Museum in London, which is also linked to the CSIP, also plan to take samples from the dead whale.
"The samples provide an insight into the cause of death, as well as examining the diet of the whale and any diseases or parasites it contracted during its life," Rebecca Lyal, the cetacean strandings support officer based at the Natural History Museum, told Kent Online.
Julia Cable, of East Sussex-based British Divers Marine Life Rescue (BDMLR), said that staff members have tried to identify the species of the whale.
"It looks like an 11-metre long adult minke whale, but it is difficult to say with certainty without seeing the underside of it," she said.
Dead whale washes up on Kent beach - in pictures

Show all 4
Living for as long as 50 years on average, minke whales are found both in the tropics and at the edges of the northern hemisphere.
Experts regard minke whales as generally solitary creatures which live on a diet of fish, including herring and whiting, as well as some plankton. They can swim up to 13mph.
Additional reporting by PA
Register for free to continue reading
Registration is a free and easy way to support our truly independent journalism
By registering, you will also enjoy limited access to Premium articles, exclusive newsletters, commenting, and virtual events with our leading journalists
Already have an account? sign in
Register for free to continue reading
Registration is a free and easy way to support our truly independent journalism
By registering, you will also enjoy limited access to Premium articles, exclusive newsletters, commenting, and virtual events with our leading journalists
Already have an account? sign in
Join our new commenting forum
Join thought-provoking conversations, follow other Independent readers and see their replies