Dead whale spotted on container ship arriving in Portsmouth
ORCA charity says vessels pose rising threat to marine mammals around UK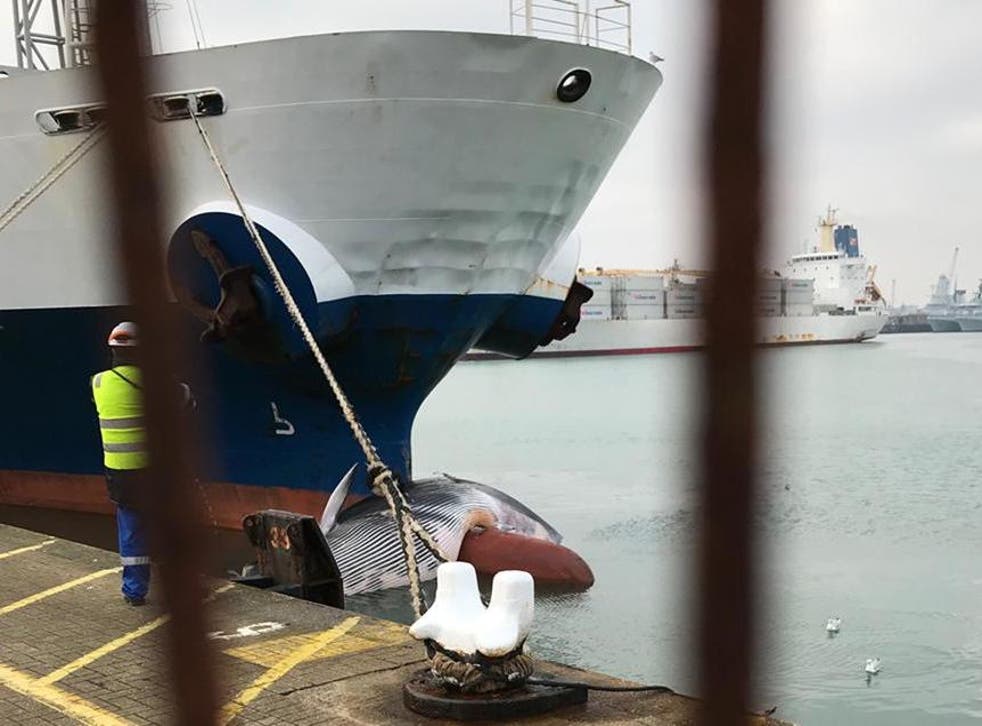 A conservation charity has warned of rising numbers of "ship strikes" after a dead whale was caught on the front of a cargo vessel.
The 20-metre-long rorqual, weighing 24 tonnes, was spotted on the bow of the Cote d'Ivoirian Star as it headed for Portsmouth harbour on 30 December.
It is not known whether the whale was already dead when it was hit or the location of the collision with the container vessel, which was transporting tropical fruit from Senegal.
However campaign group ORCA believes it may have happened as the ship passed through a hotspot for fin whales in the Bay of Biscay.
"Ship strike is massively underreported," said researcher James Robbins. "Many times crews of large ships might not know they have hit a whale.
"When an unfortunate thing like this happens, it's a useful learning experience for all involved."
Tragic photos show beached whales

Show all 15
The whale was removed from the ship and brought ashore at Portsmouth harbour using a crane and transported to a facility in Essex on Thursday.
Portsmourth harbour master Ben McInnes said: "This was an unfortunate incident – sad for the whale and also for the people around the port and the ship's staff.
"As a seafarer myself, one of the privileges of working at sea is seeing some amazing wildlife and working amongst it. We don't know if the whale was dead when the ship's bow picked it up or if it was alive and struck by the ship.
"It's not a common occurrence. We have worked with several agencies to remove the whale and dispose of it in a safe and responsible manner, but also with respect for the whale."
ORCA says the number of whales struck by ships has increased significantly in recent years, partly due to a rise in maritime traffic, vessel speed and engine power.
The charity hopes their research into ship strikes in the Bay of Biscay will help reduce the number of incidents involving marine mammals.
"We are deeply saddened by images of this beautiful creature in Portsmouth Port," said ORCA's director Sally Hamilton.
"Sadly, ship strike is becoming increasingly common and a global problem for the maritime sector. It's why an ORCA ship strike project, in association with the University of Portsmouth, is so important.
"Working with Brittany Ferries, researchers are looking at exactly how whales behave when a ship approaches on regular ferry voyages through the Bay of Biscay.
"When complete, we hope that evidence gathered could lead to protocols or training for all ship crews, wherever they operate in the world."
Register for free to continue reading
Registration is a free and easy way to support our truly independent journalism
By registering, you will also enjoy limited access to Premium articles, exclusive newsletters, commenting, and virtual events with our leading journalists
Already have an account? sign in
Register for free to continue reading
Registration is a free and easy way to support our truly independent journalism
By registering, you will also enjoy limited access to Premium articles, exclusive newsletters, commenting, and virtual events with our leading journalists
Already have an account? sign in
Join our new commenting forum
Join thought-provoking conversations, follow other Independent readers and see their replies