December global festivities: Google doodle on Christmas Day marks celebrations around world
Search engine gets in on the festivities
May Bulman
Monday 25 December 2017 12:07 Comments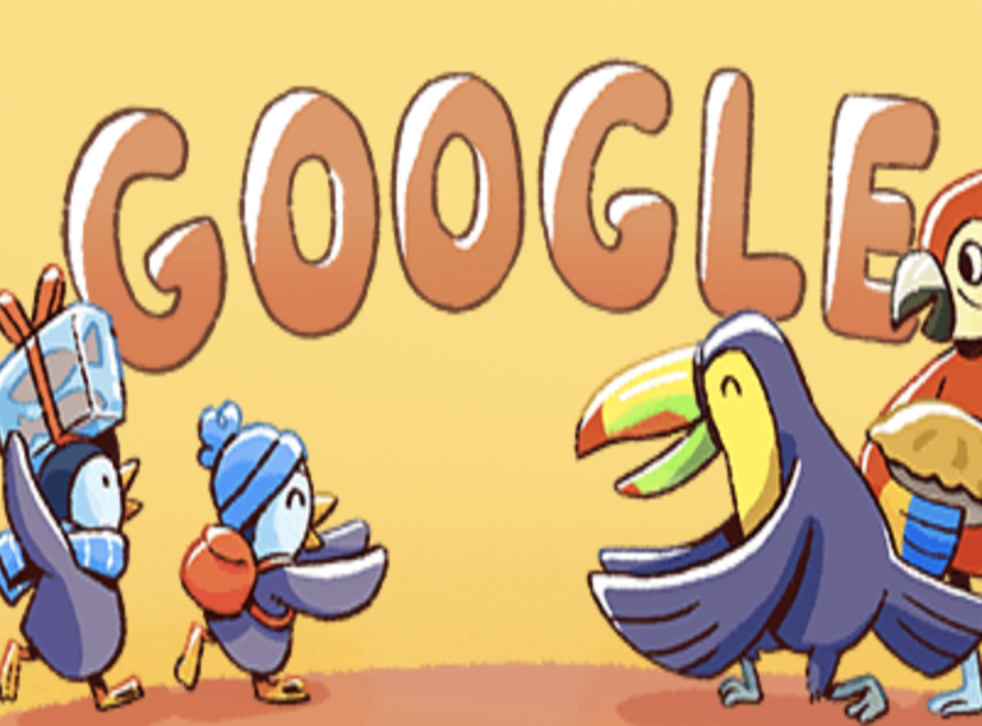 Christmas Day is upon us, and people across the globe are coming together to enjoy a day of celebration with family and friends.
As people exchange gifts and indulge in turkey and mince pies, Google is also getting in on the Christmas festivities. But how is the internet search engine celebrating this year?
How is google marking the Christmas period in 2017?
Google began the Christmas period last week with the first in a festive series of Doodles.
Starting on Monday 18 December, the first one showed animated penguins and parrots packing their suitcases in preparation to spend the big day together.
Another image since then showed a series of boxes marked 25, 31 and 1, hinting the follow-up Doodles would appear on some of the standout dates in the Christmas holiday period.
Today's Doodle shows the penguins meeting with their parrot friends, all bearing gifts to exchange over the course of the day.
What other celebrations are happening apart from Christmas?
It's easy to forget amid all the Christmas cheer that December is a particularly important month for other religions too, with Islam, Judaism and Buddhism among those also celebrating major festivals.
One of these is Chanukah – the Jewish festival of lights which typically falls during the month of December and commemorates the rededication of the Second Temple after it was ransacked by King Antiochus of Syria.
Jews traditionally celebrate the festival by eating foods fried in oil, including doughnuts and potato latkes. Chanukah gelt – meaning money, but generally used to refer to chocolate coins – is given to children as a present and games are played with a spinning top known as a dreidel.
Ashura, for which the date varies year on year, is a Muslim festival celebrated in both Sunni and Shia Islam. It is considered to be a time for spirituality, self-reflection and repentance.
Many Muslims will wear mourning clothes, refrain from listening to music and avoid any kind of celebratory event such as parties or weddings. In some countries, people will cut themselves using knives or chains or carry out self-flagellation. Some Sunni Muslims also fast on the day.
Another celebration is the Feast of St Nicholas, which takes place on 6 December, and is celebrated by Christians to mark the tale of the man on whom the tale of Santa Claus is based.
The legendary figure of Saint Nicholas was born in the third century AD and is said to have used his large inheritance to help the poor and needy. Known for his generosity and love of children, he died on 6 December and the anniversary of his death soon became a day of celebration.
In some countries, the Feast of St Nicholas, and not Christmas, is the main present-giving day, and children will leave shoes or stockings out in the hope they will be filled with presents during the night.
Why is Christmas Day on December 25?
Christmas Day is about celebrating the birth of Jesus Christ, but there is actually no official date of the birth recorded in the Bible.
By the early-to-mid fourth century the Western Christian Church placed Christmas day on 25 December.
Christmas 2016 around the world: in pictures

Show all 14
This date is said to have been chosen because it marks exactly nine months after the Christians believe Jesus was immaculately conceived, on 25 March.
Many believe 25 December was chosen because the Winter Solstice - which marks the year's shortest day – took place around this date.
This meant winter was over and spring was coming to pagans with Romans dedicating the time to the god Saturn. Early Christians are thought to have appropriated the festival as a means of converting new followers.
Register for free to continue reading
Registration is a free and easy way to support our truly independent journalism
By registering, you will also enjoy limited access to Premium articles, exclusive newsletters, commenting, and virtual events with our leading journalists
Already have an account? sign in
Join our new commenting forum
Join thought-provoking conversations, follow other Independent readers and see their replies