Aberdeen chip shop ordered to remove deep-fried Mars bar poster for 'the good of the community'
The treat contains about 1,200 calories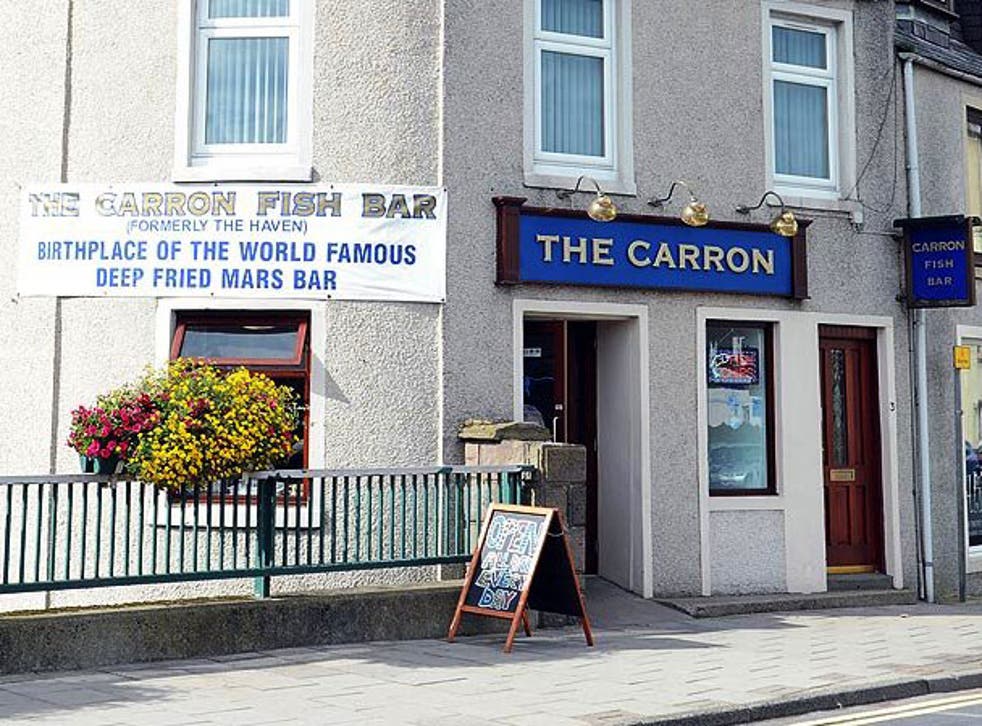 A fish and chip shop claiming to be the "birthplace" of the deep-fried Mars bar has been ordered to remove a banner saying it invented the snack.
Aberdeenshire City Council has ordered The Carron Fish Bar in Stonehaven to remove the sign "for the good of the community".
The fish bar, which displays a banner saying "Birthplace of the world famous deep fired mars bar" on the front of its premises, draws tourists from around the world who want to try the now infamous recipe.
Lorraine Watson, owner of The Carron Fish Bar, said that she had received a letter from Aberdeenshire council "asking me to remove the banner from the front of the shop" and accused the council of "picking" on local chip shops.
"Are they joking," she said, "we bring thousands of visitors to the town that have their picture taken underneath this banner."
Aberdeenshire Council issued Watson with the ban as part of a community "action plan" to improve the town centre.
A spokesman for Aberdeenshire Council told the BBC: "Together with a range of community organisations we have been looking at ways to improve the look of Stonehaven for the benefit of residents, businesses and visitors."
"As part of the action plan we have asked some owners in the area to consider making alterations to their properties. This included asking the owners of The Carron Fish Bar to consider removing their banner."
Since the council's announcement locals have defended the shop on its Facebook page saying that the order is "ridiculous".One commenter said: "You guys bring thousands of visitors to the town. Other things in my opinion make the town look untidy like the state of the woods and the mess on the boardwalk."
Others said: "Shocking, council needs a shake-up , maybe should concentrate on the mess on the beach with fly ridden seaweed" and "Ridiculous, what next will the council think of to keep visitors away".
The chip shop first "invented" the battered sweet, which contains about 1,200 calories, in 1992 when a school boy asked to have his favourite chocolate bar drenched in batter, according to the Scotsman.
Since then the snack has become internationally renowned and Watson sells between 100 and 150 of the high fat treats every week.
Register for free to continue reading
Registration is a free and easy way to support our truly independent journalism
By registering, you will also enjoy limited access to Premium articles, exclusive newsletters, commenting, and virtual events with our leading journalists
Already have an account? sign in
Register for free to continue reading
Registration is a free and easy way to support our truly independent journalism
By registering, you will also enjoy limited access to Premium articles, exclusive newsletters, commenting, and virtual events with our leading journalists
Already have an account? sign in
Join our new commenting forum
Join thought-provoking conversations, follow other Independent readers and see their replies