Spare Geronimo the alpaca for research purposes, his lawyers tell Environment Secretary
"It's not what I want, but it would be better than killing him" says owner
Holly Bancroft
Thursday 12 August 2021 10:59 Comments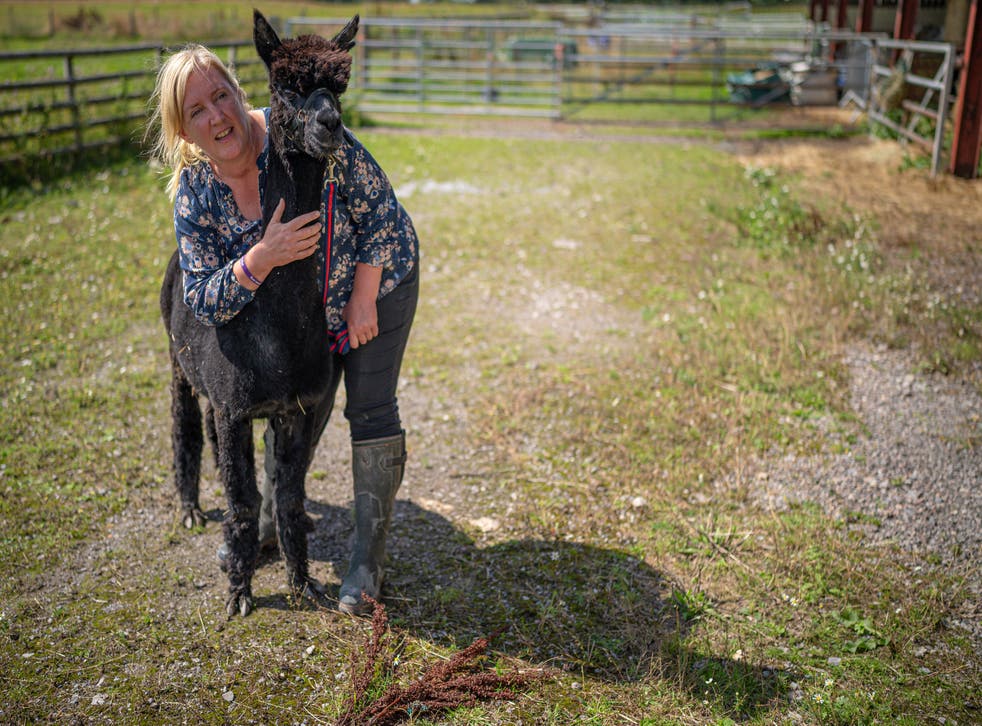 Lawyers representing the doomed alpaca Geronimo have petitioned the Environment Secretary asking him to spare the animal for research.
They have argued that powers included in the Animal Health Act 1981 would allow the alpaca to live if he is handed over to the authorities for scientific research.
Geronimo's owner, Helen Macdonald, told Farmers Weekly: "There is a piece of legislation that allows an animal to be isolated for research. We asked George Eustice to do this at the end of 2018 and he flatly refused.
"Lawyers have written to Mr Eustice to ask him to reconsider, but we have not heard anything back yet."
Geronimo is under orders to be killed because he tested positive for bovine tuberculosis four years ago. However Helen Macdonald argues that the testing is flawed and that her animal is healthy.
Following increased public interest in the case, a webcam was set up on Wednesday next to Geronimo's enclosure to live stream footage of the animal to his supporters. Last week, Ms Macdonald lost a £50,000 legal battle with Defra and the Government can now euthanise the alpaca within 30 days from August 5th.
"Geronimo has been held in isolation for four years at my farm, so he could stay here", Ms Macdonald said. "He's no risk to anybody because of our biosecurity.
"There are no cows around here and everything is fully badger-fenced. There is no wildlife risk and they have been happy with that for four years. There is no reason why they have to shoot him."
Speaking about her lawyers' application to George Eustice, Ms Macdonald said: "This could mean Geronimo having to move to an institute such as the University of Liverpool for research. It's not what I want, but it would be better than killing him."
The University of Liverpool has carried out research into the spread of bovine TB - including testing wild badger populations for the disease.
The eight-year-old alpaca has been kept in isolation at the farm in Wickwar, south Gloucestershire ever since he was imported from New Zealand in 2017.
He had tested negative for TB in New Zealand but then twice tested positive for the disease on arrival in England.
Ms Macdonald insists the results were "false positives" because Geronimo had been "primed" by TB before being tested, a method Defra says improves the sensitivity of the blood test.
The British Alpaca Society has accused the Government of not wanting to "learn for what is going on".
Duncan Pullar, BAS Chief Executive, said: "Defra will not allow further testing on Geronimo. There is no science to explain the effects of multiple priming on the outcomes of the Enferplex test in alpacas and no research has been carried out.
"Four years on from the tests Geronimo is healthy, as are the alpacas that have been sharing his paddock, and indeed the alpacas that travelled from New Zealand with Geronimo on the same or contiguous crates".
Register for free to continue reading
Registration is a free and easy way to support our truly independent journalism
By registering, you will also enjoy limited access to Premium articles, exclusive newsletters, commenting, and virtual events with our leading journalists
Already have an account? sign in
Join our new commenting forum
Join thought-provoking conversations, follow other Independent readers and see their replies