'The Home Office is destroying their lives': Father-of-two set to be deported to Jamaica after being 'unlawfully' detained
Exclusive: Second charter flight to Caribbean since Windrush scandal set to leave within weeks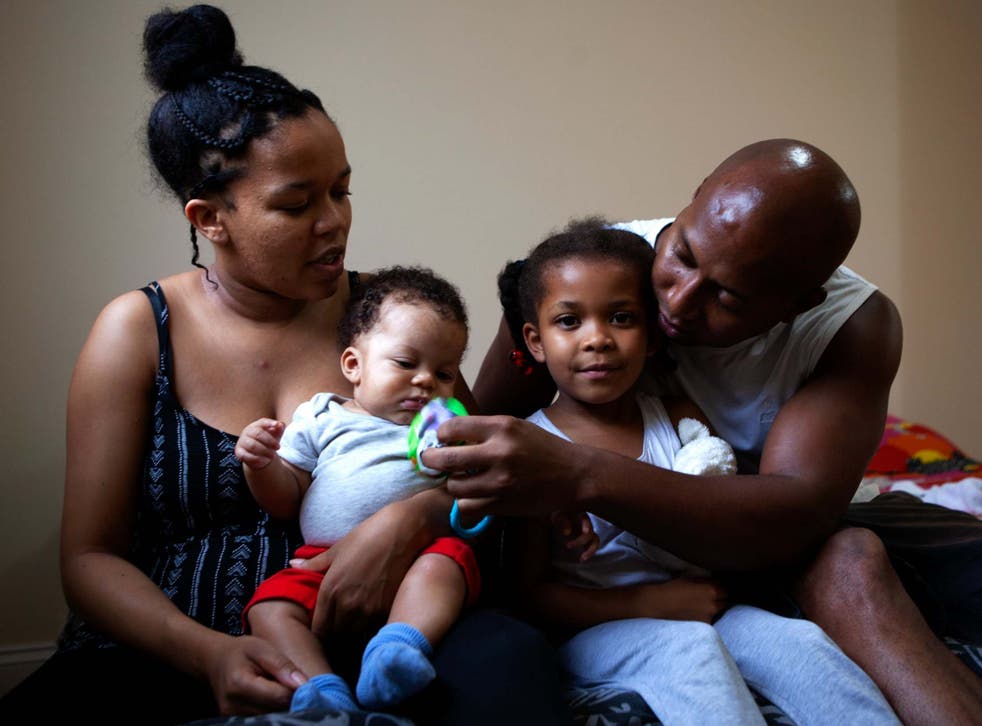 A father has been separated from his wife and young British children, to be deported to Jamaica after being detained in a move his lawyers say is unlawful.
Joseph Nembhard, 38, was locked up on Monday and told he would be placed on a charter flight to Jamaica on 11 February – the second charter flight to travel to the country since the Windrush scandal two years ago.
The Jamaican national's solicitors say the Home Office acted unlawfully in detaining him because he had an ongoing immigration case, and is also a key witness in the inquest into the death of an immigration detainee.
The move meant he has been ripped from his partner and children – aged five and eight months – who he lives with in Harringey, London, and faces being deported back to a country he hasn't visited since he moved to Britain 20 years ago.
Dozens of other Jamaican nationals are said to have been detained in recent days and are set to be deported on the same charter flight, which campaigners said should not be happening before the much-delayed Windrush Lessons Learned Review has been published.
Speaking from Brook House removal centre, Mr Nembhard said the situation was "heartbreaking" and he was worried about his family. His partner, Jade Samuel, is currently on maternity leave and is due to return to work in two weeks, but won't be able to if he has left the country, which he said would leave her "struggling to cope".
Mr Nembhard, who has been fighting his immigration case for years, said: "I'm really depressed. I cry when I think about my child. It's really sensitive because I'm the world to her, and she's the same to me. We have a really close bond and this is all starting to affect her.
"My partner will struggle to cope. I don't know what I'll do if I have to leave my kids. The Home Office is destroying their lives."
The Jamaican national arrived to the UK on a visit visa in 1999. He met his ex-wife and applied to remain in the country with her but his application was refused.
He continued to fight the case but was accused of assault by his ex-wife – whom he had by this point separated from and got together with Ms Samuel – an allegation he still denies.
The courts found him guilty and he was sentenced to prison shortly after his daughter was born. He was then immediately detained under immigration powers, before being released on bail and settling down in London with Ms Samuel and their daughter.
In February 2019, he was one of several Jamaicans threatened with deportation despite being key witnesses in the inquest into the death of an immigration detainee – but he was granted last-minute reprieve after solicitors intervened.
Without immigration status, Mr Nembhard has been unable to work, but Ms Samuel, who works as a supervisor at a jewellery wholesalers, said the family "makes it work" as he is able to care for the children while she works.
"He's an amazing dad. He is their primary carer. I want to be able to work and continue providing for my family. If he is deported I'll become a single mum, I'd have to rely on benefits. I've never had to do that. It took me a long time to get to this position at work but this means I will have to stop working," she said.
"When he was detained on Monday, I did the school run instead of him. My daughter asked, 'Where's dad? Has he gone to that place again?' She's been emotional. I've had to let her school know. She keeps asking when he's coming home. They're really close.
"The immigration situation has really shaken us up over the past few years. Every time we get a bit of stability, they seem to take him away again. He deserves to be with his family. Here is where his life is."
Mr Nembhard was detained despite the fact that he had a "further submissions" appointment with the Home Office in March where his immigration case was going to be reconsidered.
David Lammy, the family's local MP, condemned the Home Office for putting them in this situation, saying the lives of Mr Nembhard's British wife and children were being "devastated" by the department's "gross mishandling" of the case.
The Labour MP said more broadly that it was wrong for the Home Office to be chartering deportation flights to Jamaica and other parts of the Caribbean before the delayed Windrush review has been published, adding: "How can the home secretary be sure she is not making the same mistakes?"
Naga Kandiah, of MTC Solicitors, who is representing Mr Nembhard, said his detention was making it difficult to effectively prepare for his Home Office interview in March, and accused the Home Office of acting in a "harsh and heartless" manner towards British children and their parents.
Why is the Home Office getting so many immigration decisions wrong?
"Without notification, Mr Nembhard was detained. Due to the complexity of his case, we need to obtain all of his past papers from previous solicitors, coroner's inquest papers, instruct medical and social worker reports, but we cannot do this as effectively as he is incarcerated," he said.
"His family are suffering due to the absence of Mr Nembhard at home. His British wife and British children are not only deeply worried by him being incarcerated with no certainty, but also, struggling to cope as a family unit in day to day activities."
The Home Office confirmed that it would be operating a charter flight to Jamaica in the coming weeks and said those being deported had all been convicted of crimes in the UK.
A spokesperson added: "Foreign nationals who abuse our hospitality by committing crimes in the UK should be in no doubt of our determination to deport them. Our priority will always be to keep the British public safe.
"The UK, like many other countries, uses charter flights to return people to their country of origin when they have no legal right to remain.
"The majority of those returned are on scheduled, commercial flights but this isn't always an option, especially if the individual is a foreign national offender."
Register for free to continue reading
Registration is a free and easy way to support our truly independent journalism
By registering, you will also enjoy limited access to Premium articles, exclusive newsletters, commenting, and virtual events with our leading journalists
Already have an account? sign in
Register for free to continue reading
Registration is a free and easy way to support our truly independent journalism
By registering, you will also enjoy limited access to Premium articles, exclusive newsletters, commenting, and virtual events with our leading journalists
Already have an account? sign in
Join our new commenting forum
Join thought-provoking conversations, follow other Independent readers and see their replies