Detained asylum-seeker freed after South Africa intervenes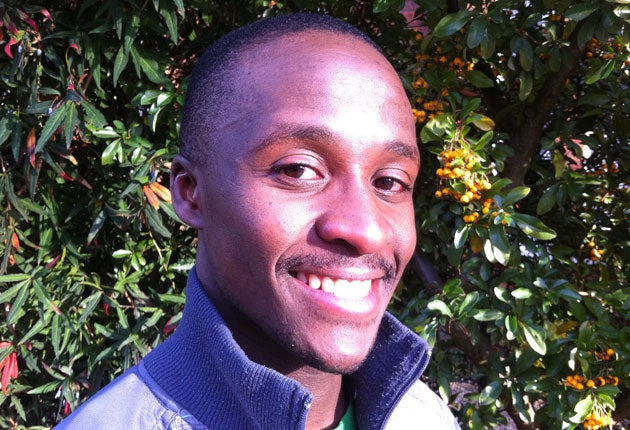 A Zimbabwean asylum-seeker, whose deportation from Britain was halted when his wrist was broken while he was being restrained by security guards, has been released from detention after intervention by the South African government.
Khuluza Mlotshwa, 31, claims he was assaulted by security guards in June when the UK Border Agency attempted to deport him on the grounds he was a South African citizen. A second deportation to South Africa was aborted last month after his allegations of abuse were reported by The Independent.
Mr Mlotshwa, who came to the UK in 2007, fleeing persecution by Robert Mugabe, says that on Friday he was interviewed by an official from the South African embassy in London who questioned him about his disputed nationality. "He tried to speak to me in Zulu but I couldn't understand him. And a few hours later I was released," a joyful Mr Mlotshwa told The Independent.
Mr Mlotshwa, who has been held in detention since March, has provided a variety of documents to the UK Borders Agency, which he says demonstrates that he is Zimbabwean.
Like many Zimbabweans who had little choice other than to travel on South African papers, Mr Mlotshwa says he fears that he will be imprisoned in South Africa and then deported to Zimbabwe, where he says he faces persecution.
Last month Jimmy Mubenga, 46, an asylum-seeker from Angola, died when he was being deported by G4S guards from the UK. That death is being investigated by Scotland Yard, and three G4S guards have been arrested.
Mr Mlotshwa, who was handcuffed and wearing leg-locks during his aborted Virgin Airways flight, alleges that he was punched and kicked by guards and had his wrist twisted back.
A Home Office investigation has now exonerated the two G4S security officers – even though one of the guards can be heard on CCTV saying that Mr Mlotshwa "put up a good fight". Although Mr Mlotshwa has been granted his freedom he is still at risk of deportation. His lawyers have launched a judicial review of how the Home Office handled his allegation of mistreatment during his first aborted deportation on the Virgin jet.
He said yesterday: "I still have nightmares about what happened. Having lost the value of life, I am still in fear of the same incident happening again. The trauma of what happened will never leave me."
Join our commenting forum
Join thought-provoking conversations, follow other Independent readers and see their replies