Neglect and serious failings contributed to death of vulnerable man in removal centre, inquest finds
Prince Fosu had been experiencing psychotic episode but was not referred for mental health assessment due to 'gross failures' by Home Office and other agencies, jury finds
May Bulman
Social Affairs Correspondent
Monday 02 March 2020 19:30 Comments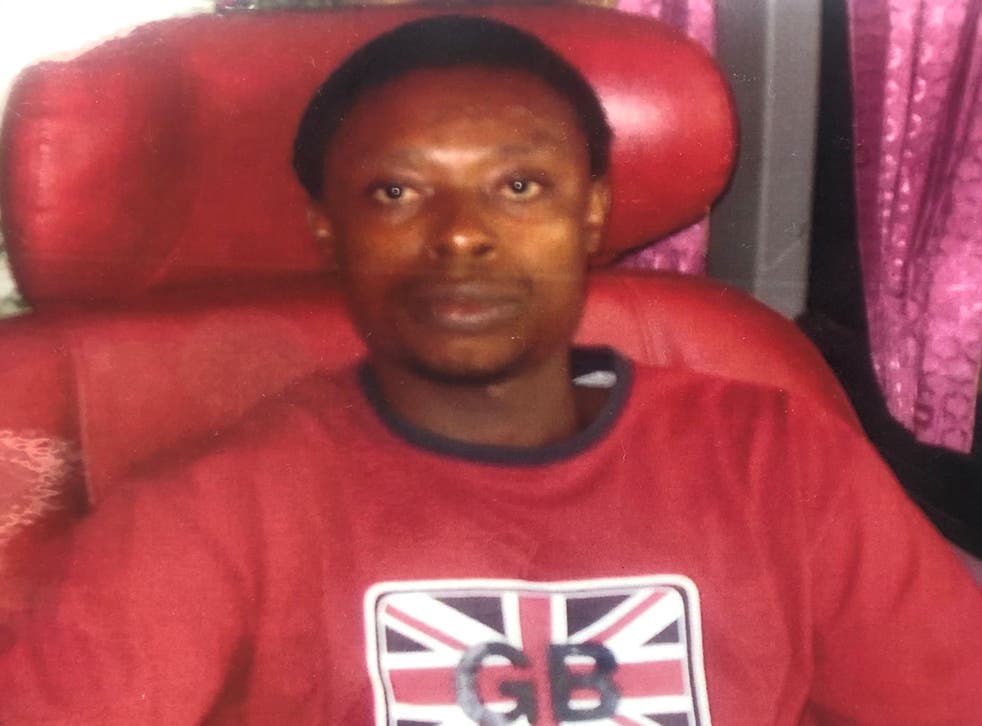 Neglect and serious failures by the Home Office and multiple other agencies contributed to the death of a vulnerable man who died from hypothermia, dehydration and malnutrition in an immigration removal centre, an inquest has found.
Prince Fosu, a 31-year-old Ghanaian national, died in October 2012 when his naked body was found on the concrete floor of his cell in Harmondsworth, a detention centre near Heathrow.
He had been experiencing a psychotic episode but he was not referred for a mental health assessment due to "gross failures" by all agencies to recognise the need to provide appropriate care to a person unable to look after himself.
This is despite the fact that he was in unsanitary conditions, behaving "bizarrely", not communicating with anyone and with no bedding or mattress, which had been removed on his first day in detention, leaving him with nothing in his room which was apparently smeared with his own faeces, urine and food debris.
Four GPs, two nurses, two Home Office contract monitors, three members of the Independent Monitoring Board (IMB) and countless detention custody officers and managers who visited him failed to take any meaningful steps, the inquest found.
Three doctors have since been referred to the UK's medical watchdog for their alleged failures relating to the death of Mr Fosu on recommendation of the Prison and Probation Ombudsman (PPO), who said the care he received fell "considerably below acceptable standards".
Mr Fosu entered the UK on a valid business visitor visa and was then refused leave on entry but appealed. Shortly after the appeal concluded he was encountered running naked down the street in Kettering.
Despite concerns of police officers, a mental health assessment in Corby police station concluded that he was, at least at that time, not sectionable and he was fit to be detained and transferred to immigration detention.
Shortly after his detention, Mr Fosu was found ranting into a mirror, and was then restrained and put into segregation where he remained until his death six days later. He lost 15 per cent of his bodyweight in six days at Harmondsworth and was described as "emaciated".
The inquest jury concluded the medical cause of Mr Fosu's death was "a sudden death following hypothermia, dehydration and malnourishment in a man with psychotic illness", contributed to by neglect and multiple serious failures by every agency involved.
It said that overall the control points put in place to control vulnerable detainees at Harmondsworth were "grossly ineffective" and that there were "gross failures" across all agencies to recognise the need for appropriate care to a vulnerable person.
Publishing her report at the end of an inquest into Mr Fosu's death, PPO Sue McAllister said while she acknowlged that managing his complex behaviour presented staff at the centre with challenges, the care he received "fell considerably below acceptable standards".
She added: "I am very concerned about the standard of care that Mr Fosu received. No one referred him for a mental health assessment or even seemed to consider whether there might be any underlying physical or mental ill health conditions affecting his behaviour."
Mr Fosu's father, Prince Obeng, said his son's death was "entirely preventable" and describes it was "inexplicable how all of these people walked away and left him to die like that".
"It has taken us eight good years now to get answers as to the circumstances in which my son died. What we have found out is shocking," he continued.
"Prince was unwell and obviously needed medical attention but instead he died in the most degrading and painful way on a cold cell floor, surrounded by debris.
"He was left without bedding for six days and there is no positive record of him eating or drinking. Staff had observed him in these conditions but none of those tasked to ensure his welfare helped him. Food, fluids and warmth would have saved him.
"My son came here to the UK on a valid business visa but was refused entry to the UK. If you detain someone you have to look after them. I now have to return to Ghana and try to explain to Prince's wife and child how he died. I am not sure I can."
Deborah Coles, director of INQUEST, said Mr Fosu's death was a "direct result" of the UK's hostile immigration policies, adding: "This reinforced a toxic culture of indifference and neglect, where professionals who came into contact with Prince were simply unable to see the human being before them."
"It is unconscionable that someone entrusted to the care of the state can die in this way. The jury have delivered a damning indictment of all of those responsible. Prince was failed at every level, by individuals and agencies who owed him a duty of care."
Emma Ginn, director of Medical Justice, said that seven years on from Mr Fosu's death, lessons had not been learned, with the charity's independent volunteer doctors still seeing mentally ill detainees held in segregation who have become psychotic, suicidal, stopped eating and drinking, and lost mental capacity.
She said Mr Fosu had been "dehumanised" and that the failure of individual professional responsibility in his death was "staggering".
UK news in pictures

Show all 50
"Removal centre doctors, Home Office officials and guards treated Mr Fosu's life with casual contempt and effectively watched him die right in front of them. There is nothing to prevent it happening again tomorrow," said Ms Ginn.
"Policies were clearly not protective enough, and the training and supervision of staff was wholly ineffective. On top of this the culture of disbelief pervading immigration detention had a fatal consequence."
A Home Office spokesperson said: "Our deepest condolences are with Mr Fosu's family following his tragic death in 2012. The standard of care Mr Fosu received was unacceptable, and we must never allow this to happen again.
"Since Mr Fosu's death we have increased the number of staff in immigration removal centres, improved how detainees are managed and safeguarded, including the introduction of the Adults at Risk policy and increased monitoring of vulnerable people in detention."
Register for free to continue reading
Registration is a free and easy way to support our truly independent journalism
By registering, you will also enjoy limited access to Premium articles, exclusive newsletters, commenting, and virtual events with our leading journalists
Already have an account? sign in
Join our new commenting forum
Join thought-provoking conversations, follow other Independent readers and see their replies