Diamond ring bought for £10 at car boot sale expected to fetch £350,000 at auction
The 'exceptionally sized' stone was presumed not to be real because of its lack of shine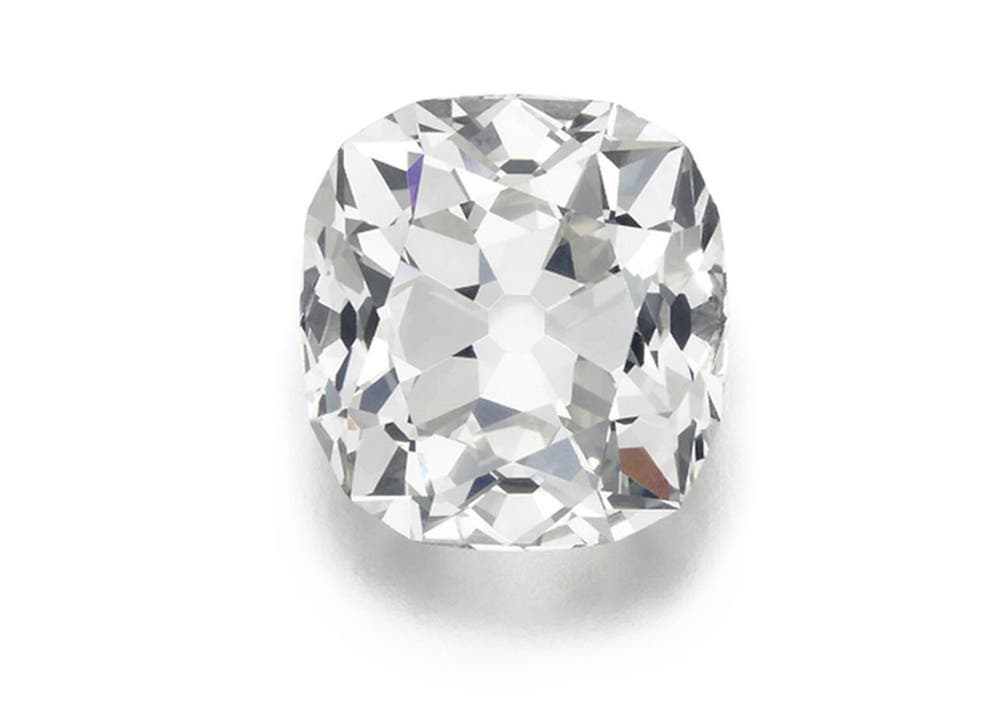 A large, diamond ring is expected to fetch £350,000 at auction 30 years after its owner paid £10 for it at a car boot sale, thinking it was a costume jewel.
The "exceptionally-sized" stone was presumed not to be real because 19th Century diamonds were not cut to show off their brilliance like today's gems.
And so the owner, unaware of its value, wore it for decades, while doing everything from the shopping to the chores.
The 26.27 carat, cushion-shaped, white diamond, snapped up at a Sunday sale at the West Middlesex Hospital in Isleworth in west London in the 1980s, is going under the hammer at Sotheby's in July.
The auction house's head of London jewellery department Jessica Wyndham: "The owner would wear it out shopping, wear it day-to-day. It's a good looking ring.
"But it was bought as a costume jewel. No-one had any idea it had any intrinsic value at all. They enjoyed it all this time."
She told the Press Association: "They'd been to quite a few car boot sales over the years. But they don't have any history of collecting antiques and they don't have any history of collecting diamonds. This is a one-off windfall, an amazing find."
Ms Wyndham said that after around 30 years wearing the ring, the owners bought it into Sotheby's after a jeweller told them it could have substantial value.
"They came in with the idea that it might be real and they had no idea of its value," she said.
"We had a look and said ...'I think that's a diamond and we got it tested at the Gemological Institute of America."
She added: "The majority of us can't even begin to dream of owning a diamond that large."
Ms Wyndham said the owners, who do not want to be named, are "incredibly excited, anyone would be in this position, it's a life-changing amount of money.
"No matter what your background is or what your past experiences have been, it's going to revolutionise someone's life," she said.
The diamond is thought to have been cut in the 19th Century but its history and how it arrived at the car boot sale, is unknown.
Because the older style of diamond cutting was "slightly duller and deeper than you would see in a modern style ...it could trick people into thinking it's not a genuine stone."
"(Now) the diamond cutter is looking to maximise the amount of brilliance from the stone...because that's what makes it sparkly," she said.
"With an old style of cutting, an antique cushion shape, the light doesn't reflect back as much as it would from a modern stone cutting. Cutters worked more with the natural shape of the crystal, to conserve as much weight of the crystal rather than make it as brilliant as possible."
But Ms Wyndham said: "The older stones have quite a bit of personality, they sparkle in a different way."
"Serendipity" may have prompted the owners to buy the ring in the first place, she said, "but a 26 carat, cushion-shaped diamond, no matter how filthy or dark that mount was, maybe that stone still speaks to people."
She added: "They also bought some designer dresses for about £10. We should have all been at the car sale!"
:: The diamond ring will be offered as part of Sotheby London's Fine Jewels sale, on July 7.
Register for free to continue reading
Registration is a free and easy way to support our truly independent journalism
By registering, you will also enjoy limited access to Premium articles, exclusive newsletters, commenting, and virtual events with our leading journalists
Already have an account? sign in
Register for free to continue reading
Registration is a free and easy way to support our truly independent journalism
By registering, you will also enjoy limited access to Premium articles, exclusive newsletters, commenting, and virtual events with our leading journalists
Already have an account? sign in
Join our new commenting forum
Join thought-provoking conversations, follow other Independent readers and see their replies