Families at 'dinosaur day' left disappointed after finding just one small model dinosaur
'Wow! What an absolute waste of time, disgusted that no one could even be bothered to tell the public that there is only one dinosaur'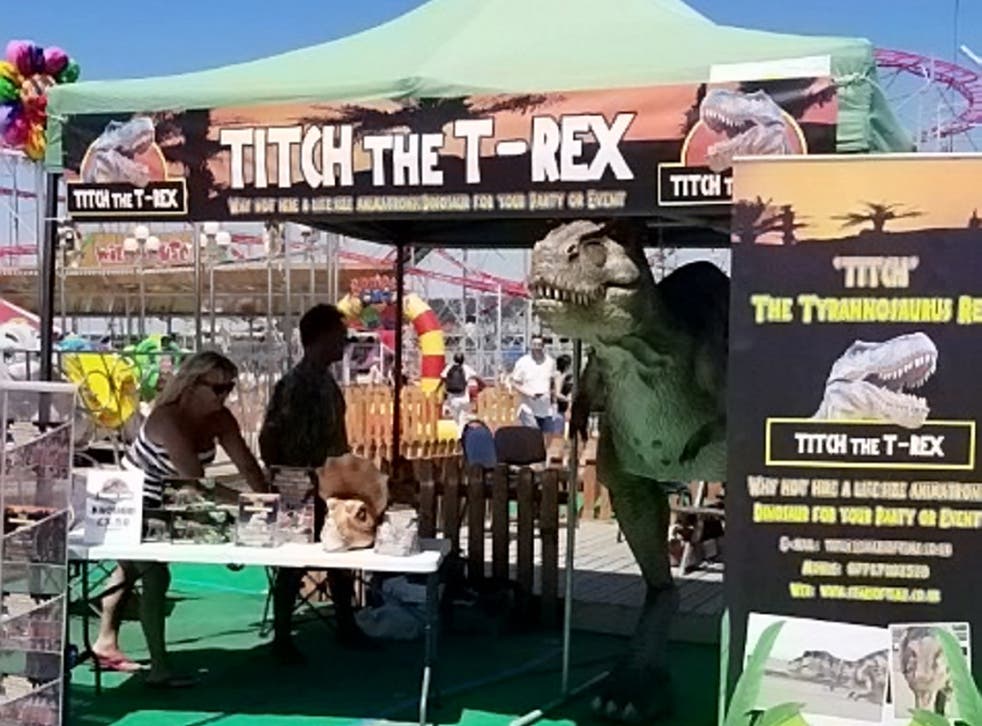 Families who attended a "dinosaur day'' at a theme park Weston-super-Mare were left furious after finding only one model dinosaur.
The day at Funland Tropicana was billed as "a day of everything dinosaur related with lots to see and do" but parents said their children were left in tears when they turned up to find just one small T-rex.
The park apologised saying that part of their dinosaur exhibition were unable to attend due to last-minute transport issues.
Organisers did however admit that their advertising had exaggerated the event and that guests who complained were offered free rides.
Parents bombarded the event's Facebook page with angry messages and several said their young children had been bitterly disappointed at the lack of dinosaurs – leaving the park in tears.
Charlie Rayner said: "Wow! What an absolute waste of time, disgusted that no one could even be bothered to tell the public that there is only one dinosaur.
"So many disappointed children with dino t-shirts on. Brought my dino-mad 5-year-old as a well done for his school report but you left him in tears he was so upset! I'll never be back to the Tropicana again!"
Wendie Smith from Bristol said she had made the 50-mile round trip with her two grandsons, aged 3 and 7, to Funland Tropicana for Dinosaur Day.
"They were so excited, we had a sleepover and then went to see the dinosaurs. When I got there and there was just one, I thought we were too early and they hadn't set the rest up yet.
"I'm quite cynical and I said to my partner, 'I bet there's just one, to get us here'."
Ms Smith added that when she found out there really would be no more dinosaurs she had to break the news to her grandsons who were "gutted".
"The eldest one was absolutely gutted. I think it's disgusting, I won't be going back," she said.
A member of park management said it was just an unfortunate accident, not a ploy, and they were sorry visitors had been let down.
UK news in pictures

Show all 50
A spokesperson said: "It was an absolute disaster, from our point of view. We really don't like disappointing people.
"We had three dinosaurs booked. One, which was local to us, turned up but the others were coming down the M5 when the van pulling their trailer broke down.
"We were just stuffed – we didn't hear they couldn't make it until just before the event was due to start. We were as disappointed as the customers to hear that they weren't coming.
The manager said he understood people had come from a long way-away and staff had tried their best to deal with complaints made to them on-site, offering free rides to people who complained.
"Our advertising this year probably bigged it up a bit too much," he admitted.
Register for free to continue reading
Registration is a free and easy way to support our truly independent journalism
By registering, you will also enjoy limited access to Premium articles, exclusive newsletters, commenting, and virtual events with our leading journalists
Already have an account? sign in
Register for free to continue reading
Registration is a free and easy way to support our truly independent journalism
By registering, you will also enjoy limited access to Premium articles, exclusive newsletters, commenting, and virtual events with our leading journalists
Already have an account? sign in
Join our new commenting forum
Join thought-provoking conversations, follow other Independent readers and see their replies