Disabled child refugees entry to UK through resettlement scheme suspended by Home Office
Exclusive: Move condemned as 'marking new low' in Government's handling of crisis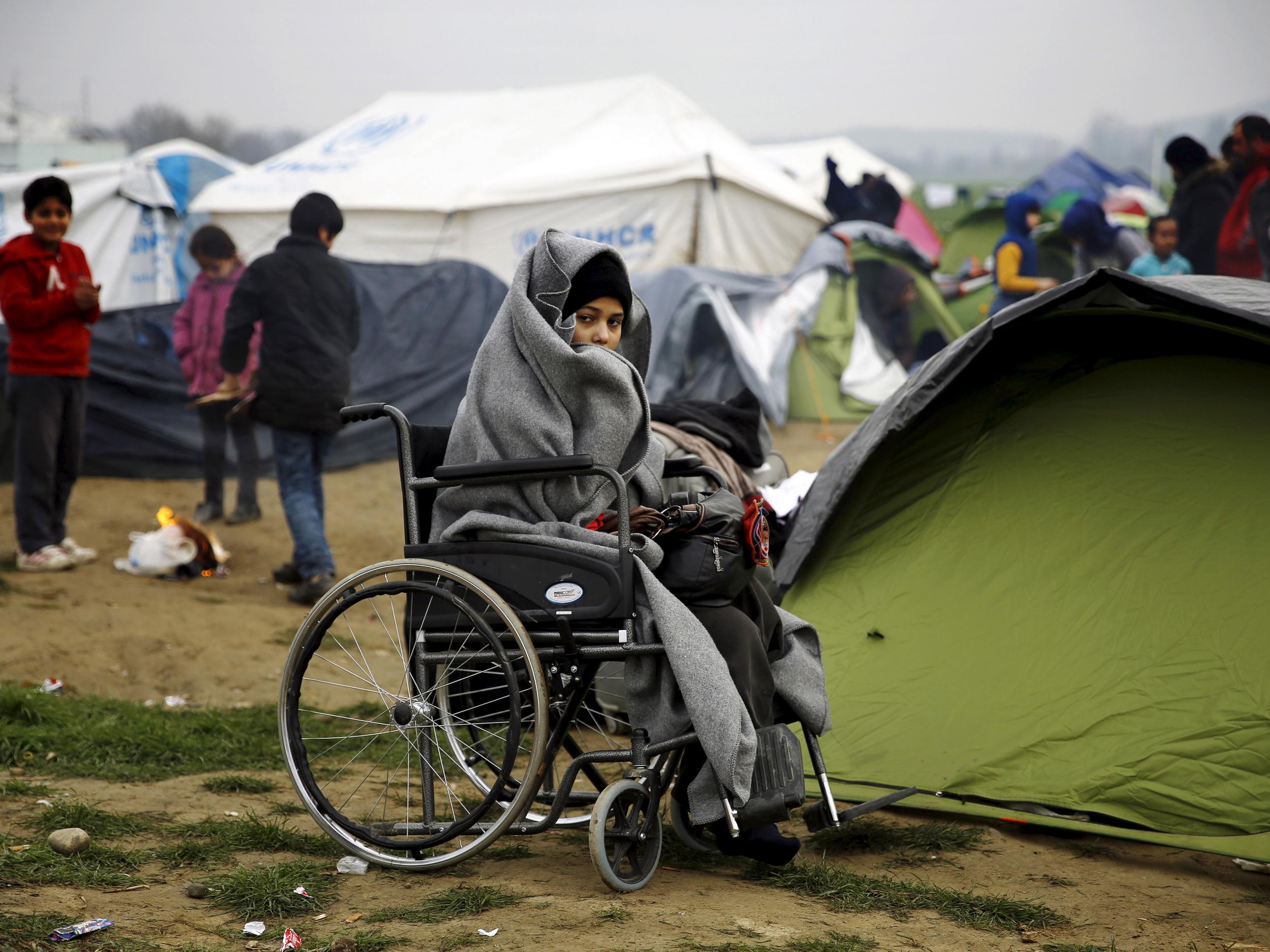 The Government has stopped accepting disabled child refugees fleeing war in Syria and other countries because it says it cannot cope with their needs, The Independent can reveal.
A flagship government programme to resettle the most vulnerable victims of conflict in the Middle East and North Africa has been partially suspended, meaning children will be left in refugee camps instead of being moved to safety in the UK.
The revelation, condemned as "unthinkable" and "marking a new low" in the Government's handling of the refugee crisis, comes as ministers came under fire for closing down a separate scheme, the Dubs programme, offering sanctuary to lone refugee children in Europe.
Amber Rudd, the Home Secretary, was forced to defend the Dubs closure yesterday, but faced criticism for saying that the scheme would "incentivise" children to travel to Europe. The Archbishop of Canterbury said he was "saddened and shocked" by its closure and appeared to compare the Government's position with that of Donald Trump.
The crisis affecting the Government's refugee programmes deepened as it emerged that its Vulnerable Children's Resettlement Scheme, which is supposed to rehome 3,000 children with their families from countries including Syria, Libya, Yemen and Iraq, is not accepting young people with complex needs, including disabilities and learning difficulties.
The United Nations Commissioner for Refugees (UNHCR), which processes applications, said the Home Office had requested it "temporarily limit" requests from people with mobility problems and learning disabilities because there was not "suitable reception capacity" for them.
The Independent understands the Home Office has been refusing to consider applications from people with disabilities since at least the beginning of January. It is understood that no end date to the suspension has yet been set.
The latest developments come after the Home Affairs Select Committee found last month that accommodation provided for asylum seekers in the UK was a "disgrace", with investigators describing people living in rat and insect-infested housing.
Shadow Home Secretary Diane Abbott said the revelation about disabled children "represents a new low for the Government" and she will be making further inquiries.
World news in pictures
Show all 50
Shantha Barriga, director of Human Rights Watch's disability rights division, said: "Shutting the door on vulnerable children is an affront to British values.
"People with disabilities endure unimaginable hardship during conflict, and many faced huge hurdles in escaping the violence. That the UK now says it's not prepared to accept refugees with disabilities is unthinkable.
"It's an indefensible decision and blatant discrimination. The UK is not simply lacking 'suitable accommodation' in this case, but seems to be lacking political will."
Dr Lisa Doyle, head of advocacy at the Refugee Council, said: "The refugees who benefit from the UK's resettlement programmes are by definition the most vulnerable, and refugees with disabilities will often have specific needs.
"While the Refugee Council knows that communities up and down the country are keen to help welcome refugees it appears there is an urgent need for accessible accommodation."
Andrej Mahecic, the UNHCR's senior external relations manager, said: "The Home Office has requested UNHCR to temporarily limit submissions of cases with special mobility and educational needs.
"We understand that this temporary measure is to assist the Government and local authorities with ensuring that suitable reception capacity is available for these highly vulnerable cases."
A Home Office spokesperson said it was wrong that all refugees with mobility or educational needs were being denied sanctuary. More than 1,000 adults under another refugee scheme – the Syrian Vulnerable Person Resettlement programme – have been brought to the UK.
But the spokeperson added that after discussion with the UNHCR, the Home Office had temporarily paused new referrals of some of the "most complex cases" to its Vulnerable Children's Resettlement Scheme. This would allow the Government to ensure those cases were properly accommodated when they arrived, they said.
"We work closely with the UNHCR and local authorities on both schemes and always ensure the necessary care packages are in place as we plan the arrival of vulnerable children and their families."
Join our commenting forum
Join thought-provoking conversations, follow other Independent readers and see their replies