Disabled model Chelsey Jay left 'humiliated' after Clothes Show Live fails to provide wheelchair access
'The fact that I was there to talk about disability inclusion in fashion, at a fashion event that excluded me, is laughable'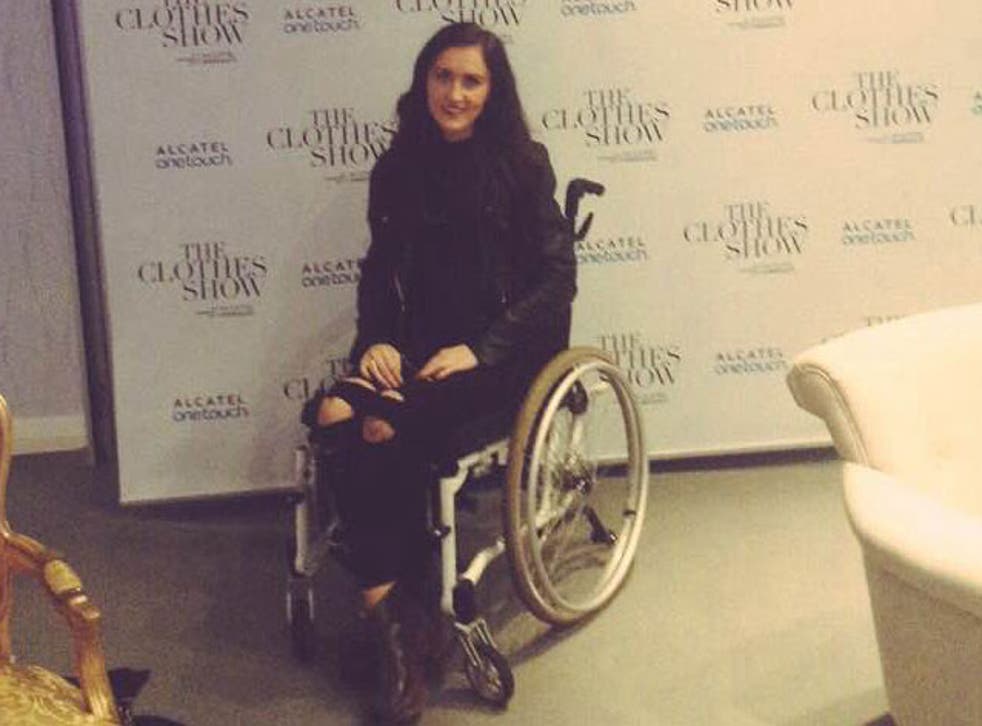 A disabled model has criticised one of the UK's leading fashion events after its lack of disabled access left her "humiliated".
Chelsey Jay, who has Postural Orthostatic Tachycardia Syndrome and uses a wheelchair, was denied the chance to speak at a Clothes Show Live seminar when the event's organisers provided no facilities for her to access the stage.
The 24-year-old from Essex, who campaigns for diversity in the fashion industry, was promised a place at one of the event's seminar panels to discuss the issue of disability inclusion in fashion.
According to Ms Jay her position on the panel came after over a year of communication with the Clothes Show Live over the fact they employed no models with a disability.
Ms Jay said organisers at the event initially ensured the stage she would be speaking from had "a bit of a step" and would organise a ramp if needed.
She was confronted, however, with a stage at least "15 inches high" and "no was ramp provided".
Ms Jay added the seminar room was "chaos" and people from the panel had already begun speaking 10 minutes early without her.
Ms Jay said: "I was not happy that I hadn't been notified that they were starting early and that now I would be interrupting a room full of strangers and they would all be sat in silence seeing me pushed up a ramp onto the stage.
"I thought I was going to have a panic attack. I felt sick. I couldn't believe it. I am so humiliated and feel like a fool."
"I thought the Clothes Show was genuine in their intentions for wanting to reach out to Models Of Diversity but they were not."
"The fact that I was there to talk about disability inclusion in fashion, at a fashion event that excluded me, is laughable, but it's not a joke, it's real life, and a reality to so many disabled people every single day."
Ms Jay has been campaigning with Models of Diversity - a groups advocating disability rights in the fashion industry - since she suddenly become disabled four years ago.
She is currently helping to launch a petition calling for a ban to employment discrimination on the grounds of disability.
The Clothes Show have since apologised to Ms Jay for any distress she may have been caused.
A statement from the event said: "The Clothes Show invited Chelsey Jay to this year's event as a guest, and due to genuine human error the access that she required to take part in our seminar was not made available on time.
"The Clothes Show has written both privately and publicly to apologise for any distress this has caused and have tried to speak to both Chelsey Jay and Models Of Diversity to apologise in person, however they will not take our calls.
"Although The Clothes Show 2015 closed its doors just 2 days ago, conversations started several months ago to review how the show can be even more inclusive, however it is too early to announce our plans for 2016."
Join our new commenting forum
Join thought-provoking conversations, follow other Independent readers and see their replies