NHS cost cutting leaving disabled people 'interned' in care homes
Watchdog warns new funding caps to home care will drive disabled people into care homes in potential breach of their human rights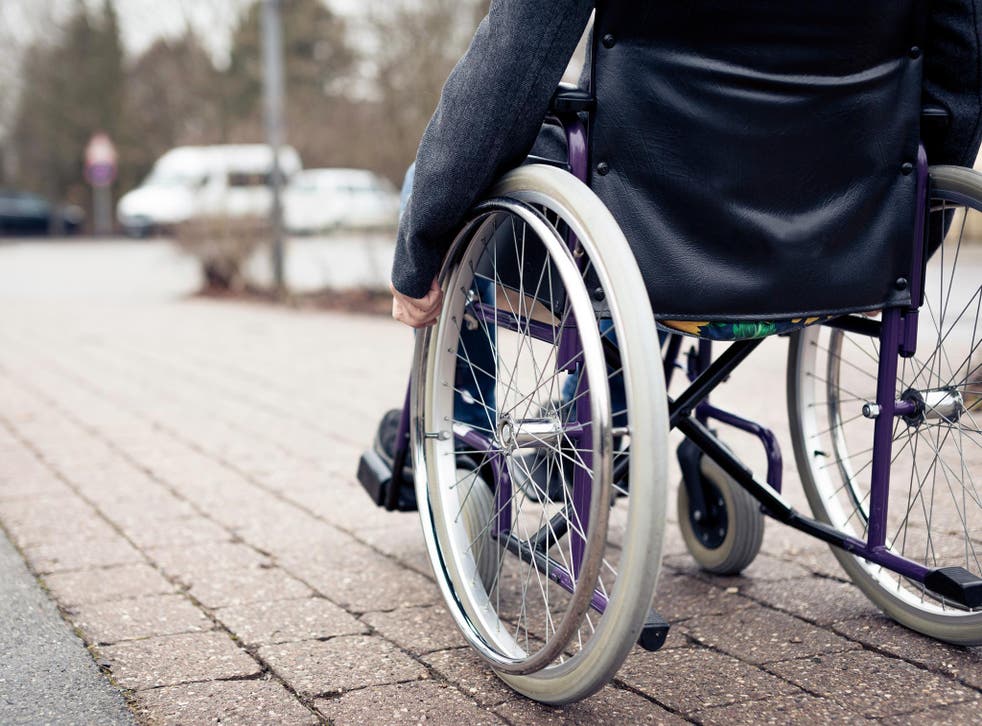 Disabled people in the UK face being "interned" in care homes due to NHS cost-cutting measures, in what amounts to a potential breach of their human rights, it has emerged.
The Equality and Human Rights Commission (EHRC) has warned a new policy that caps funding for NHS care outside hospital means disabled people may be prevented from living at home with their families despite being well enough to do so.
Out of hospital care, known as continuing healthcare, can be arranged in a care home, nursing home, hospice or a person's own home. But the EHRC said the new funding caps, which have been rolled out in at least 44 Clinical Commissioning Groups (CCGs) across the UK, set an upper limit on the provision of care in a person's home, which for many is not sufficient to meet their care needs.
Disability groups told The Independent many disabled people are already receiving threats from CCGs that if they cannot live on the newly capped funding for their home care, they will have to be moved to a residential setting – a threat that for some is "petrifying".
CCGs are required to ensure that the process of planning the delivery of home care services should be person-centred and that, as a minimum, it is necessary to take full account of the individual's own views and wishes.
But the EHRC said the funding caps fail to take into account a person's specific circumstances. It warned that this may amount to a breach of the European Convention of Human Rights and the UN Convention on the Rights of Persons with Disabilities, by failing to comply with individuals' rights to a private family life and to independent living.
The EHRC has written to each of the 44 CCGs demanding more detail on their policies in order to fully understand how they were developed and how they operate in practice, giving them 21 days to share these details. If they fail to co-operate, the EHRC will be taking legal action.
The letter states: "We are currently assessing CCG NHS Continuing Healthcare policies and believe that in some instances these policies may not comply with obligations under the European Convention of Human Rights (ECHR) and the Equality Act 2010 (EA 2010).
"In particular, we believe that some policies may breach individuals' rights to a private family life and to independent living which are protected by Article 8 of ECHR and by Article 19 of the UN Convention on the Rights of Persons with Disabilities (UNCRPD) and that s149 of the Equality Act may not have been properly discharged."
When contacted by The Independent, NHS Clinical Commissioners, which represents CCGs across the UK, admitted that the "limited budgets" CCGs are allocated has meant that in order for disabled people to remain at home they are being asked to "top up" the difference themselves.
Dan Burden, public affairs director at the Spinal Injuries Association, said that an increasing number of disabled people were being threatened with "internment" in a nursing home if they are unable to afford living at home on the capped support.
"People are being threatened with the capped Continuing Healthcare funding if they want to live at home and being told that if they can't afford it with family members 'topping it up' they'll have to be interned in a nursing home," he said.
"This is outrageous. It's like them saying 'We've finished your operation, now ring your wife in and she can stitch you up'.
"This capping policy is slowly but surely spreading across the country. The next step is people will be incarcerated in nursing homes, and it's only a matter of time until they are.
"This is looking to turn back the disability rights movement by 30 years, with internment in a nursing home being the way in which disabled people's care is delivered. This is exactly what disabled people were fighting against in the seventies and eighties."
Jean Almond, 66, has Multiple Sclerosis (MS) and receives NHS Continuing Healthcare to live at home. She also relies on additional support from her husband Geoff. Her Continuing Healthcare funding has not been capped, but the couple live in constant fear that the money they receive will reduced or that it will continue to remain static and therefore not in line with the rise in care costs.
"They give us a small pot of money that pays carers seven days a week, but they aren't here all the time. Geoff does most of it. A lot of this package is Geoff on his own," Ms Almond, from Merseyside, told The Independent.
"The funding hasn't gone up. As the Government puts minimum wage up, we then have to pay that. A few years ago I went into one voluntarily while Geoff went away. It was the worst week of my life. I got given the wrong medication by accident. They made me really poorly.
"My biggest fear is if something happened to Geoff and I was forced to go into a care home. The future absolutely petrifies me."​
Rebecca Hilsenrath, chief executive of Equality and Human Rights Commission, said: "The right to live independently and play an active part in society is vitally important to disabled people. Disabled people are individuals.
"Having a one-size fits all cap on support is potentially driving people back into residential care and sending us back to the past. Each individual care package should be based on a person's specific needs, not restricted by spreadsheets."
In response to the accusations, chief executive of NHS Clinical Commissioners Julie Wood said: "When making assessments for NHS continuing healthcare the focus for CCGs will be on making sure they are meeting an individual's needs and as far as possible their choices.
"Unfortunately as much as CCGs, led by GPs, nurses and other clinicians, strive to fund people's care in the place of their choosing, there will be cases where choice cannot be absolute.
"This may be due to the complexity of the needs of the person, as well as in some cases the amount CCGs can afford to pay for an individual, in the context of the total amount of healthcare they need to provide for their entire population within the limited budgets they have been allocated.
Health news in pictures

Show all 40
"This means that there may be times where people understandably want a different more expensive setting than the care that has been found to meet their needs. In these cases sadly costs caps may be in place and people may be asked to 'top up' the difference."
Ms Wood added that in the case of continuing healthcare, the current framework that CCGs have to use is "too complex" and doesn't always lead to the best outcomes.
"This is why we are working with NHS England on behalf of our members to simplify the framework and make sure that it is more consistent, enabling CCGs to provide the best possible care for patients within the resources at their disposal," she said.
Register for free to continue reading
Registration is a free and easy way to support our truly independent journalism
By registering, you will also enjoy limited access to Premium articles, exclusive newsletters, commenting, and virtual events with our leading journalists
Already have an account? sign in
Register for free to continue reading
Registration is a free and easy way to support our truly independent journalism
By registering, you will also enjoy limited access to Premium articles, exclusive newsletters, commenting, and virtual events with our leading journalists
Already have an account? sign in
Join our new commenting forum
Join thought-provoking conversations, follow other Independent readers and see their replies