Commuters sent more than 400,000 angry tweets to train companies last year
First Great Western had the most tweets about delays
Paul Gallagher
Thursday 19 February 2015 01:05 Comments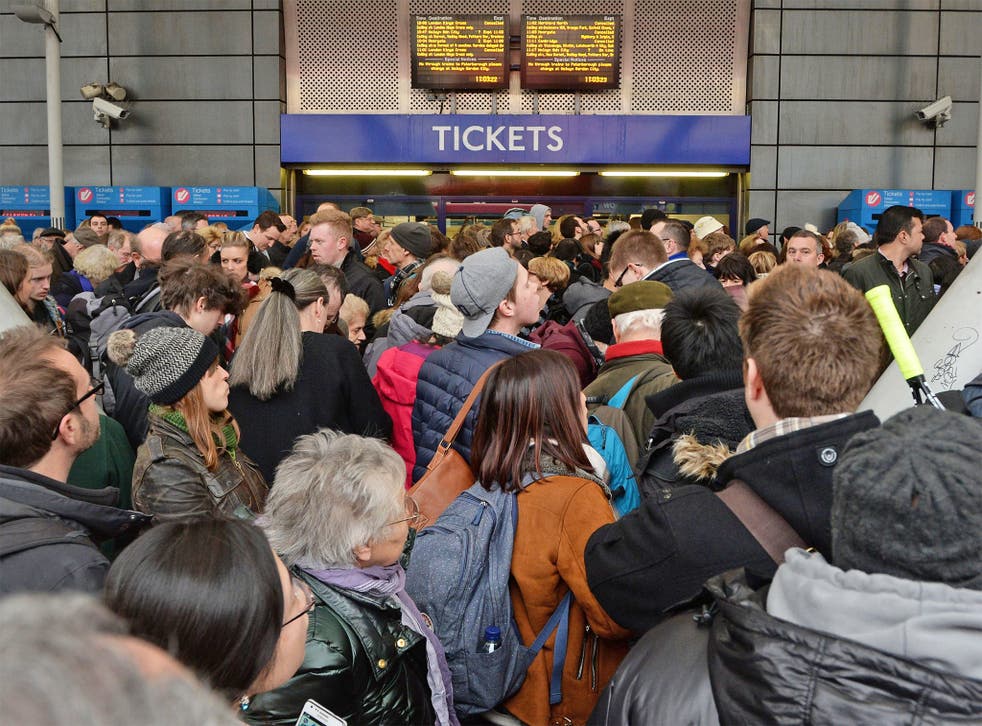 Moaning is often described as one of Britain's national traits yet it is no wonder given how overpriced and poorly run many of our train services are.
Now millions of irate commuters are flooding companies' Twitter feeds with their bad experiences as networks hire an increasing number staff to fill their social media teams.
Frustrated commuters bombarded firms with more than 400,000 tweets last year about delays, overcrowding and cancellations, according to a study by data team Commute London.
Based on tweets in 2014 from passengers of the 14 train companies which run services into London, the research showed that First Great Western, at 45,100, had the most tweets about delays, followed by Greater Anglia (41,120) and Southern (34,645).
Southern had the most tweets about cancellations (12,481), followed by FGW (9,573) and Greater Anglia (9,314).
The full list is:
Chiltern 3,321
Great Northern 3,603
East Midlands trains 7,211
c2c Rail 8,540
Thameslink 9,184
East Coast 11,194
First Capital Connect 15,956
London Midland 20,597
Virgin Trains 23,234
Southeastern 25,998
South West Trains 31,257
Southern 34,645
Greater Anglia 41,120
First Great Western 45,100
In a surprising admission to an angry passenger's inquiry last week, Southern admitted it is now receiving between 2,000 and 5,000 complaints a day. The honesty provoked a storm of criticism on social media as angry commuters weighed in.
One person wrote: "Something to be proud of, huh?", while another tweeted: "Which really demonstrates the level of dissatisfaction that we all have with the way you run the trains. Awful."
Lewes MP Norman Baker said: "I have had more complaints in the last three months about Southern than at any time since they won the franchise at the start of the century."
FGW was the company most tweeted about (265,201 tweets) in the study, followed by Virgin Trains (257,254) and Greater Anglia (241,038).
Travel chaos around the UK

Show all 6
"Due to signalling problems at Maidenhead some London bound train services may be cancelled or delayed," FGW announced on its Twitter feed yesterday in a message familiar to the nation's rail commuters.
Software support engineer David Wilson replied: "What's wrong, can't the signals handle a little cold? If the signals always break, replace them. Excuses but never answers."
FGW apologised to several more people who complained but Nadya Mer Mer tweeted a picture of people spilling out of a carriage and said: "This is the great service from Worst Late Western. @FGW Late, cancelled and short formation service. Worst service."
There was better news in the study for other franchises. Great Northern had the lowest number of total tweets (18,624) and the fewest about overcrowding (842), while Chiltern had the fewest tweets (639) about cancellations and also the lowest number about delays (3,321).
Commute London director Daren Wood said: "Social media sites like Twitter provide commuters with an open forum to make complaints, provide feedback and make themselves heard by others. Our analysis shows that the train companies need to make much better use of their Twitter feeds if they wish to keep customers happy by listening and learning from criticism."
Another survey from rail customer watchdog Passenger Focus revealed last month that overall passenger satisfaction had dipped from 83 per cent in 2013 to 81 per cent last year with London commuter train companies scoring the lowest marks.
Shadow transport secretary Michael Dugher pledged yesterday that the public would control more of the rail network if Labour won the general election. Mr Dugher said he wants to scrap the current franchising system promising "big changes" to rail ownership.
The most commonly used words in rail tweets
There were 70,969 tweets directed at the 14 companies using cancellation language such as "cancel", "replacement" and "bus replacement".
A total of 280,960 tweets used phrases including "delay", "late" and "stuck". "Crowd", "sardine" and "no seat" were used in 62,352 tweets about overcrowding.
In a typical example London student Fabian (@Germantleman) tweeted this week: "In case you ever wanted to experience the life of a sardine, take a train to Chelmsford from London at rush hour, voilà."
Register for free to continue reading
Registration is a free and easy way to support our truly independent journalism
By registering, you will also enjoy limited access to Premium articles, exclusive newsletters, commenting, and virtual events with our leading journalists
Already have an account? sign in
Join our new commenting forum
Join thought-provoking conversations, follow other Independent readers and see their replies