Disposable coffee cup recycling breakthrough turns paper cups into 'durable' resin
Less than 0.25 per cent of the estimated 3 billion paper cups used each year in the UK are currently recycled
Alexandra Sims
Wednesday 15 June 2016 22:27 Comments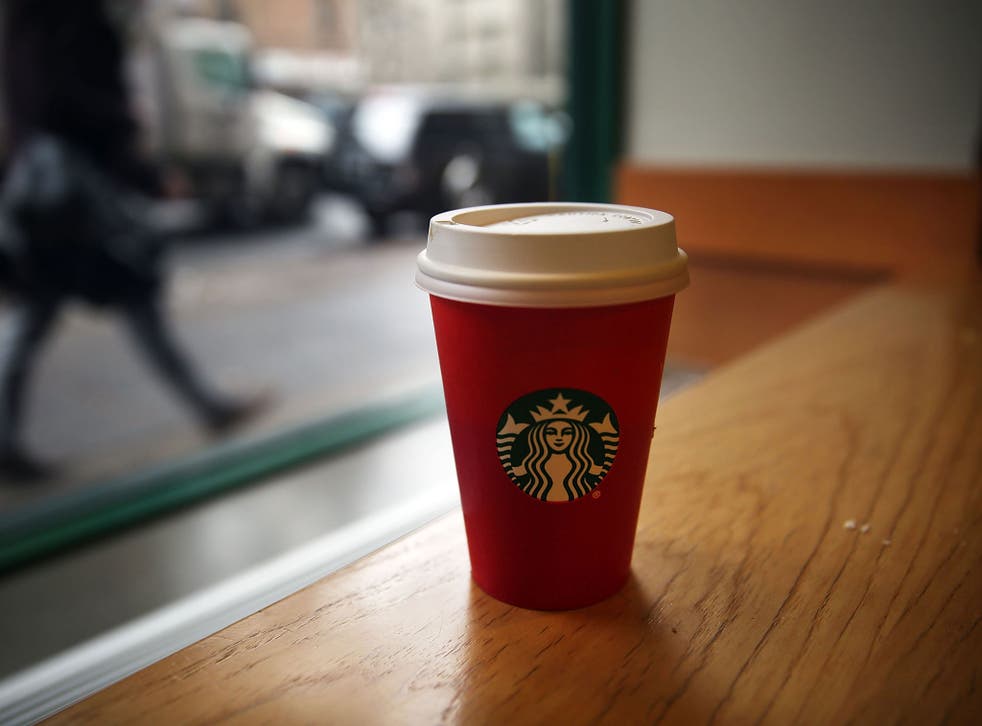 A radical initiative turning disposable coffee cups into a unique "durable" resin could prove to be a
breakthrough in recycling unsustainable takeaway cups as well as dramatically reducing waste.
Less than 0.25 per cent of the estimated 3 billion paper cups used each year in the UK are currently recycled, meaning the vast majority end up in landfill or energy-from-waste incinerators.
Earlier this year, the Environment Minister suggested a new tax could be placed on coffee cups in a bid to reduce waste.
However, calls for disposable paper cups to be more widely recycled are challenged by the make-up of the cups themselves.
Made from paper fibre and an additional plastic layer for waterproofing, disposable cups are extremely complex and troublesome to recycle as each layer must be painstakingly separated from the other.
Due to this, paper cups are not usually accepted in household recycling schemes and some high street coffee shops have faced warnings about symbols on their cups suggesting they are easily recyclable.
Exposed: The big waste scandal

Show all 5
To avoid this problem, Professors Dr Edward Kosior and Dr John Mitchell in conjunction with Nextek and Ashortwalk, have developed a resin, called NextCupCycle, which combines coffee cups' high quality paper and plastic to make a strong material able to make a myriad of practical products.
Dr Kosior, of Brunel University London's Wolfson Centre for Materials Processing and managing director of recycling consultancy Nextek told the Independent: "We come across a lot of packing where the materials are so tightly combined that if you try to separate them you spend a lot of time and energy and neither component comes out very pure."
"So we recognised that rather than spending time pulling them apart we should be looking at what happens when we combine them together."
The unique technology created through four years of research by Dr Mitchell at London's Imperial College, collects coffee cups and adds extra plastic to their paper fibres to make the resin.
While coffee cups are made mainly of paper with only a thin layer of plastic, the new resin aims for a 50:50 ratio of paper to plastic, improving the adhesion between the two materials and making a much stronger material, easily mouldable into products at high speeds.
Dr Chris Cheesman, a professor in the Department of Civil and Environmental Engineering at Imperial College, London, who supervised the research, says: "Paper cups use very high-quality, very strong cellulose. So the flakes can turn a brittle and not especially tough plastic into something much tougher. This makes the material particularly suitable for turning into products where wood is still often used today."
Climate change protests around the world

Show all 25
Dr Kosior explains: "We end up with a material which is mouldable and useful, and from which we can choose to make many things from. As well as coffee cups we are going to make trays for cafeterias and the resin can essentially be used as a replacement for wood, meaning it can be remoulded into products such as table tops."
Even by-products of coffee cups such as plastic lids and straws can be combined into the mix helping to add extra plastic needed for the mixture's 50:50 ratio.
Currently the new resin products are being trialled, with the resin products due to be launched in a number of select coffee shops and cafeterias in London this week.
Future plans include developing a recycling plant entirely committed to producing NextCupRecycle resin. "One recycling plant could recycle half of the annual volume of UK coffee cups creating many durable long-life products and displacing virgin materials," says Dr Kosior, adding that a plant could be operational by the end of 2017.
"Right now we're behaving as though we've got three plants to play with in regard to the way we dispose of waste," says Dr Kosior. "We want to use this material to wind our economy back to a one planet economy."
"We're trying to go from short cycle products, such as coffee cups which become waste in less than half an hour, to making products from waste that have a much longer lifespan and avoid using virgin plastics.
"In each case we will be preventing the extrapolation of new materials from forests or from quarrying."
Register for free to continue reading
Registration is a free and easy way to support our truly independent journalism
By registering, you will also enjoy limited access to Premium articles, exclusive newsletters, commenting, and virtual events with our leading journalists
Already have an account? sign in
Join our new commenting forum
Join thought-provoking conversations, follow other Independent readers and see their replies