Supreme Court rules woman in 'loveless marriage' cannot have a divorce and must stay married to husband
'Remarkable' ruling demonstrates divorce laws are not fit for 21st century, say politicians and lawyers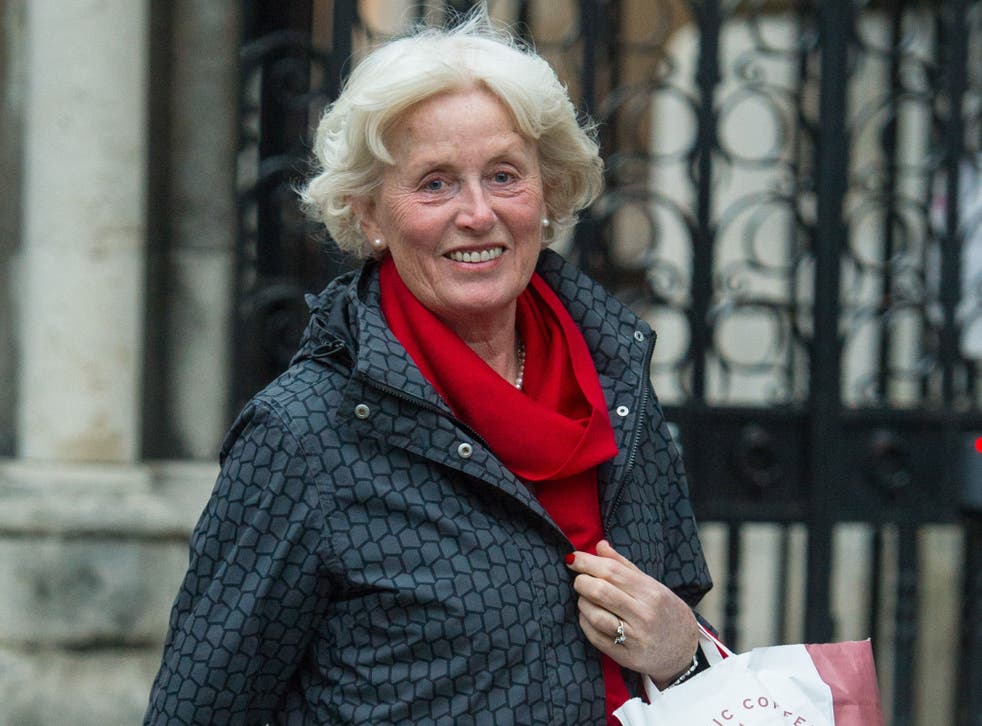 The Supreme Court has ordered a woman to stay married to her husband of 40 years, rejecting her attempts to divorce him because the marriage is "loveless and has broken down".
Tini Owens, 68, has been told she cannot divorce Hugh Owens, 78, despite claiming their marriage has broken down following an affair she had several years ago.
Politicians and legal experts said the "remarkable" ruling demonstrated that divorce laws were not fit for the 21st century and showed the need for "no fault" divorce, which forces couples to justify to the court why their marriage has broken down.
Russell Crowe divorce auction: Costume worn by the actor in Gladiator sells for $125,000
Ms Owens argued that her husband has behaved unreasonably and that she should not reasonably be expected to stay married.
But Mr Owens refused to agree to a divorce and denied the allegations about his behaviour, saying that if their marriage had irretrievably broken down it was because she had an affair, or because she was "bored".
Supreme Court justices analysed rival legal arguments, which revolved around concepts of "unreasonable" behaviour and "fault", at a Supreme Court hearing in London in May and delivered a ruling on Wednesday.
One, Lord Wilson, said justices had ruled against Ms Owens "with reluctance", saying the "question for parliament" was whether the law governing "entitlement to divorce" remained "satisfactory".
Lord Wilson indicated that Ms Owens would be able to divorce in 2020, when the couple have been separated for five years.
Another, Supreme Court president Lady Hale, said she found the case "very troubling", but she said it was not for judges to "change the law".
The current law in England and Wales does not allow one spouse to unilaterally decide to divorce because they are in an unhappy marriage. Instead, the spouse that wishes to leave must allege "unreasonable behaviour" and give examples of this to the Court.
Alternatively, if they do not wish to apportion "blame" to the other spouse and there is no adultery, then they must wait two years where a divorce can be granted if both spouses consent to it.
If both spouses do not consent, then the spouse who wishes to divorce must be separated for five years from their spouse before being entitled to a divorce.
Richard Burgon MP, Labour's shadow justice secretary, said the ruling underlined why the UK's divorce laws needed to change urgently.
"Labour is committed to introducing no fault divorce proceedings. The Conservatives should stop denying people this basic right and immediately agree to do the same, so that our divorce laws are fit for the 21st century," he said.
Emma Nash, associate at the International Family Law Group LLP, said: "The court's decision is remarkable, particularly bearing in mind that Mrs Owens gave 27 examples of what she perceived to be unreasonable behaviour.
"This clearly highlights the need for reform in this area of the law and is an example of the need for 'no fault' divorce to be reconsidered by law makers."
Katie Lowe, partner at leading law firm JMW Solicitors, said the ruling was one of the most significant family cases decided by the Supreme Court since it took over from the House of Lords in 2009.
"The result highlights the reality that desperately unhappy people can be forced to remain married for up to five extra years if they cannot find sufficiently 'strong' examples of their spouse's behaviour and there has been no adultery," she said, adding: "The case has shone a light on our broken divorce law."
Ms Owens has already lost two rounds of the legal battle since she petitioned for divorce in 2015 after moving out of their home in Broadway, Worcestershire.
In 2016, she failed to persuade a Family Court judge to allow her to divorce, and last year, three appeal judges ruled against her after a Court of Appeal hearing in London.
The judges said Ms Owens had failed to establish that her marriage had, legally, irretrievably broken down and dismissed her challenge to a ruling by Judge Robin Tolson.
UK news in pictures

Show all 50
Ms Owens' lawyers said she should not have to prove that Mr Owens' behaviour has been "unreasonable" – only that she should not "reasonably be expected" to remain with him.
Barrister Philip Marshall QC, who leads Ms Owens' legal team, told Supreme Court justices that a "modest shift" of focus in interpretation of legislation was required.
But barrister Nigel Dyer QC, who leads her husband's legal team, disagreed and raised concern about the introduction of divorce "on demand".
Register for free to continue reading
Registration is a free and easy way to support our truly independent journalism
By registering, you will also enjoy limited access to Premium articles, exclusive newsletters, commenting, and virtual events with our leading journalists
Already have an account? sign in
Register for free to continue reading
Registration is a free and easy way to support our truly independent journalism
By registering, you will also enjoy limited access to Premium articles, exclusive newsletters, commenting, and virtual events with our leading journalists
Already have an account? sign in
Join our new commenting forum
Join thought-provoking conversations, follow other Independent readers and see their replies