The doctors who want to help NHS fight Covid – but can't because of Home Office delays
'I could be working on the front line right now. I could be helping the country,' says qualified surgeon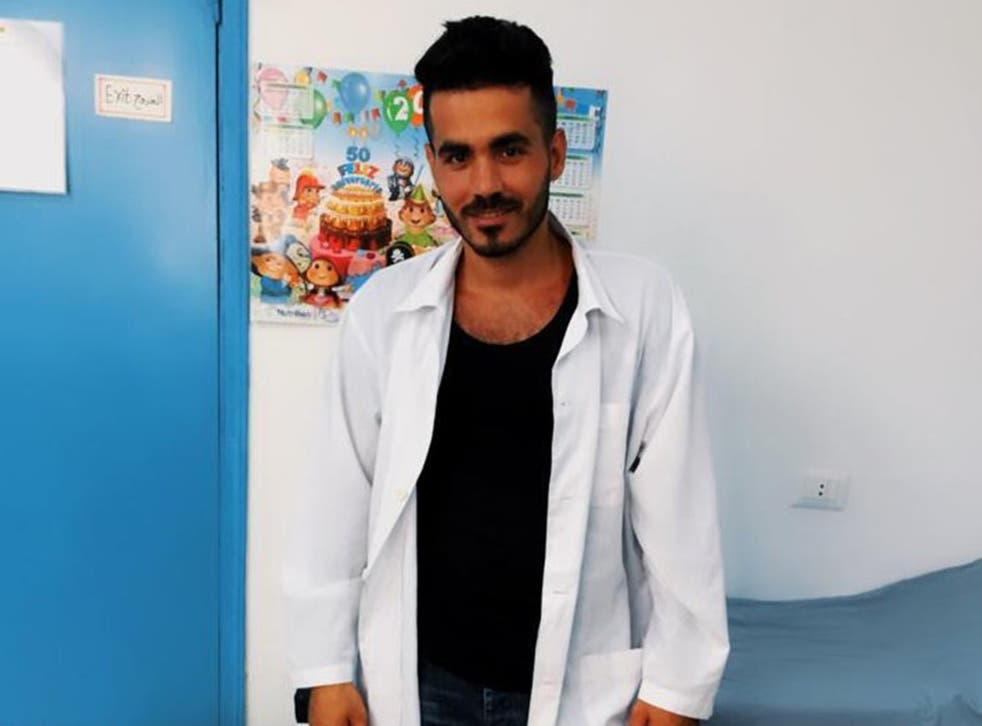 The NHS is buckling under the pressure of Covid-19, with tens of thousands of doctors and nurses across England now off sick because of the virus – accounting for almost half of all staff absences.
The UK's daily coronavirus deaths have reached four figures for the first time since April. The staffing crisis has become so severe that NHS bosses have been pleading with doctors and nurses to work extra shifts.
Yet at the same time, there are qualified health workers sitting at home who are desperate to be on the front line helping to tackle the crisis but who are being prevented from doing so.
Many are waiting for the Home Office to issue their biometric residence permits (BRP), which prove a visa holder's right to work in the UK – with some having already waited months when the process should, according to the government, take seven to 10 days.
Others are asylum seekers who have been waiting on their claims for over a year – at which point they should be allowed to work in shortage occupations, which include all medical practitioners – but they are facing delays receiving evidence of their right to work from the Home Office.
Mo'men, a surgeon of 10 years' experience, was issued a visa on 7 October 2020 to work in the UK, and travelled from his home country, Jordan, to start a job at Tameside General Hospital in Manchester at the start of November.
The 35-year-old was informed by the Home Office that his BRP would be ready for collection at the post office two weeks after his visa was issued – which would have been at the end of October.
But Mo'men is still waiting for the document, unable to work until it arrives.
"I could be working on the front line right now, but I've spent more than two months doing nothing. I'm wasting time when I could be helping the country," said the Jordanian national.
"It's been 10 weeks. I didn't expect it to take this long. I've had no reply from the Home Office about reasons for the delay."
Mo'men said the delay was also having an impact on his wife and young daughter, who had been due to join him in the UK shortly after he arrived but are still in Jordan as a result of him not having his BRP card.
"We prepared ourselves to move over here. We sold our possessions. My wife and daughter moved to my parents' home. But now who knows how long this will take," he said.
In another case, Palestinian national Walid, a qualified nurse who grew up and studied in Lebanon, applied in November for permission to work but is still waiting for a response despite the Home Office saying it would take a maximum of six weeks.
The 30-year-old claimed asylum in October 2019 after facing political problems in Lebanon, and he is still waiting for a decision on his claim.
Under Home Office rules, if an asylum seeker has been waiting for more than a year for a decision, they may apply to work in any job from the shortage occupations list, which includes nursing.
Walid has already been offered a place by the NHS and must provide proof of his right to work in less than two weeks' time or he could lose his place.
"This is really frustrating. I worked on an intensive care unit for six years. I have a lot of experience. I can work right now. I am ready," he said.
"I've been learning medical English for six months and I've passed everything. It feels like a waste. I'm qualified. I feel like I'm wasting my life. The NHS needs more people, but the Home Office doesn't care. They just see us as refugees and asylum seekers."
Another doctor in the UK, who didn't want to be named, spent six years training to be a doctor and a year working in hospital wards in Aleppo during the Syrian war, during which time he treated large numbers of casualties from the conflict.
"I spent a lot of time helping doctors in surgical emergencies because there was a lot of pressure on them dealing with the effects of the war. After years of war, we were used to seeing this kind of thing," he said.
The 25-year-old, who claimed asylum in the UK in July 2020 and is still waiting for a decision, said he was becoming increasingly frustrated at not being able to help the UK health service respond to rising numbers of coronavirus cases and high levels of staff absence.
"I know I could be helping the UK right now to deal with this crisis. But I'm stuck and can't do anything. I'm disappointed. I want to be helping, but I'm just waiting," he said.
Dr Dolin Bhagawati, a neurosurgeon and editorial lead for Doctors' Association UK, said he knew of about 40 cases of qualified medical staff currently being unable to work because to delays in their BRP cards being issued.
"Right now, the UK is crying out for all the trained staff we have available, even calling up retired NHS workers and students. However, by not doing all it can to allow foreign doctors with valid visas to work as soon as possible, the Home Office is failing to do its part in a nationwide effort to fight this virus," he said.
Dr Bhagawati said a "simple" solution would be to grant indefinite leave to remain for all NHS and care workers and their dependents in order to "simplify this process, cut down on bureaucratic excuses and allow everybody to get on with their jobs".
Christine Jardine, former home affairs spokesperson for the Liberal Democrats, said she was "stunned" at the fact that BRP card delays were preventing qualified health professionals from working in the NHS.
She said: "Home Office intransigence and incompetence is now undermining the fantastic work being done by so many people under such stressful circumstances in our NHS and care sectors.
"It's bad enough that they continue to ignore pleas to offer those foreign nationals who are putting their lives at risk in the NHS indefinite leave to remain in recognition of their efforts, but the Home Office is now adding to the pressure on health staff with this latest failure."
Enver Solomon, chief executive of the Refugee Council, said the fact that so many asylum-seeking health professionals were currently unable to work highlighted the need for the Home Office to allow people to work while waiting for decisions on their claims.
The Home Office said it would review the 2018 policy on asylum seekers being banned from working, but is yet to confirm whether this has been completed or when it will be published.
Mr Solomon said: "In normal times it's terribly frustrating for qualified health professionals who are stuck in the asylum system for months on end, banned from working and unable to use their valuable skills to support the NHS. During a global pandemic, it's a tragedy.
"If the ban had been lifted before the pandemic, qualified health professionals in the asylum system could be working for the NHS during this time of national emergency."
UK news in pictures

Show all 50
A Home Office spokesperson said the pandemic had had an impact on some of its visa services and admitted that it was having issues with the delivery of BRPs, but that it was working hard to resolve the issues, including through recruiting and training additional staff.
"Employers of healthcare professionals who are waiting for permits can contact the Employer's Checking Service to request confirmation of their right to work," they added.
"Our policy is under review but medically qualified asylum seekers can currently apply to work for the NHS in the many important medical roles included on the shortage occupation list if they have been waiting 12 months or more for a decision on their claim through no fault of their own."
Register for free to continue reading
Registration is a free and easy way to support our truly independent journalism
By registering, you will also enjoy limited access to Premium articles, exclusive newsletters, commenting, and virtual events with our leading journalists
Already have an account? sign in
Register for free to continue reading
Registration is a free and easy way to support our truly independent journalism
By registering, you will also enjoy limited access to Premium articles, exclusive newsletters, commenting, and virtual events with our leading journalists
Already have an account? sign in
Join our new commenting forum
Join thought-provoking conversations, follow other Independent readers and see their replies