Dog dies after coming into contact with e-cigarette fluid
14-week-old Ivy died within hours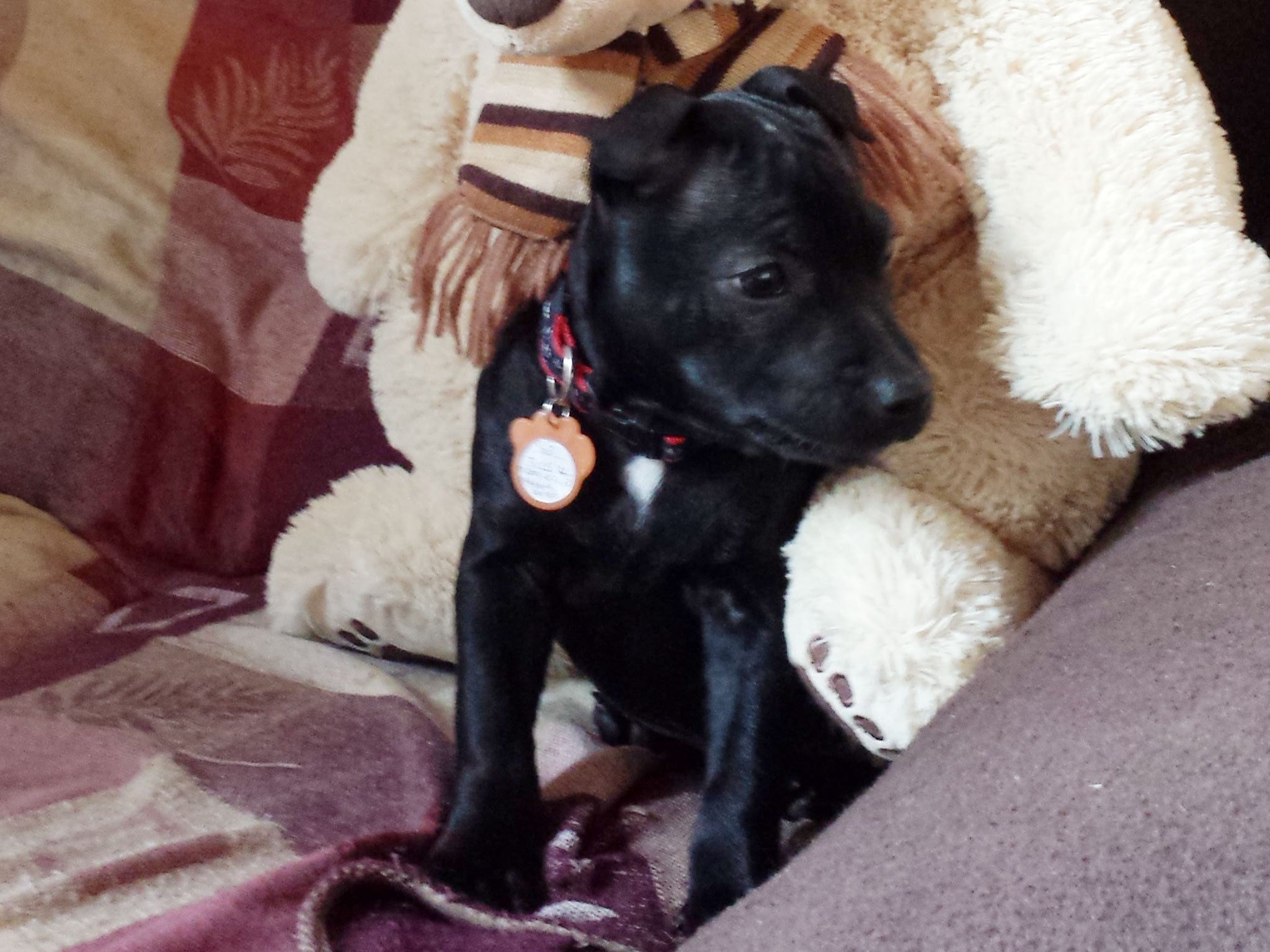 A Staffordshire Bull Terrier is thought to have become the first pet dog to die in the UK after coming into contact with e-cigarette re-fill fluid.
Ivy died on Monday, hours after she bit through a bottle of liquid nicotine intended for her owner Keith Sutton's e-cigarette.
Mr Sutton, a 56-year-old coach driver from Redruth, Cornwall, had swapped conventional cigarettes for the electronic variety, and had left the bottle on his dining room table.
The nicotine-laced fluid is used to re-fill e-cigarettes, which converts the liquid into vapour that users smoke.
After the 14-week-old puppy bit into the container and the liquid touched the roof of her mouth, she began frothing at the mouth and vomiting.
He said of the incident: "I peered around the wall and the dog had the juice and it managed to pierce it and got a smear on its tooth," he told The Independent.
"I grabbed the dog and filled sink up with cold water and put her paws in to bring her heart rate down. Within seconds her tongue was black," he explained.
"She messed herself and started vomiting to eject the toxin," the grandfather said.
Mr Sutton rushed Ivy to the Animal Veterinary Services in Hayle, Cornwall.
"15 minutes later she was on the vet's table but she couldn't stand up and she was completely disorientated. Her eyes were almost bulging out of her head, but I don't think she was in pain because nicotine attack central nervous system," he added.
After the vets could not find anything on veterinary websites about nicotine poisoning, they searched in an old book about poisons but to no avail.
"The look on the vet's face was one of horror, he shot a glance as if to say 'this is hopeless'," Mr Sutton said.
She was given a dose of steroids, but despite the vet's efforts she died the next day from heart and lung failure caused by nicotine poisoning.
The e-liquid contained chemicals such as propylene glycol and polyethylene glycol 400 which are mixed with vegetable glycerin and flavourings and nicotine.
It would take a large dose of nicotine to harm a human, but experts say a dog would only have to ingest 10 milligrams per kilogram of animal weight to be in danger.
While there are warnings on e-liquid bottles, Mr Sutton is calling for the fuel to come with warnings and stronger packaging to protect animals and small children who he fears could also be harmed if they ingest the fuel.
A spokesperson from the vets told the Western Daily Press: "The dog started to get a reaction after 30 seconds of piercing the bottle.
"We managed to keep her going for a few hours, but she died in the early hours of Monday morning.
"The fluid is potentially fatal for dogs and they are perfectly capable of putting a tooth through the packaging."
Mr Sutton uses an eKarma Vaporiser fuelled by k-Liquid with a Falcon electronic cigarette, produced UK-based Prestige Vaping.
Neither company has responded to a request for comment.
Join our commenting forum
Join thought-provoking conversations, follow other Independent readers and see their replies