Dog Election 2017: Voters share photos of pets waiting outside polling stations as they cast ballots
#CatsNotAtPollingStations is also being used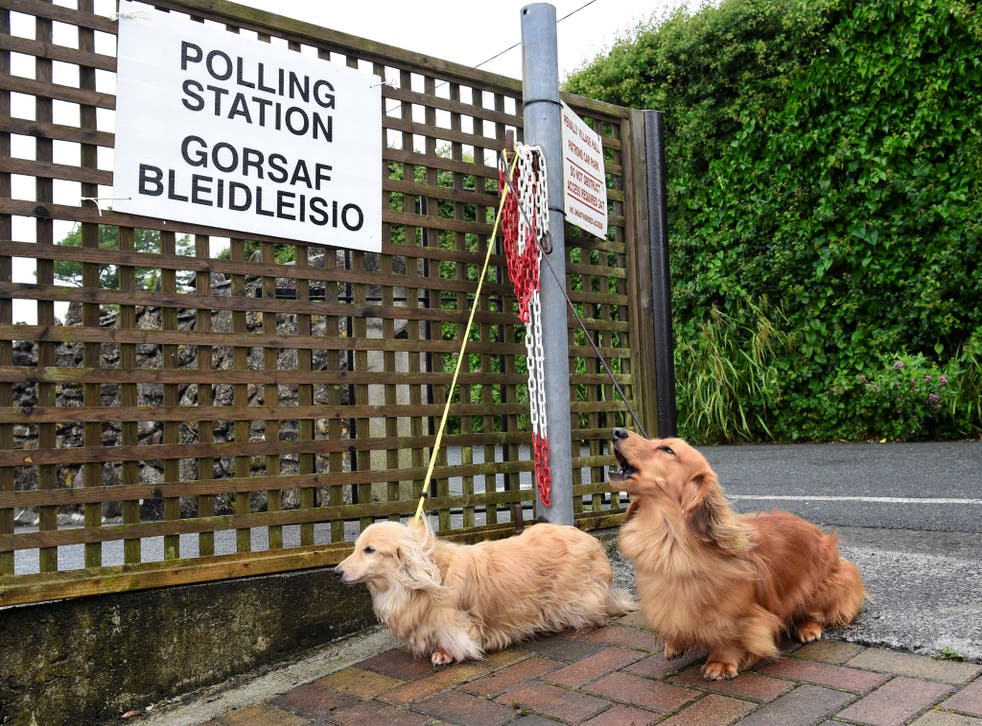 Voters casting their ballots have revived an election day tradition by tweeting pictures of their dogs waiting patiently outside polling stations.
The Twitter hashtag #DogsAtPollingStations was again trending on Thursday, with breeds from Border Terriers to Basset Hounds taking part.
Scottish Conservative leader Ruth Davidson was accompanied by her partner Jen Wilson and springer spaniel Wilson to vote in central Edinburgh.
Police were roped in to hold the lead of a dog at one polling station, while at another, a voter was accompanied by his horse.
To counter the clear bias towards dogs, the hashtag #CatsNotAtPollingStations was also being used to promote the election day activity of cats.
Pet charity Blue Cross published a guide to voting for pet owners, which stated "dogs can enter polling stations in an 'accompanying' role, but they are not allowed to be 'free-range' inside or to disrupt the vote".
"Horses and ponies should be tethered up outside the polling station," it added.
"No guidance has been issued by the Electoral Commission on any other animals, so it's best to ask the presiding officers should you wish to bring your cat or other pet along with you."
UK General Election 2017

Show all 47
The party leaders are expected to cast their ballots in their respective constituencies, with polling stations open from 7am until 10pm on Thursday.
Around 46.9 million people are eligible to vote; 1.1 million of whom have joined the electorate since 2016.
Collectively, they have 3,304 candidates to choose from across 650 constituencies.
Join our new commenting forum
Join thought-provoking conversations, follow other Independent readers and see their replies