Britain's smartest dogs selected for TV plane challenge
Experts believe cognitive abilities of the most intelligent pets can be directed towards flying a plane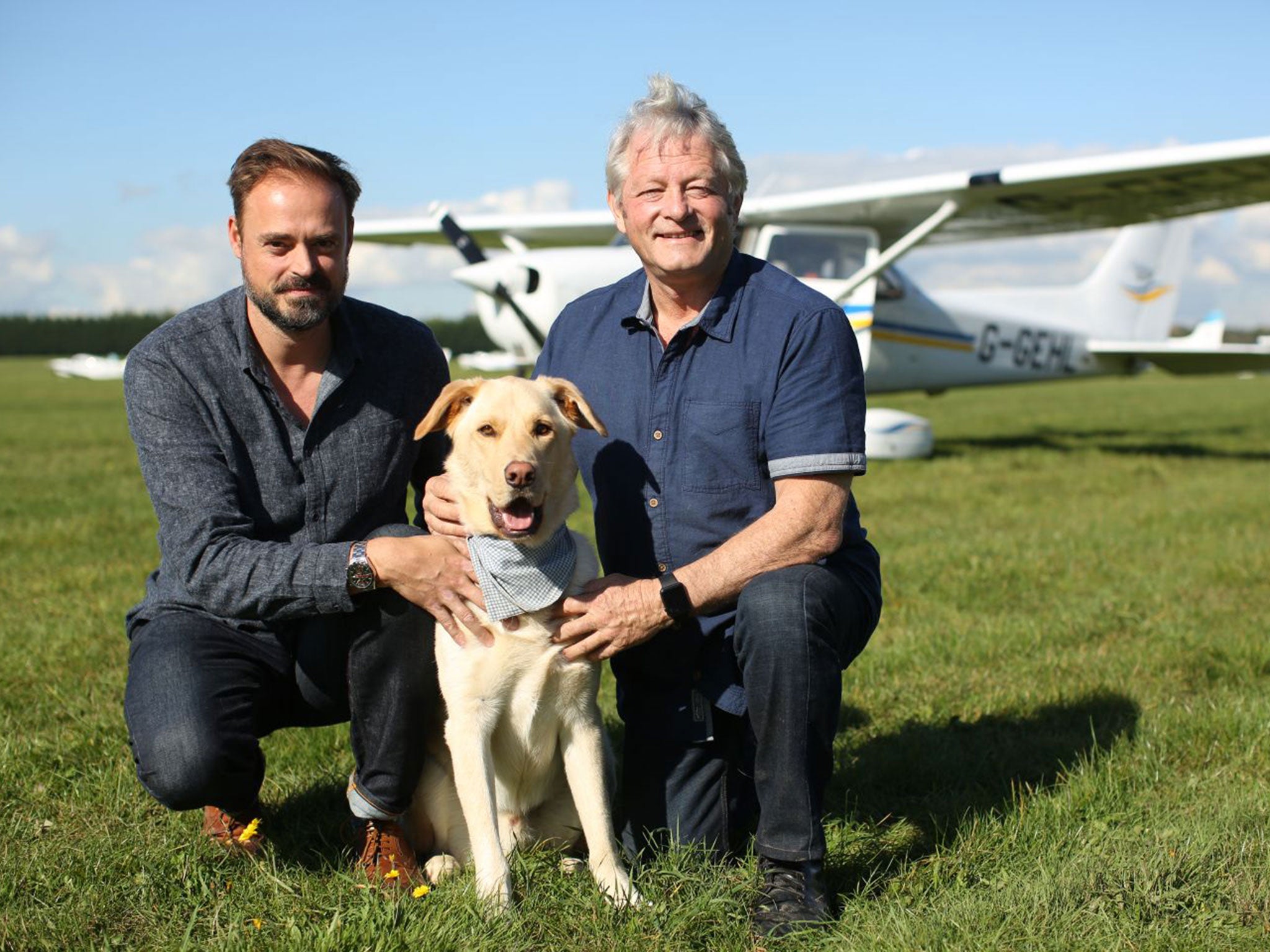 A dozen of the UK's smartest canines are being trained to master the controls of a light aircraft after a nationwide search to find candidates for the experiment.
Full details of the extraordinary venture - which was first reported on by The Independent last year after amateur fliers at a London airfield spotted a dog grappling with aircraft-style controls – can now be revealed.
Secluded at a mansion in the Sussex countryside, the 12 rescue dogs have been put through their paces by animal behaviour experts, who believe that the cognitive abilities of the most intelligent pets can be directed towards flying a plane.
The "finalists" include Spike, a two-and-a-half year-old Parson-Jack Russell cross, who has been at a rescue shelter for some time and is described as "an inquisitive, happy and confident dog."
Poppy, an Australian kelpie-collie cross is "very bright with focus and a keen mind" whilst Spot is a two-year-old terrier-beagle cross, originally a stray, who is "confident and eager to play."
After weeks of problem-solving and reasoning tests, the best-performing dogs will be sent to flight school for ten weeks of intensive training.
One will ultimately be chosen to take the controls of a light plane in the experiment, followed by natural history specialist Oxford Scientific Films for a Sky 1 series, Dogs Might Fly. The series is being presented by Jamie Theakston.
The experts putting the canines through their paces include Mat Ward, a clinical animal behaviourist who acts an expert witness in canine-related court cases and Cath Philips who trains police dogs. The team includes Charlotte Wilde, who has trained and supplied animals for the Harry Potter films and 102 Dalmatians and Professor Adam Miklósi, author of Dog Behavior, Evolution and Cognition.
Stanley Coren, professor of canine psychology at the University of British Columbia in Vancouver, is among the critics of the experiment. "Given that we would not expect a human three-year-old to be able to fly a plane, I would not expect that a dog could do so either," he said.
Caroline Hawkins, creative director of Oxford Scientific Films, said the series would test in a "safe and controlled way" the question of whether a highly intelligent dog could take control of an aircraft.
The experts will assess how the dogs response to stimuli and sensations designed to acclimatise them to their high-flying challenge. Their head for heights will be tested by being sent to the top of a London landmark in high-rise lift and they will be strapped in for a spin around the Thames on a speedboat. Each dog will be found a new home at the series conclusion. The six-part Dogs Might Fly begins in a fortnight.
Each hour-long episode hopes to demonstrate that dogs have "distinct personalities and incredible levels of intelligence." The expert team will explore communication, empathy, memory and reasoning with the animals, building up to the ultimate question: could a dog fly a plane?
The RSPCA declined to comment on the programme.
The dozen dogs preparing to fly
* Alfie is a 23-month-old collie-lurcher cross. He's full of energy and loves being around other dogs.
* Shadow is a two-and-a half-year-old Staffordshire bull terrier-collie cross. A bit of a joker.
* Chilli is a two-year-old Pyrenean shepherd cross from Spain. Chilli loves being handled.
* Spot is a two-year-old terrier-beagle cross who was originally a stray. Confident and eager to play.
* Sox is an 18-month-old boxer-Labrador cross who's excitable and a bit of a comedian.
* Blondie is a friendly 22-month-old Labrador cross all the way from Spain.
* Wilf is a collie cross with bags of personality. 22 months old, he's already had a few homes.
* Honey is a high-energy lurcher cross. Two years old, she's very loving, despite being a stray.
* Tess, 18 months old, is a Belgian shepherd who was a boisterous puppy.
* Poppy, 2 ½, is an Australian kelpie-collie cross, who's very bright with focus and a keen mind.
* Reggie, an 18-month-old German shepherd Labrador cross, who was originally a stray.
* Spike, 2 1/2 year-old Parson-Jack Russell cross, loves to get involved with everything.
Join our commenting forum
Join thought-provoking conversations, follow other Independent readers and see their replies