Move to ban sale of puppies in UK pet shops derailed following opposition from leading dog charities
Dogs Trust and Blue Cross maintain position despite animal welfare inquiry warning of 'unavoidable negative impact' of third-party sellers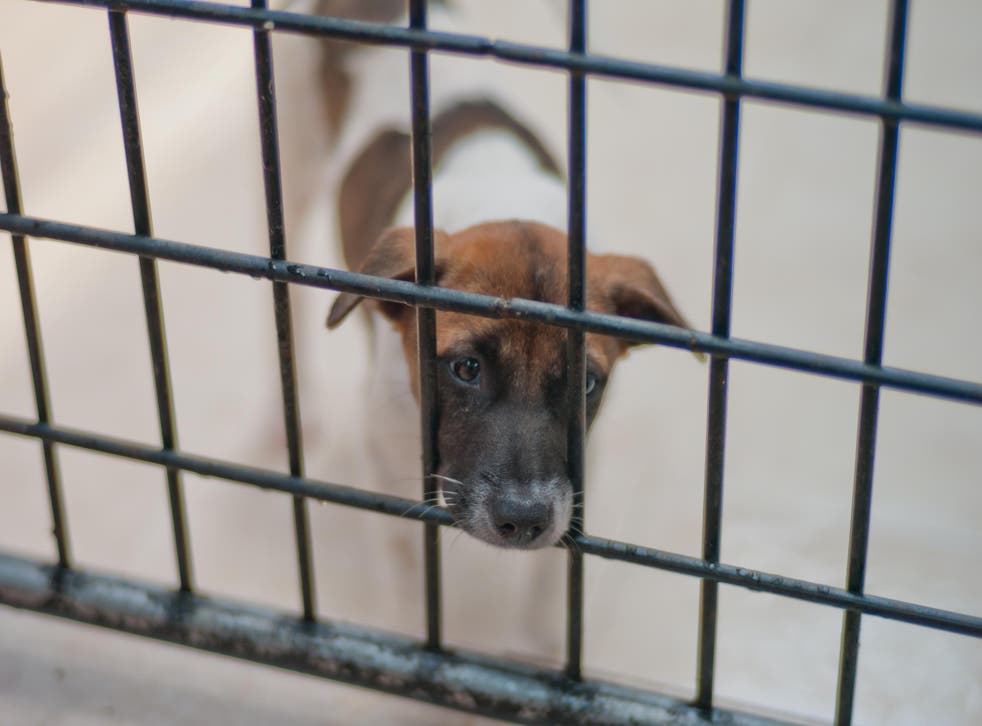 A proposal to ban the "inhumane" sale of puppies in UK pet shops was derailed after two leading dog charities opposed it, it has been revealed.
Dogs Trust and Blue Cross warned against implementing a ban on third party dog sellers, according to the Department for Environment, Food & Rural Affairs (Defra) sub-committee that conducted an inquiry into animal welfare in the UK.
The Government disregarded Efra's findings that third party sales had an "unavoidable negative impact" on the welfare of puppies, citing resistance from a "number of established welfare charities".
It also pointed to evidence specifically presented to Defra by Dogs Trust and Blue Cross on the risks presented by banning third party puppy sales as part of the decision not to implement the ban.
"Banning third party sales so that the public bought directly from breeders would bring public scrutiny to bear on breeders, thereby improving the welfare conditions of puppies," the Efra sub-committee of 12 cross-party politicians wrote.
However a Government response disregarded the advice, claiming a ban "has the potential to increase unlicensed breeding in addition to a rise in the sale and irresponsible distribution of puppies, and may be detrimental to our welfare objectives."
Dogs Trust and Blue Cross were previously vocal in their support of campaigns to ban puppy sales in pet shops.
Both supported a 2014 Pup Aid campaign to ban the sale of puppies and kittens without their mothers being present.
"We believe pet shops are unsuitable places to sell puppies and kittens, not only because they can compromise a pet's welfare, but also because they can lead to people buying them on impulse," Blue Cross said at the time.
Battersea Dogs and Cats Home also no longer supports a third party ban as it currently stands, and instead is calling for the creation of a working group to work out the specifics of outlawing third party sales.
A spokesperson told The Independent the charity does support a ban, "however what isn't yet clear is how to overcome the multiple obstacles which could prevent such a ban from achieving its objectives, not least of which the question of where the resources would come from for competent and consistent enforcement."
The Government claimed a ban could increase the risk of driving sales underground, a position echoed by Dogs Trust on its website in its reasoning for not backing the initiative.
"A better route is a robust regime of licensing and inspection for breeders backed with increased enforcement of the law. If puppy breeding and selling are driven underground, enforcement will only become harder," the charity said in a statement.
However many animal welfare organisations have refuted the warnings as "illogical."
Cariad, a campaign dedicated to ending puppy farming, said: "They're basically saying that people would actively look for puppies from criminals – the way drug addicts look for a hit. Wrong again."
Environment Secretary Andrea Leadsom announced tougher licensing regulations for breeders and third party sellers in response to the committee's findings.
However, licensing barrister and Association of Lawyers for Animal Welfare member Sarah Clover said the Government's proposal to license third party sellers instead of banning them was an "epic failure of logic" and would be impossible to enforce.
"Looking at Defra's recommendation and the subsequent Government response, it makes no sense, it's an epic failure of logic," she told The Independent.
"The burden placed on local authorities to try and get those third parties licensed and, importantly, to try and enforce it, it's just not going to happen."
She also said the argument that a third party seller ban would drive the puppy trade underground "doesn't make sense."
The opposition to the committee's findings came despite charities including RSPCA and International Fund for Animal Welfare (IFAW) consistently citing a ban on third party sales as the only way to end the inhumane puppy farming trade.
The UK director of IFAW, Philip Mansbridge, told The Independent: "Whilst IFAW was delighted to see that the Defra Select Committee supports a ban on the third party sales of puppies, we were naturally disappointed that the Government has ignored this recommendation.
"The puppy trade is booming, fuelled by low welfare puppy farms from within the UK and within Europe, and the public are often unwittingly feeding into this cruelty. A third party sales ban would be easy to enforce, clearer to the public and would dramatically improve dog welfare."
Up to 200 cities in the US already ban puppy sales in pet shops. San Francisco recently enacted a ban on the sale of non-rescue dogs and cats by third party sellers as part of a concerted effort to eradicate "inhumane" puppy breeding operations in the city, something animal welfare advocates had hoped to replicate in the UK.
Neil Parish, MP and chair of the committee that published the report called the Government's decision to ignore the recommendations a "lost opportunity."
"Not only am I disappointed in the fact the Government hasn't gone the whole hog to ban third party puppy sales but also they haven't really shown us how they are going to make sure that local authorities monitor these establishments to show us what's happening," he told The Independent.
When questioned about the charities' opposition to the ban, he said: "It's entirely up to them to have their opinion, in the end I came down the side that it was best to make sure you can go see where the puppies are being bred.
"Their view is we need to tighten up on the regulation but I think we need to go further. I'm not at war with these organisations but I feel that in the end the solution I'm putting forward would be the best one."
The negative impact of puppy farming has grown in the public consciousness in recent years. Many welfare organisations oppose puppies being sold away from their mothers, whether in licensed pet shops, garden centres or private premises of third party dealers, due to evidence the trade supports irresponsible breeding practices and serious animal welfare violations.
A Dogs Trust spokesperson told The Independent: "Although Dogs Trust would want to see a world where third party sales do not happen, the charity does not believe that it is in the best interests of animal welfare to rush into a ban that would have unintended consequences for dog welfare at the current time.
"The simple fact is that there are too few puppies to meet demand in the UK and as long as the supply of puppies from responsible breeders falls woefully short of meeting the demand, unscrupulous breeders will breed dogs for profit even if they have to circumvent or flout the law, as puppies are an increasingly profitable commodity to criminals."
Blue Cross's head of public affairs, Becky Thwaites, denied the charity had lobbied the government against the ban but confirmed it had presented its policy position to Defra.
"A ban on the third party sales of puppies, as recommended by the Defra committee, will not solve the issue of poor welfare standards in puppy breeding and would be impossible to enforce with local authority resources already stretched to their limits," she told The Independent.
"We agreed with the principles behind the 2014 petition, which only addressed the sale of puppies and kittens without their mother, but we have always had concerns on how this would be enforced."
A petition calling on Dogs Trust, Blue Cross and Battersea to change their stance had reached more than 7,100 signatures at the time of writing.
Register for free to continue reading
Registration is a free and easy way to support our truly independent journalism
By registering, you will also enjoy limited access to Premium articles, exclusive newsletters, commenting, and virtual events with our leading journalists
Already have an account? sign in
Register for free to continue reading
Registration is a free and easy way to support our truly independent journalism
By registering, you will also enjoy limited access to Premium articles, exclusive newsletters, commenting, and virtual events with our leading journalists
Already have an account? sign in
Join our new commenting forum
Join thought-provoking conversations, follow other Independent readers and see their replies