'Left on the scrapheap': Higher proportions of black and minority ethnic women suffer domestic abuse but 'face racism from public agencies'
Young black woman wrongly labelled as being member of gang but was instead a college student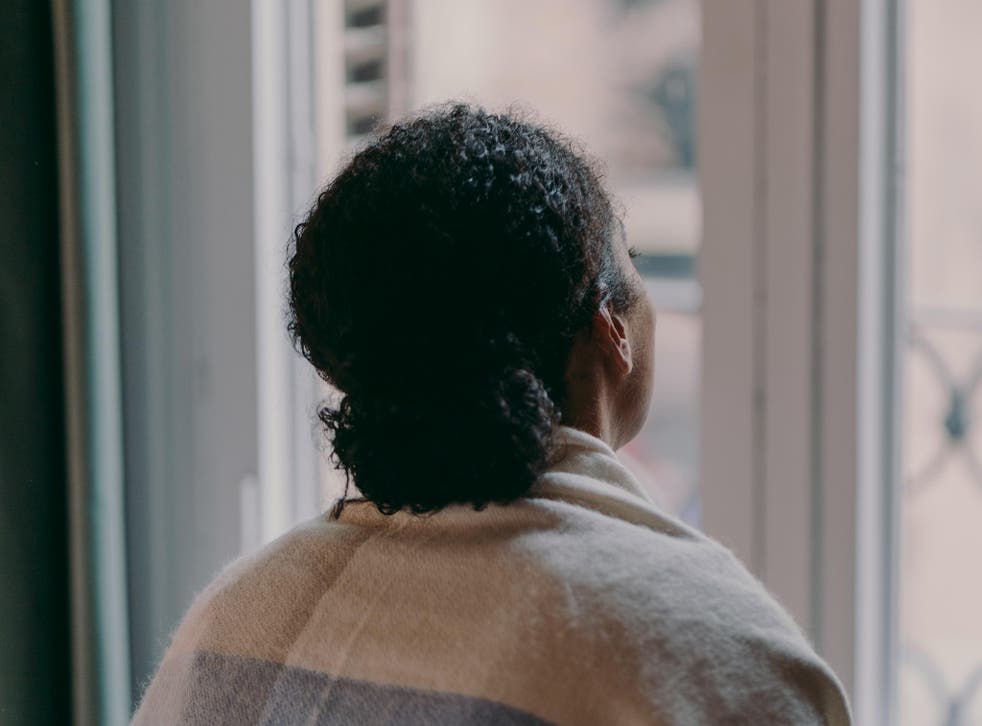 Six in 10 domestic abuse victims who accessed housing after leaving shelters for those fleeing abusive partners are from a black and minority ethnic background, a damning study has found.
This is far higher than the 13 per cent of the UK population who identified themselves as black, Asian or minority ethnic during the last census in 2011.
Campaigners warn public agencies are "culturally ignorant" and subject those escaping abuse to racism and discrimination — as well as jumping to "stereotypical judgements".
Homefinder UK, a non-profit housing organisation that deals with thousands of calls, said a majority of these are domestic abuse victims from black and minority ethnic (Bame) backgrounds who come up against a litany of obstacles to accessing housing and other frontline services.
The body, which says 60 per cent of the domestic abuse survivors they have rehoused are from a Bame background, said barriers range from presumptions made based on the ethnicity of the victim, cultural background being overlooked or misunderstood, religious practices being ignored, and restricted access to translators.
In one case, a young black woman was wrongly labelled as being a member of a gang but was actually a college student.
The report also cites the case of another domestic abuse victim who initially found it difficult to leave her abusive husband due to the fact they became engaged and were introduced when she was just six years old.
"He was 15-years-older than her and he felt that he owned her," a spokesperson for Homefinder UK said. "Added to this, in their country of origin, you remained married despite physical abuse. Staff had to explain to relevant decision making non-Bame workers the need to be patient regarding the applicant's conflicted position regarding her marriage and to not take prejudiced positions which could have led to a property offer being withdrawn."
Researchers found many Muslim domestic abuse victims face Islamophobia — with the report also citing the example of a Muslim woman who who was "misunderstood and failed to receive the necessary support" despite her facing threats against her life for seeking help.
Claire Simms, managing editor of a campaign group called The View, which champions the rights of women in the criminal justice system, told The Independent: "Bame women are left on the scrapheap. A much higher proportion of women from non-white diverse cultural backgrounds experience domestic abuse.
"There are specific barriers linked to stigma in the community following disclosure and being ostracised or believed, a lack of accessibility to services, and cultural lack of distrust in police forces.
"Minoritised women are not fairly treated by the police, and their interactions and access to justice needs to be reviewed in the criminal justice system and this has to be understood in its totality. It cannot be separated from a wider context of institutional racism, which has led to historic and current over-policing, surveillance and hyper-visibility of Bame communities within the criminal justice system."
Ms Simms, whose social enterprise produces a magazine that showcases art, prose and poetry of women prisoners and writing from leading human rights lawyers, said Bame-led domestic abuse services have been disproportionately hit by funding cuts.
"This leads to minoritised survivors being impacted by austerity and under-served by services nationally," she added. "We have to consider the fact that most services are white led, and will not have the cultural competence or the expertise to deal with the specific issues that Bame women face. The mainstream organisations deal with minoritised women in a white-centric way of understanding domestic violence. There is an acute lack of understanding around immigration, FGM, family abuse and forced marriage."
Homefinder UK, which draws attention to the lack of understanding by many statutory and voluntary agencies about the "specific ethnic, religious and cultural concerns" of Bame women escaping domestic abuse, said cultural identity, language and religious beliefs are often overlooked.
Brenda Fraser, of Homefinder UK, said: "As an overwhelmingly female and Bame team, we use our cultural and religious diversity and experiences to understand and interpret different practices that other organisations are just stereotypically judging."
Refuges have been hit hard by the government's austerity measures — with one in six refuges having closed since 2010 and local authority spending on refuges being slashed from £31.2m in 2010 to £23.9m in 2017.
Lucy Hadley, of Women's Aid, a leading domestic abuse charity, said: "Extensive evidence and research from organisations working 'by and for' black and minoritised women demonstrate the systemic barriers that black and minoritised survivors continue to face in escaping domestic abuse and accessing safety and support, including refuge services and safe housing. These barriers are products of the structural inequality and racism that they face in society.
"Barriers to support are compounded by the severe lack of services-led 'by and for' black and minoritised women across England. Imkaan have documented the long history of underfunding and political marginalisation for refuges led 'by and for' black and minoritised women, who have been disproportionately impacted by funding cuts and damaging competitive tendering practices over the past decade.
"Specialist services run 'by and for' black and minoritised women are systemically disadvantaged and discriminated against within competitive tendering for service provision — as these procurement processes favour larger organisations and contracts above small, specialist services led 'by and for' the communities they support. There are currently just 32 refuges in England which are run specifically for Bame women, and not all of these are led 'by and for' the communities they support."
Register for free to continue reading
Registration is a free and easy way to support our truly independent journalism
By registering, you will also enjoy limited access to Premium articles, exclusive newsletters, commenting, and virtual events with our leading journalists
Already have an account? sign in
Register for free to continue reading
Registration is a free and easy way to support our truly independent journalism
By registering, you will also enjoy limited access to Premium articles, exclusive newsletters, commenting, and virtual events with our leading journalists
Already have an account? sign in
Join our new commenting forum
Join thought-provoking conversations, follow other Independent readers and see their replies