'They looked down their nose at me': Domestic abuse survivor says public agencies belittled her
Exclusive: Campaigners call for domestic abuse bill to be changed to ensure public sector professionals are trained to ask about abuse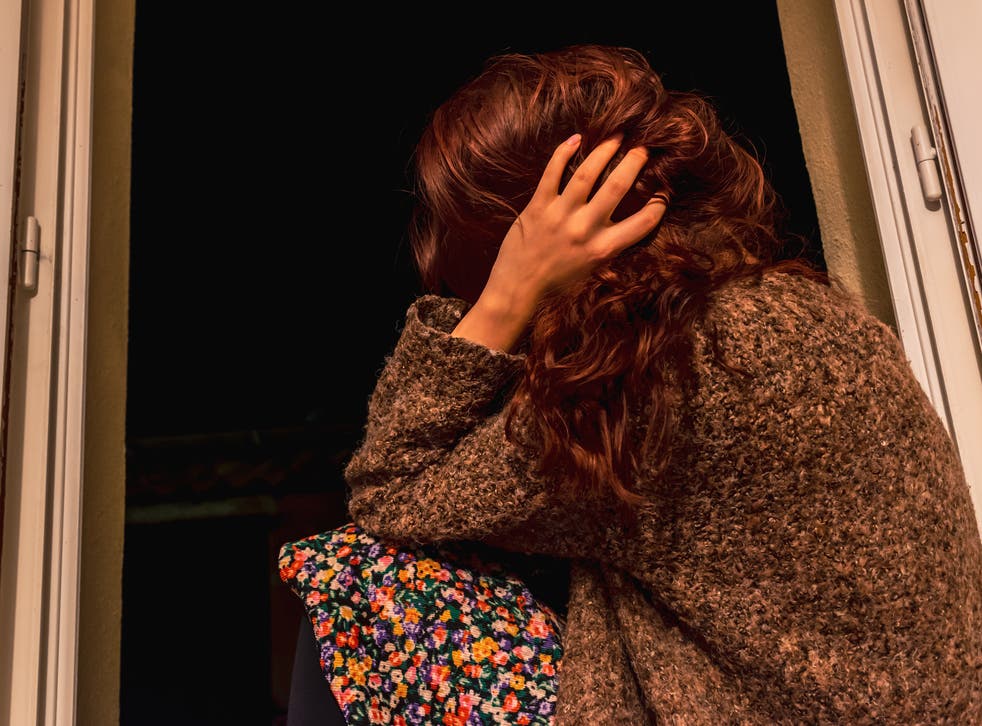 A domestic abuse survivor has hit out at public agencies for belittling her when she opened up about the violence she suffered at the hands of her violent former partner.
The warning comes as campaigners urge the government to change the domestic abuse bill to ensure public sector professionals — spanning from GPs to social workers, benefit staff and members of probation — are trained up on how to ask about abuse.
Baroness Armstrong of Hill Top, a former Labour MP for North West Durham, told The Independent she will be introducing an amendment to the landmark legislation to make sure professionals are properly educated on domestic abuse.
Zainab*, who has been in three different relationships where she endured domestic abuse at the hands of her partners, told The Independent she had been repeatedly let down by professionals.
The 44-year-old said: "My childminder abused me from the age of six to eight. It was an elderly man. I couldn't tell my mum because every time I saw her, she was being abused. My father perpetrated domestic abuse against my mother. He cheated on her and I watched her get beaten up.
"After having an arranged marriage at 18 and suffering psychological abuse, I was married at 21. He was very religious. I had my face covered. I didn't leave the house. I wouldn't have known how to catch a bus. I was broken down mentally and physically abused.
"When I went in to see doctors and nurses while having IVF, my husband was disrespectful and abusive in front of them. The doctors and nurses didn't ask about the abuse I was suffering. I was all over the place. I wasn't there.
"The next time I got married for 14 years. He was cheating on me. He beat me. He used all my savings. He sexually assaulted me twice. I left. I came back to Birmingham fearing for my life trying to access housing services but didn't get any help."
Zainab said hostels she stayed in after fleeing domestic abuse showed zero empathy towards the women living there — adding that she sought help at the doctors after suffering flashbacks.
She said she developed a stress-related physical illness, became very anaemic and lost a great deal of weight — hitting out at the fact no health professionals asked her if she had suffered domestic abuse.  
Zainab, who has post-traumatic stress disorder, added: "The people in the domestic abuse hostel didn't give a damn. I was let down by public agencies time and time again. They looked down their nose at me. They didn't take the domestic abuse seriously.
"I plucked up the courage to speak to a male doctor about the sexual violence I'd experienced and had to cover my face for the tears. He just shook his head and said I was suffering anxiety. Nothing changed. They refused to give me sick notes and the jobcentre and medical fitness for my ability to work came back as able to work despite my verbal flashbacks, unkempt appearance and being badly underweight."
Agenda, a charity that campaigns for women and girls at risk, is calling for the domestic abuse bill, which received its first reading in the House of Lords in July, to be overhauled to ensure professionals are trained on how to ask about domestic abuse and signpost victims to help.
Its research found frontline staff in public services are failing to ask women about domestic abuse — leading to victims being pushed around different services, which causes years of avoidable pain and damage, and even places lives at risk.
Baroness Armstrong, who will be introducing the amendment when it comes up in the Lords later this month, said: "This is going to be the only chance in several years to change the opportunities for women who experience abuse in the home.
"It has become clear that when the public sector engages with women, they too often do not realise the core issue is their experience of abuse and violence and this affects every other way that they behave.
"Coronavirus has exposed the level of abuse that goes on, which we didn't previously realise existed or assumed only goes on in the poorest households. The truth is this goes on throughout all of society.
"But you go to GP and they never ask you: 'Is there anything behind this? Is there anything which is happening to you?' If we train public agencies on how to ask questions about abuse and notice the signs of how someone might answer if they are experiencing abuse, they can deal with the trauma which comes from that, as well as the problem they come with."
Baroness Armstrong, who helped to set up one of the first refuges in the country in the early 1970's, argued training public agencies on domestic abuse would lead to a surge in reports — adding that this has been the experience of programmes that educate professionals.
This would lead to an increase in the recognition of abuse in families and its long-term and wide-reaching repercussions, she added.
Studies show that while four out of five victims never call the police, many will visit their GP as a result of the abuse they have suffered.
The Ask and Take Action campaign, which is led by Agenda and has the backing of over 20 charities, practitioners and other prominent experts, is calling for there to be a statutory duty on public services to make trained enquiries about domestic violence.
Campaigners argue domestic abuse survivors are likely to come into contact with a variety of public services due to their experiences.
Jessica Southgate, chief executive of Agenda, said: "We hear time and time again from survivors that they are not being asked about abuse across all public health services. This ranges from homelessness to drug and alcohol services, mental health services, job centres, GPs, hospitals, probation, prison services, and social services.
"Survivors are being let down by a litany of public agencies time and time again. Important pathways to support are not being opened. Asking the question in the right way is so important.
"Homelessness is a cause and consequence of domestic abuse. Women are more likely to be made homeless as a result of domestic abuse and then they are more likely to be exposed to domestic and sexual abuse on the streets."
Anyone who requires help or support can contact the National Domestic Abuse Helpline which is open 24/7 365 days per year on 0808 2000 247 or via their website https://www.nationaldahelpline.org.uk/
Register for free to continue reading
Registration is a free and easy way to support our truly independent journalism
By registering, you will also enjoy limited access to Premium articles, exclusive newsletters, commenting, and virtual events with our leading journalists
Already have an account? sign in
Register for free to continue reading
Registration is a free and easy way to support our truly independent journalism
By registering, you will also enjoy limited access to Premium articles, exclusive newsletters, commenting, and virtual events with our leading journalists
Already have an account? sign in
Join our new commenting forum
Join thought-provoking conversations, follow other Independent readers and see their replies