Don't call them drones: RAF launches charm offensive for 'unmanned aircraft'
One of the first journalists allowed into Britain's top secret drone base reports on its remote Afghan missions
Oliver Wright
Tuesday 17 December 2013 21:05 Comments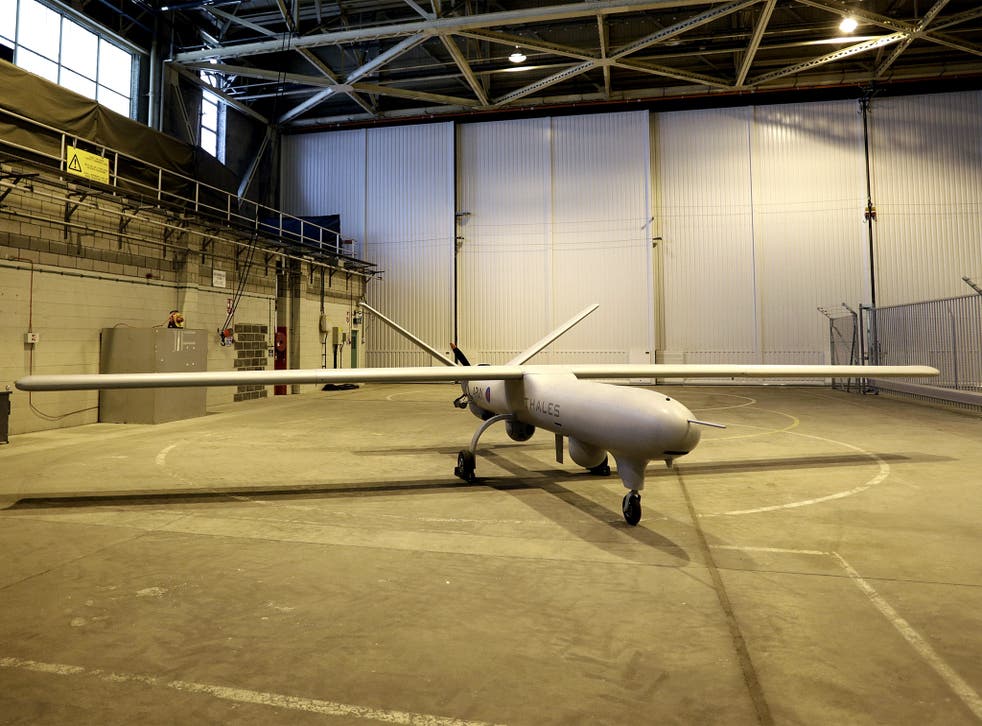 "You are at a military briefing facility," the man from the Ministry of Defence told us. "You will notice that I am military and so are all my chums. This is [about] defence correspondents talking about defence and the military.
"If you want to talk about foreign nations, you can talk to the Foreign Office. If you want to talk about legal interpretations, you can talk some legal beagles. We will not touching any of those areas. If you start touching any of those areas I will cut you off. "
Thus began our introduction to Britain's secret drone programme. Never before opened to anyone outside the military establishment, journalists were invited to RAF Waddington in Lincolnshire to see how Britain's unmanned air campaign in Afghanistan is operating.
The aim was to dispel the myths about the programme, while subtly pointing out the differences between our approach to drones and that of our American allies. Reaper drones - or "remotely piloted air systems" as the military prefer to call them - have been operating out of RAF Waddington since April. Except they are not really operating out of Waddington at all - they are in Afghanistan.
They are flown from a beige metal cabin slightly smaller than a shipping container, in which are two drone "cockpits". The makeshift building is housed in a vast aircraft hanger, separated from the rest of the space by an 8ft-high barbed wire fence. Outside the hanger is a runway - but the pilots who operate the drones will never use it.
Inside, the cabins only vaguely resemble a typical aircraft flight deck. As you walk through the door, immediately in front of you is a row of computer monitors and keyboards. At the first sits an intelligence analyst - the other two stations with "Made in the USA" stickers on their screens are empty. No-one will say what they're for.

To the right, at the end of the cabin, the pilot and systems controller sit side-by-side in large, comfy-looking brown chairs. In front of them are some of the controls you would associate with a plane: a joystick, a throttle and a radio system. Between them are two telephones and six screens which provide real-time images - including what other aircraft are seeing.
Each pilot normally works a nine-hour shift - "flying" two hours at time before taking a "screen break" and swapping over with another team in the control room.
The UK's current fleet of five Reaper drones has now flown nearly 54,000 hours in Afghan operations and fired their weapons 459 times. No-one will say how many insurgents have been killed by British drones, but the MoD claims there is only one "known" operation that resulted in civilian deaths.
Master Aircrew David Gall, a drone operator who formerly worked on Nimrod aircraft, lives nearby with his family and commutes into Waddington every day. "You prepare yourself mentally," he says. "We're driving into work. We are leaving our families that morning. We have to make sure that when we come through those doors that we are completely concentrated on operations - so we don't bring anything outside - you know, any of that normal everyday stuff."
Flight Lieutenant Neil Pappini, who previously flew Tornadoes, says he has used a drone to fire on the enemy but stresses that the checks are even more strenuous than in the air. "It's obviously the most important thing we do and it's not something that is taken lightly," he says. "The decision to fire is always taken from the ground - in consultation with us. We are always working with a ground commander in Afghanistan."
He then adds: "[Firing] is very similar to a normal aircraft. There are a series of safety switches. You make sure you are in the correct position in the sky for the weapons system and that all the parameters have been met and then, yes, you pull the trigger."

He added that one of the advantages of drones over conventional aircraft was that you had greater continuity. Rather than doing nine-month tours of duty, you worked for three years in the same place. "Once you get your head round the concept it is actually no different from any of the other flying that I've done," he says.
Air Chief Marshal Phil Osborn, who is charge of developing the Waddington programme, says unmanned planes are not the same as pilot-less planes and does not even like the word "drone".
"A drone portrays an image of something that is out of control," he says. "It is a piloted aircraft - the pilot is simply remote from the aircraft itself."
He adds that all the decisions that are taken to use legal force are done as they would be from conventional planes. He makes clear that we are only operating in Afghanistan, not Pakistan like the Americans. "How others choose to use the capability - you'd have to ask them that," he says pointedly.
The Defence Secretary, Philip Hammond, says he expects British drones to leave Afghanistan along with the rest of our troops next year. After that they are likely to be based in the US rather than the UK, as pilot-less planes are currently not allowed to fly in European airspace.
But for the MoD, part of the reason for opening up Waddington is to begin the process of winning public acceptance for that.
Register for free to continue reading
Registration is a free and easy way to support our truly independent journalism
By registering, you will also enjoy limited access to Premium articles, exclusive newsletters, commenting, and virtual events with our leading journalists
Already have an account? sign in
Join our new commenting forum
Join thought-provoking conversations, follow other Independent readers and see their replies