All the reasons why Donald Trump's state visit could be very awkward
From Prince Harry reportedly saying he is 'not a fan' of Mr Trump to the President claiming he could have had sex with Princess Diana, there are a number of potential points of tension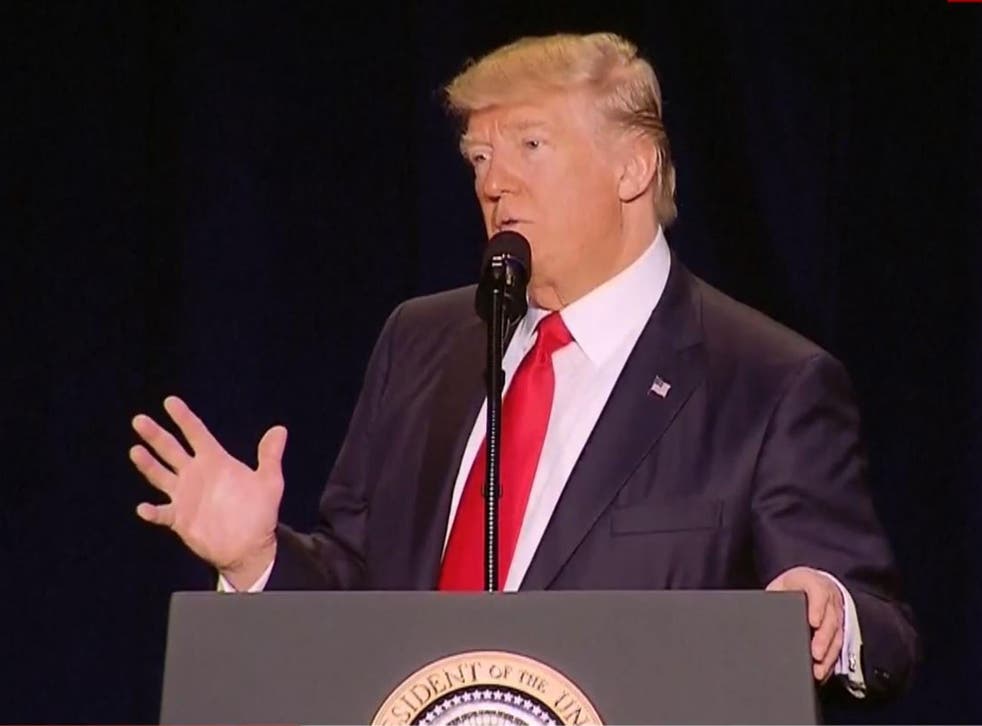 The Queen has hosted 109 state visits in her time on the throne but there is reason to think Donald Trump's trip could be the most awkward yet.
From recent reports Prince Harry is "not a fan" of the President to Mr Trump's old tweets about Kate Middleton which recently resurfaced, there are a number of points of potential discomfort for the state trip which tends to involve a banquet with the Queen and a stay at Buckingham Palace or Windsor Castle.
Theresa May not only shocked many but broke diplomatic tradition when she invited the billionaire property mogul on an official state visit on behalf of the Queen last week.
Mr Trump's mother might be from Scotland and he might be said to be a "massive anglophile", but there are manifold reasons the visit could not be the smoothest of affairs behind the scenes. Here is a selection of the potential points of tension during the no doubt grand occasion:
Prince Harry is reportedly "not a fan" of Mr Trump
A source who is said to be close to the royal told US Weekly, the Prince "is not a fan" of the former reality TV star. They also said: "Harry thinks the president is a serious threat to human rights".
A second source claimed the royal has "often been vocal" about his feelings towards Mr Trump since the Republican announced his presidential bid in 2015.
A palace spokesperson declined to comment on the matter to The Independent, saying: "By long-standing convention, we never comment on reports from unnamed sources of purported private conversations involving members of the royal family."
The controversial orders Donald Trump has already issued

Show all 9
Mr Trump once claimed he could have sex with Princess Diana
In a 1997 interview unearthed by BuzzFeed last year, Mr Trump and radio shock jock host Howard Stern discussed the late Princess Diana's attractiveness and whether Mr Trump would have been able to "nail" Diana.
In the interview which was held shortly after she was killed in a car crash, Mr Trump claimed Diana had sent him the "most beautiful, warm letter" after he did her a personal favour and sent her some flowers. "Why do people think it's egotistical of you to say you could've gotten with Lady Di?" Stern subsequently asked Mr Trump. "You could've gotten her, right? You could've nailed her."
Mr Trump retorted: "I think I could have."
However, in an interview with Piers Morgan last year, Mr Trump denied having any romantic interest in the Princess.
Mr Trump's old tweets about Kate Middleton
As has become routine, one of the President's old tweets has recently come back to haunt him and this one is about the Duchess of Cambridge. In 2012, Mr Trump weighed in on the furore around the publication of topless photos of Middleton, saying the royal only had herself to blame for the photos being taken.
"Kate Middleton is great - but she shouldn't be sunbathing in the nude - only herself to blame," Mr Trump wrote on Twitter at the time, prompting criticism.
Prince Charles and Mr Trump are reportedly engaged in a diplomatic row about climate change
While Mr Trump is a vocal climate change sceptic, Prince Charles is an outspoken environmentalist. The stark difference in standpoint is reported to be a growing sore spot.
The Sunday Times recently reported members of the Republican politician's staff have warned Prince Charles, Queen Elizabeth's son, should not "lecture" the President on climate change during the state visit in case the unpredictable politician "erupts" in response.
On top of this, at the end of last year, Prince Charles issued a warning over the "rise of populism" in a veiled apparent reference to Mr Trump's presidential victory and the rise of the far-right in Europe. Although he did not mention any politicians by name, he said there were "deeply disturbing echoes of the dark days of the 1930s" and "evil" religious persecution was occurring across the world.
Join our new commenting forum
Join thought-provoking conversations, follow other Independent readers and see their replies