Losses at Donald Trump's Scottish golf resorts have doubled
The two resorts lost £17.6m last year. Revenue also fell sharply
Saturday 07 October 2017 22:53 Comments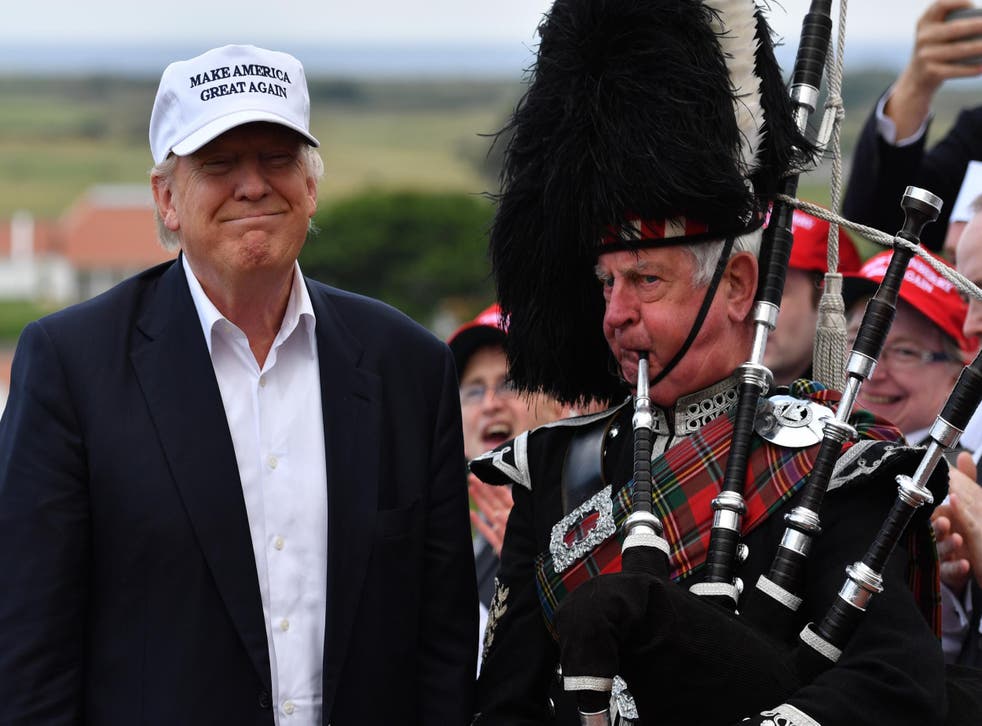 Donald Trump boasts of making great deals, but a financial records filed in the UK show he has lost millions of dollars for three years running on a couple of his more recent big investments, his Scottish golf resorts.
A Companies House report shows losses last year at the two resorts more than doubled to £17.6m ($23m). Revenue also fell sharply.
In the report, Mr Trump's company attributed the results partly to having shut down its Turnberry resort for half the year while building a new course there and fixing up an old one.
His company has faced several setbacks since it ventured into Scotland a dozen years ago and its troubles recently have mounted.
The company has angered some local residents near its second resort on the North Sea with what they say are its bullying tactics to make way for more development.
The company also has lost a court fight to stop an offshore wind farm near that resort, drew objections from environmental regulators over building plans there in August and appears at risk of losing a bid to host the coveted Scottish Open at its courses.
Amanda Miller, a spokeswoman for the Trump Organisation, declined to comment about the results.
Mr Trump handed over management of his company to his two adult sons before becoming US president, but still retains his financial interest in it.
It is not clear how big a role Mr Trump's setbacks in Scotland have played in the losses. In addition to the Turnberry shutdown, the company also noted in its report that it took an £8 million (10 million dollar) loss due to fluctuations in the value of the pound last year.
The company reported that revenue at the two courses fell 21 per cent to £9 million ($11.7m) in 2016 from £11.4m ($15m) a year earlier.
Donald Trump's least presidential moments so far...

Show all 30
Mr Trump's golf business is closely watched because he has made big investments buying and developing courses in recent years, a risky wager in a struggling industry.
It is also a bit of departure for the company. Mr Trump has mostly played it safe in other parts of his business, putting his name on buildings owned by others and taking a marketing and management fee instead of investing himself.
Much of the anger toward Mr Trump in Scotland is centered around his resort outside Aberdeen overlooking the North Sea coast and its famed sand dunes stretching into the distance.
Called the Trump International Golf Links, it is here that a local fisherman became a national hero of sorts for refusing a $690,000 (£520,000) offer from Mr Trump for his land and where footage was shot for a documentary on Trump's fights with the residents, called "Tripping Up Trump".
Many locals praise the course for bringing in more tourists to the area and helping the local economy, but Mr Trump's critics there are outspoken and now, with their target the US president, playing to a worldwide audience.
The same day that the financial report on the resorts was released, an online petition by a global corporate watchdog group fighting Mr Trump's plans for a second 18-hole course to the North Sea resort got signature number 94,860.
When Mr Trump visited his North Sea resort in June last year, two local residents ran Mexican flags up a pole in protest against the then-candidate's immigration policies.
It was a snub that came just after the UK Supreme Court ruled unanimously against Mr Trump's efforts to stop the wind farm, a Scottish government decision to strip him of his title as business ambassador for Scotland and the revocation of an honorary degree from Aberdeen's Robert Gordon University.
Both the Scottish government and the university cited Trump's comments about Muslims during the campaign.
Eric Trump: "We made Turnberry great again"
In July, the CEO of a major sponsor of the Scottish Open was quoted in a local newspaper casting doubt on Trump's chances of hosting the event.
"There's no decision made but, look, there are clear issues," Aberdeen Asset Management CEO Martin Gilbert was quoted saying.
He added, "Politics aside, Trump would be an ideal venue - but you can't put politics aside."
Asked for clarification about what Mr Martin meant by "issues" and "politics", Aberdeen Asset spokesman James Thorneley said: "It's pretty kind of obvious, right?"
Pressed, he said he would not comment further.
This summer, Scotland's Environmental Protection Agency and Scottish Natural Heritage, a conservation group, sent letters to Aberdeenshire Council urging it to reject Trump's plans for the second course if he did not make certain changes. A vote by the council, expected in August, was postponed.
The global watchdog group behind the online petition, SumofUs, used the environmental objections in its plea for signatures.
How to conquer Turnberry - by the man who knows best

Show all 2
It also seized on Mr Trump's reaction to the violence in Charlottesville, Virginia, to muster support, arguing that Trump's rhetoric has "bolstered white supremacists" across the globe.
It states on its website: "Now we have a chance to reject Trump's hatred and protect our environment in one fell swoop."
Whether any of this will hurt profits at Mr Trump's Scottish business in the long run is another matter.
In the financial report, Eric Trump, the president's son and a director of the British subsidiary that owns the two resorts, included a letter expressing confidence that the resorts will attract plenty of golfers.
He said Turnberry had received "excellent reviews" from its guests, and that the reopening of the resort is ushering in an "exciting new era" for the company.
Press Association
Register for free to continue reading
Registration is a free and easy way to support our truly independent journalism
By registering, you will also enjoy limited access to Premium articles, exclusive newsletters, commenting, and virtual events with our leading journalists
Already have an account? sign in
Join our new commenting forum
Join thought-provoking conversations, follow other Independent readers and see their replies