16th century stately home in Dorset gutted by 'suspicious' fire
Crews worked tirelessly to put the fire at Parnham House out, say the Dorset and Wiltshire fire services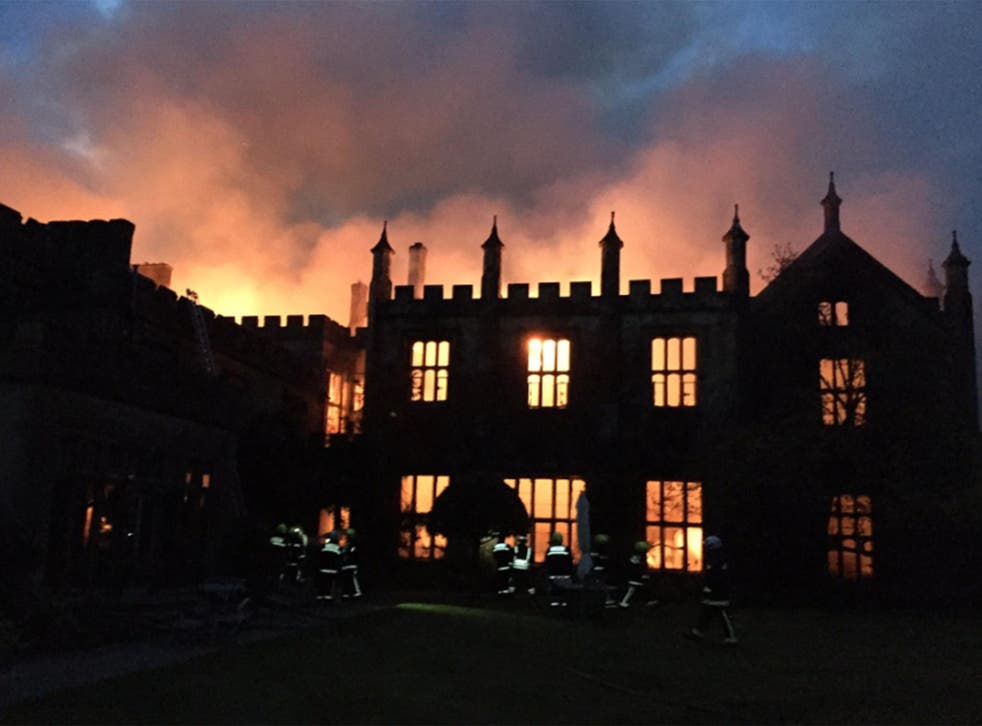 A fire that gutted a Grade I listed stately home is being treated as "suspicious".
Firefighters were called to Parnham House in Beaminster, Dorset in the early hours of Saturday morning.
Dorset Police said the blaze caused significant damage to the 16th century home, which is presently owned by an Austrian hedge fund manager.
Officers do not believe anyone was inside the property and say there are no reports of any injuries.
"At this stage the cause of the fire is unknown, however, police are treating it as suspicious and an investigation is underway," a police spokeswoman said.
Craig Baker, area manager for Dorset and Wiltshire Fire Service, said in a tweet that 20 pumps were used at the scene, as well as an aerial ladder platform and water carrier.
He added: "A devastating fire, crews have worked tirelessly. Remains a big firefighting operation!"
Parnham House is described as an "exceptionally important mid-C16 house" by Historic England.
It was originally built in 1522 for Robert Strode and Elizabeth Hody and was renovated in the early 1800s.
The property was purchased by furniture designer John Makepeace in 1976.
The designer ran his School for Craftsmanship in Wood at the house.
In 2001, the mansion was bought by Michael and Emma Treichl, who still own the property and carried out an extensive renovation after purchasing it.
In recent years, the couple had been opening the property's gardens to the public for the annual East Dorset Food Fair.
Emma also opens the gardens for people to enjoy during their visit. This year it will be held on Saturday and Sunday 17 and 18 October.
Lost Heritage says it is the fifth stately home to be damaged by a fire in six months.
It lists Cosgrove Hall in Northamptonshire, Kelsale Hall in Suffolk, Alston Hall in Lancashire and New House Hall in Yorkshire as the five other homes that have been affected by fires.
Parnham House is the only one of the six to be investigated as suspicious, however.
Anyone with information related to the incident is asked to contact Dorset Police online or call Crimestoppers anonymously on 0800 555 111.
Additional reporting by PA
Register for free to continue reading
Registration is a free and easy way to support our truly independent journalism
By registering, you will also enjoy limited access to Premium articles, exclusive newsletters, commenting, and virtual events with our leading journalists
Already have an account? sign in
Register for free to continue reading
Registration is a free and easy way to support our truly independent journalism
By registering, you will also enjoy limited access to Premium articles, exclusive newsletters, commenting, and virtual events with our leading journalists
Already have an account? sign in
Join our new commenting forum
Join thought-provoking conversations, follow other Independent readers and see their replies