Doug Scott, British mountaineer who conquered world's highest peaks, dies aged 79
Climber made 45 expeditions to high mountains of Asia, reaching summit of 40 peaks – all but one without artificial oxygen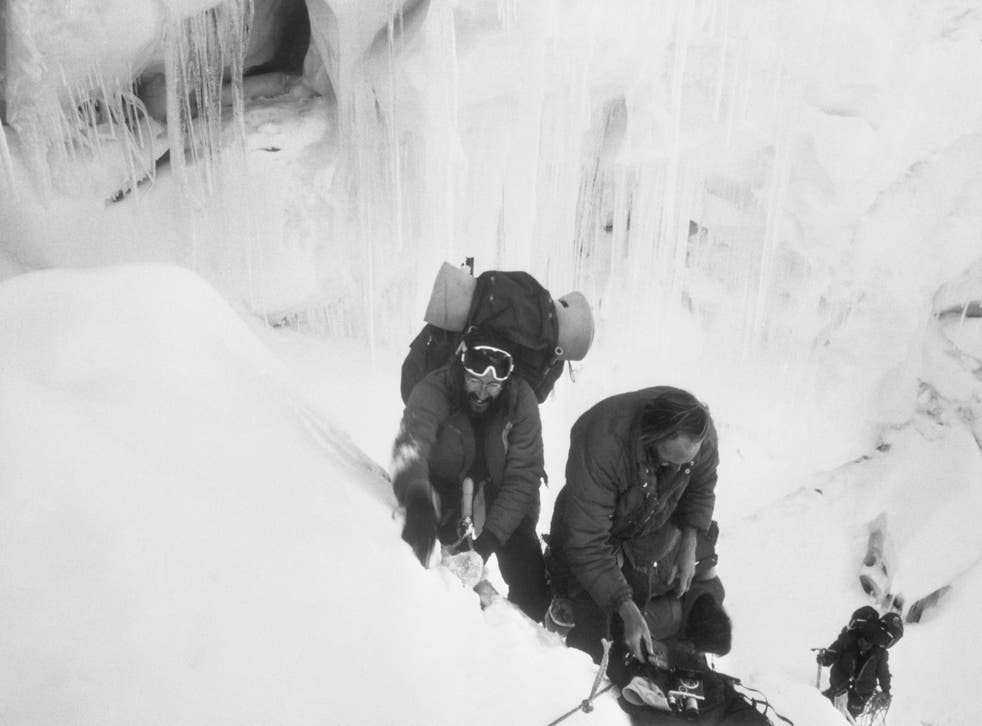 A British mountaineer who conquered the world's highest peaks, including Everest's dangerous south-west face, has died, aged 79.
Doug Scott climbed the so-called Seven Summits, the highest mountains on each continent, and broke both legs while abseiling another Himalayan peak, forcing him to crawl to base camp supported by two teammates.
In total, he made 45 expeditions to the high mountains of Asia, reaching the summit of 40 peaks – all but one without the use of artificial oxygen.
The Englishman, who had cancer, wrote his name into the record books by being the first adventurer, along with Douglas Haston, to climb Mount Everest's south-west face rather than the "tourist friendly" route in 1975.
Two years later, he broke both legs while abseiling from the peak of The Ogre, a relatively uncharted peak in the Himalayas.
A former president of the Alpine Club, Scott was made a CBE in 1994. He founded the Community Action Nepal (CAN) charity to help people in the Himalayas, and raised money for Nepal during the first national Covid-19 lockdown by climbing up and down his stairs.
Scott, who enjoyed rock climbing and organic gardening, died on Monday at his home in the Lake District.
Writing in The Independent in 1995 about his ascent of K2, the world's second-highest mountain, which sits along the China-Pakistan border, Scott detailed a brush with death after being struck by an avalanche.
"As I was approaching the tents of Camp 2, I suddenly froze," he wrote, "noting a prickly sensation at the back of my neck in response to two shudders, one after the other, that went through the snow, followed by a loud cracking noise.
"I instinctively pressed down on my ice axe to belay as the rope around my waist came tighter and tighter until I was catapulted off my stance into the air and went hurtling down totally out of control towards the cliffs below the snow basin. In my head-long rush downhill there was absolutely no fear.
"I registered only curiosity at being in my first big avalanche and also the fact that I was about to die. This all happened in a few seconds, though I observed myself having these thoughts and also a warm feeling about the prospect of dying, that it would not be a bad place to go."
In a statement, the CAN said: "It is with a very heavy heart that we inform you that our founder, leader and great friend, Mr Doug Scott, passed away peacefully ... at his home with his family around him.
"Doug's family has asked for privacy at this time, but will be making a full and proper announcement in the coming days.
"We thank you all for your care and support."
Adventurer Alastair Humphreys said: "I'm sorry to hear that mountaineer Doug Scott has died. A life filled with adventure and purpose."
Mountaineer Kenton Cool added: "Possibly the greatest mountaineer of his generation."
A statement on behalf of the British Embassy in Nepal said: "We remember Doug Scott CBE not only for his mountaineering feats but as a true friend of Nepal whose support helped build health posts in rural villages.
"His feats also remind us of the importance of protecting our mountains from climate change."
Register for free to continue reading
Registration is a free and easy way to support our truly independent journalism
By registering, you will also enjoy limited access to Premium articles, exclusive newsletters, commenting, and virtual events with our leading journalists
Already have an account? sign in
Register for free to continue reading
Registration is a free and easy way to support our truly independent journalism
By registering, you will also enjoy limited access to Premium articles, exclusive newsletters, commenting, and virtual events with our leading journalists
Already have an account? sign in
Join our new commenting forum
Join thought-provoking conversations, follow other Independent readers and see their replies