Dumbing down, Minister? Michael Gove gets his educational facts from marketing surveys for Premier Inn and UKTV Gold
Education Secretary's attack on lack of pupils' knowledge not based on any academic research
Jonathan Brown
Tuesday 14 May 2013 02:11 Comments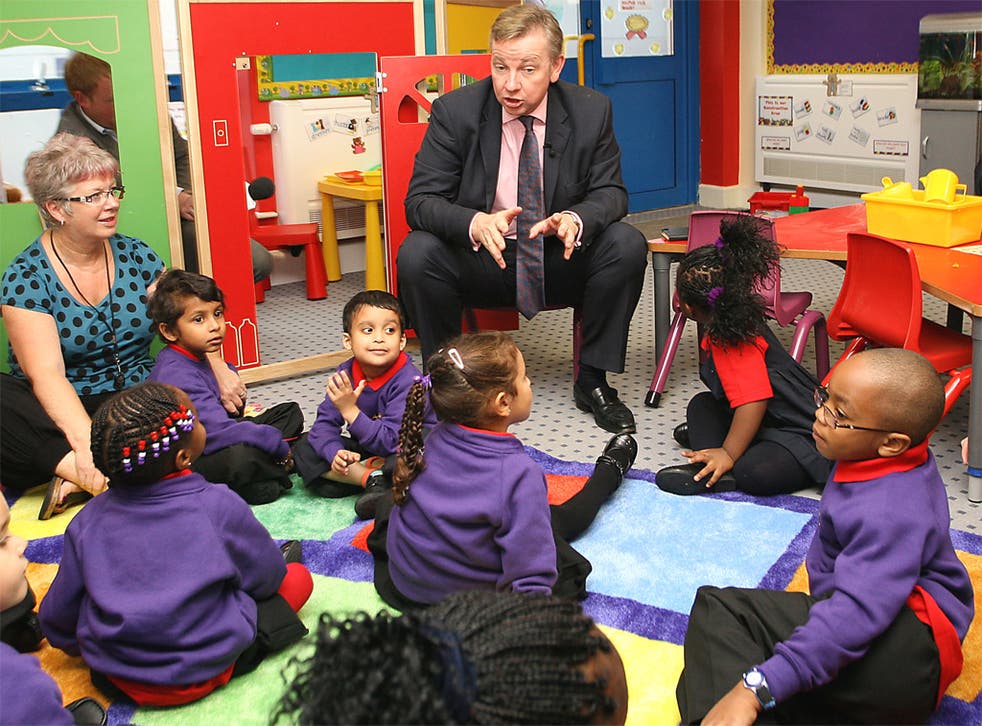 They may provide comfortable accommodation at a reasonable price and broadcast some of the finest repeats on British television but few would consider either Premier Inn or UKTV Gold to be organisations on the cutting edge of educational research. Few that is except Education Secretary Michael Gove.
A Freedom of Information (FoI) request by a retired teacher has left Mr Gove facing a torrent of criticism after it was revealed that he cited PR surveys commissioned by the two companies as evidence of British teenagers' alleged ignorance of key historical figures and events.
In an article in the Mail on Sunday in March headlined "why I refuse to surrender to militant Marxist teachers hell-bent on destroying our schools" Mr Gove railed against the "enemies of promise" undermining the prospects of young people.
The minister, whose new plans for a fact-based history curriculum have outraged some teachers, wrote: "Survey after survey has revealed disturbing historical ignorance, with one teenager in five believing Winston Churchill was a fictional character while 58 per cent think Sherlock Holmes was real."
But Janet Downs, a member of the Local Schools Network, asked his department to reveal the evidence for the minister's claim. It however could only identify the 2008 survey commissioned by UK TV Gold whose 3,000-strong sample included all age groups – not just teenagers.
Undeterred, the grandmother from Lincolnshire again asked civil servants to justify the assertion that "survey after survey" rather than a single source proved the point.
In its next reply, the Department for Education, which has previously been criticised for failing to respond to FoIs, cited a survey by Tory peer Lord Ashcroft which revealed gaps in secondary age pupils' knowledge of the Second World War.
Yet it also emerged that Mr Gove had cribbed from a press-released survey carried on newspaper websites produced by hotel chain Premier Inn which claimed teenagers thought Sir Bruce Forsyth was a former British Prime Minister and Delia Smith was married to Henry VIII.
The three other sources used to support Mr Gove's claims included a pamphlet by think tank Politeia, an article in London Mum's Magazine and an article in the Daily Telegraph detailing a poll carried out by Sea Cadets.
Writing on her blog Mrs Downs, who has previously caught Mr Gove out on a number of claims including that Asian students worked harder than British pupils, said: "Gove says he is in favour of 'evidence-based' policies. However, it's unclear what value there is in 'evidence' which includes surveys of dubious reliability – unless, of course, they're chosen simply because they support Gove's point of view."
Mrs Downs, who taught English and business studies for 20 years in Lincolnshire, said she had first become "riled" with inaccurate comments made by Mr Gove in 2010.
"I think he has got an agenda to play down state education. It is demoralising to pupils and teachers.
"It shows a bit of disrespect for the public and the readers and the right wing press pick it up and run with it," she told The Independent.
Press releases cited by Gove
Premier Inn
"Teenagers believe Delia Smith, Jerry Hall and Camilla Duchess of Cornwall were among Henry VIII's wives, research has revealed... Other clangers included thinking telly builder Nick Knowles built the pyramids and believing that William Shakespeare was the chairman of the BBC."
Sea Cadets
"One in 20 children believe the Spanish Armada is a tapas-style cuisine, not the fleet of ships that sailed against the English. And one in six thought Raleigh was the brains behind the Chopper, not the adventurer responsible for bringing tobacco and potato back to our shores."
Lord Ashcroft
"Children were shown pictures of various current and historical figures. All but a tiny handful recognised the Queen (and a stunning 97 per cent recognised Jedward). More than nine out of 10 identified Churchill the insurance dog – half as many again as correctly named Sir Winston Churchill (62 per cent)."
UKTV Gold
"Shame-faced Brits are increasingly confusing fact and fiction when it comes to historical knowledge... most people believe that fictional figures such as King Arthur, Sherlock Holmes and Eleanor Rigby really existed."
More 'facts' debunked by Mrs Downs
Far Eastern education
In Far Eastern countries "school days are longer, school holidays are shorter." Not according to OECD data.
Free schools
Department for Education claims Free schools are over-subscribed. In fact many "oversubscribed" free schools have free places.
Illiterate school leavers
Are 20% of school leavers functionally illiterate? Not according to ONS definitions.
Register for free to continue reading
Registration is a free and easy way to support our truly independent journalism
By registering, you will also enjoy limited access to Premium articles, exclusive newsletters, commenting, and virtual events with our leading journalists
Already have an account? sign in
Register for free to continue reading
Registration is a free and easy way to support our truly independent journalism
By registering, you will also enjoy limited access to Premium articles, exclusive newsletters, commenting, and virtual events with our leading journalists
Already have an account? sign in
Join our new commenting forum
Join thought-provoking conversations, follow other Independent readers and see their replies