Dunblane massacre: Remembering the school shooting 20 years later
How deep are the wounds? They don't get much deeper
James Cusick
Political Correspondent
Thursday 10 March 2016 20:35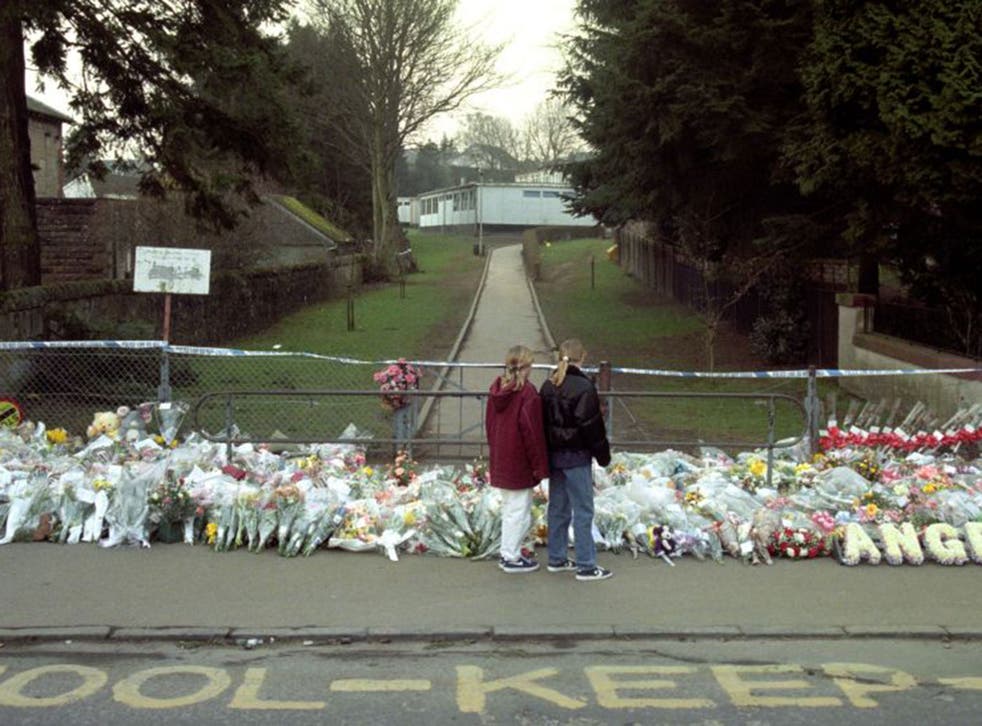 Once or twice over the past 20 years, driving north into the Scottish Highlands, I've taken a small detour. After hesitating at a roundabout on the A9, and wondering briefly if this is really what I want to do, I've taken then the B8033 road marked Dunblane.
Past the small town's railway station, I've slowed down into Doune Road. Why I've ended up stopping at the small sign on the low stone wall that reads "Dunblane Primary School", I'm not sure. Journalists, by nature, are not deferential observers, but this place is different.
I don't stay long. Less than a minute. But even in these few seconds, I've felt uneasy about intruding. On departing, I've felt only increasing respect for a community that – despite the nightmares that unfolded here – found the resilience to survive.
How deep are the wounds? They don't get much deeper. Just after 9.30am on 13 March, 1996, a local former Scout leader, Thomas Hamilton, drove into Dunblane Primary's car park, got out of his van, and tried to block the phone lines of the school by cutting cables on a telegraph pole.
He entered the north-west side of the school, which gave access to the gym and the main hall, carrying four handguns – two Browning pistols and two Smith & Wesson .357 Magnums. He had 743 rounds of ammunition, enough to wipe out the entire school. Dressed in black, with holsters strapped to his body and wearing two body pouches, his ears were protected by specialist muffs familiar to anyone who frequents gun clubs. There is evidence to suggest that Hamilton, 43, may have been planning what happened next for years, and that his target was the lower-school assembly, attended by every child aged between five and eight.
He had run boys clubs in and around Dunblane for three or four years, regularly questioning one nine-year-old about the way into the gym, directions to the main hall, routes from the central entrance and when the assembly started.
By 9am most pupils had arrived for the school day. There was a thin layer of frost and snow on the ground.
Before he entered the gym, where teacher Gwen Mayor had just taken the 28 pupils of her P1 class for their weekly runaround, Hamilton had fired two shots at the assembly stage and nearby girls toilets.
When he entered the gym he was confronted by PE teacher Eileen Harrild. He fired into her arms and chest. Ms Mayor was then shot and killed quickly. Another teaching assistant, Mary Blake, was shot in the head and legs. Hamilton had fired off almost 30 bullets within seconds of entering the gym. Children were hit, some killed outright. Mrs Harrild and Mrs Blake, bleeding from their wounds, managed to steer some pupils towards a store cupboard to hide from the mayhem. Standing in the centre of the gym hall, Hamilton fired off further shots. Children, some already wounded, were being hit multiple times at point-blank range. An adult and an older pupil who heard the noise from outside the gym hall, were fired at as they tried to look inside. When he first left the gym, Hamilton fired off more rounds, towards the library cloakroom. Others were hit. A bullet passed through one of the temporary Portakabin classrooms outside, as teachers shouted to children to get down and lie on the floor.
When Hamilton went back inside the gym, he dropped the gun he was using and selected the Smith & Wesson. He put the barrel in his mouth and fired. He was blown off his feet, and landed surrounded by a pool of blood.
Hamilton had used his Browning pistol 105 times; 17 people were dead, 32 sustained gunshot wounds, all under just four minutes. The 106th bullet was for himself.
Not all of this detail was known when the first drip-feed of information from the massacre began to appear across news wires. I was in The Independent's former home in Canary Wharf, and began preparing to fly to Scotland, gathering what information I could before leaving. I'd only recently become a father, my son Sebastian just a few months old. When the beautiful picture of Class P1 became public, and names were put to the small, smiling faces of those dead, I remember struggling to take everything in. I also appreciated that if I felt like this, then how must the parents of the victims feel?
Along with Gwen Mayor, 16 children were slaughtered, all of them just five or six years old. Victoria, Emma, Melissa, Charlotte, Kevin, Ross, David, Mhairi, Brett, Abigail, Emily, Sophie, John, Joanna, Hannah and Megan.
There was criticism of the way parents were kept in the dark about what had happened. They were initially taken to one of the large Victorian houses near the school, and then brought to the main school building. One by one the full room emptied as parents were reunited with their children – until suddenly dawned on those remaining that only bad news was left.
Hero's welcome for Andy Murray in Dunblane

Show all 3
To the credit of The Independent's then editor, Charlie Wilson, there was no newsroom pressure on his reporters to confront or doorstep grieving parents, families or friends. Those who wanted to talk, I listened to. That was it. "Get what you get, do it your way," he quietly told me.
After those first days, I began investigating Hamilton's motives, his background; I spoke to those who felt they missed warning signals that could have stopped him; and looked at the weakness of gun laws that operated in Hamilton's favour. His Scout warrant was withdrawn in 1974 because of "suspicions on his moral intent towards boys". Official complaints lodged by Hamilton suggested he believed he was persecuted, and blamed the community for his isolation and business failures. A convenient front for paedophilia? Yes, no doubt.
There were also unanswered questions about his "income" – as someone unemployed, how he could afford his expensive photography and gun hobbies? There were also his unclear connections to homeless men in Edinburgh doss-houses. Police questioned me about what I'd written, and the sources of my information, but their interest faded relatively quickly.
Documents released almost 10 years after the killings revealed Hamilton had been investigated by child protection officers, and had been reported to Scotland's prosecution authorities who had considered 10 charges against him (never acted upon), including assault.
The political fall-out was substantial. John Major's government reacted quickly by promising a nationwide gun amnesty, with orders to Lord Cullen to set up a judicial inquiry and "report as soon as practicable".
Dunblane's grieving parents could have retreated from the front line, and no one would have blamed them for doing so. But there was no retreat, only defiance and a determination to ban private gun ownership, and ensure no other parent would witness the slaughter of innocents.
Parliament wasn't quite sure what action it should take. There was an appetite for restricting gun ownership, but a full ban was deemed draconian and unnecessary. On the road to John Major's government banning all cartridge ammunition handguns except .22 single shot weapons, with the Blair administration later banning the remaining .22 guns, there were key events that altered the climate in Westminster.
With some MPs convinced there shouldn't be a reflex reaction to Dunblane, the campaign set up by grieving Dunblane parents – the Snowdrop Petition – was at a crossroads in late July. One of the lead campaigners was Pamela Ross. Her daughter Joanna had been killed in the gymnasium.
Journalists can sometimes function the way a lawyer does, by offering a coherent, dispassionate voice to someone at the epicentre of a crisis. I spoke to Pamela at length a week before MPs were due to debate changes to the UK's gun laws in August 1996. She was worried about being asked on to BBC's Newsnight. I listened to her and knew she was more than capable of offering unchallengeable insight that would disarm hesitant politicians of any side.
Together we drafted an open letter aimed directly at MPs. She knew everything she wanted to say, and how she wanted MPs to react. Her letter was published on 1 August on the front page of The Independent. The reaction was instant. The Sun newspaper chose to follow it up by reprinting Pamela's letter in full the following day.
It was incredibly powerful, telling MPs to "listen" to her, to ask themselves how they would feel if a gunman barged into the Commons and slaughtered the Prime Minister and 16 MPs. If they thought that could never happen, she said she felt the same way about the school in Dunblane. She told them Joanna has a little sister, Alison, and when she starts school they should, if they fail to ban handguns, all come to Scotland and explain to her the reasons. She accused them of valuing sport over life and of being influenced by powerful pro-gun lobbyists.
The Firearms (Amendment) Act was passed in 1997, with another stronger version passed later the same year.
As I've driven away from Doune Road, once catching sight of the distinctive red sweatshirts that belong to the primary school's pupils, I've felt the urge to call Pamela, to ask about her life since that day in March 1996 when snowdrops were trying to push through her garden lawn. But I've never called. There is no need to.
The town's memories, 20 years on, of that horror-filled day, are perhaps by now carefully filed, though I suspect they will never go away. All of Dunblane's parents demanded they be listened to – and as I've driven back on to the A9, I know they were.
Register for free to continue reading
Registration is a free and easy way to support our truly independent journalism
By registering, you will also enjoy limited access to Premium articles, exclusive newsletters, commenting, and virtual events with our leading journalists
Already have an account? sign in