Dying woman told by DWP the mobility car she calls her 'legs' is being taken away
Marie Piles returned from her honeymoon to find a letter from DWP stating she is no longer entitled to the car 
Loulla-Mae Eleftheriou-Smith
Monday 14 March 2016 09:58 Comments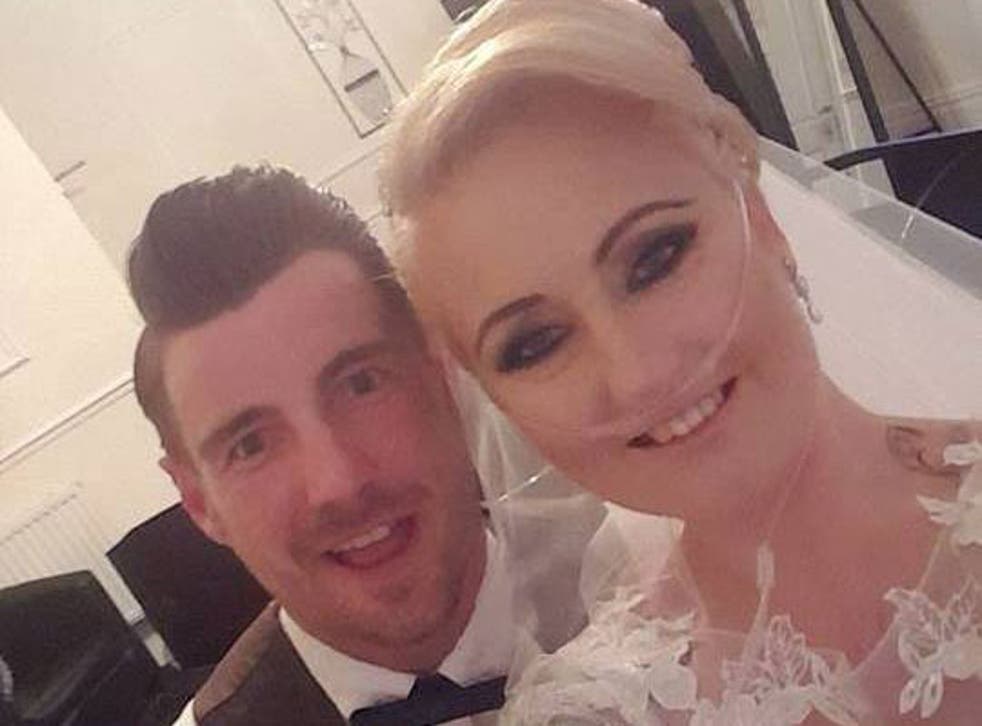 A terminally ill woman has been informed by the Department of Work and Pensions that the mobility car she relies on as her "legs" is being taken away, following an assessment at her home.
Marie Piles, 34, from Port Talbot, is unable to walk around the room without running out of breath and needs to carry up to four oxygen tanks with her whenever she leaves the house in case her oxygen levels drop, she told Wales Online. She will be left "housebound" if the car is taken, she said.
"I don't feel safe on my own and I rely on the car for everything such as going back and forth to hospital appointments. Basically it's my legs," she said.
Ms Piles had previously suffered from Pulmonary Fibrosis and Polymyosis, leaving her reliant on oxygen tanks to be able to breathe and a mobility scooter to get around. In 2013 she had a lung transplant but was told in September last year her body is now rejecting the organ and further surgery is not an option.
Following the news, friends of Ms Piles and her partner Sean Piles, 30, helped to raise enough money to pay for their wedding and for a short honeymoon at a cottage in Cardigan.
The couple returned home to find a letter from the DWP stating Ms Piles would no longer be entitled to her mobility car following an assessment that had taken place at her home.
Mr Piles called taking away a mobility car from someone who is terminally ill a "disgrace".
7 ways the Tories have 'helped' disabled people

Show all 7
"What really angers me is the fact she has little independence left and what she's got left they're taking away. She doesn't like asking for help off me or anyone," he told Wales Online.
Ms Piles is appealing the decision.
It is the latest in a string of cases in which disabled people have been told they will lose their vital mobility vehicles following DWP assessments.
In January this year Jenni Dodd in Crewe, who has paralysis down her left side and suffers from dystonia which causes her muscles to spasm, was told that despite needing help for simple tasks such as dressing each morning her specially adapted mobility car will be taken away, the Crewe Chronicle reported.
Protest outside Department of Work and Pensions
In December, Denise Haddon, who has bilateral femoral focal dysplasia and cannot walk more than 20 metres without suffering severe pain, was told she will be losing the mobility car that allows her to do her job, the Mirror reported.
A spokesman from the DWP said: "Decisions on eligibility for Personal Independence Payment are made after consideration of all the evidence, including an assessment and information provided by the claimant and their GP.
"The majority of people leaving the Motability scheme will be eligible for a one-off payment of £2,000, which will help ensure their mobility needs continue to be met."
Register for free to continue reading
Registration is a free and easy way to support our truly independent journalism
By registering, you will also enjoy limited access to Premium articles, exclusive newsletters, commenting, and virtual events with our leading journalists
Already have an account? sign in
Join our new commenting forum
Join thought-provoking conversations, follow other Independent readers and see their replies