Golden eagle numbers in UK soar to 'historic' levels
Our total population of the rare birds is now hovering at around 500 pairs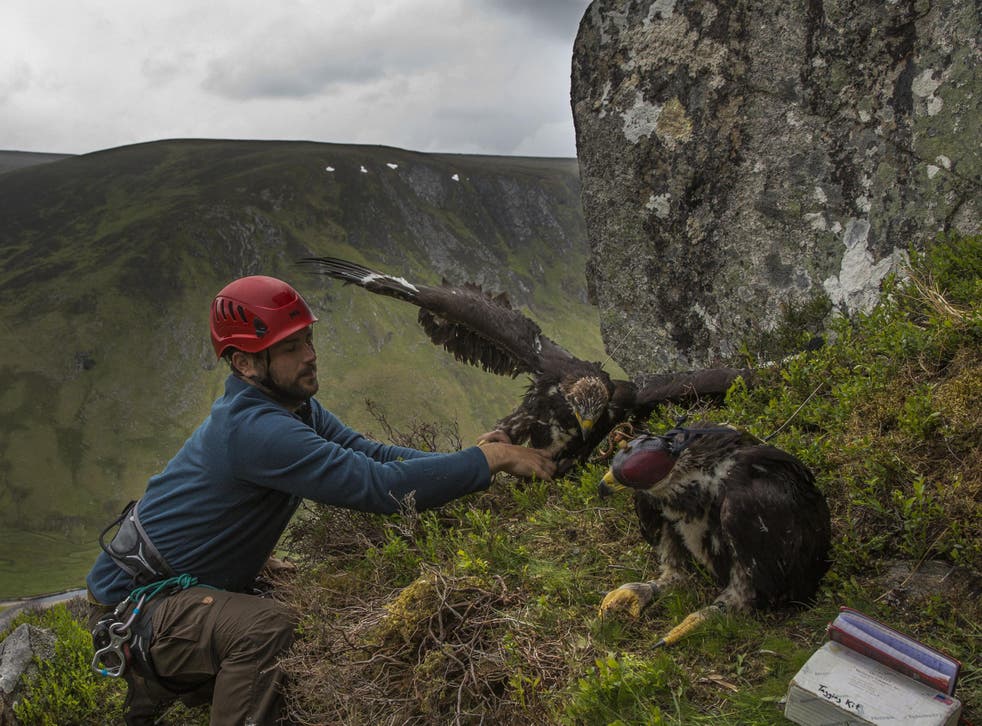 Scotland's golden eagle population has swelled, leading experts to say the bird of prey could become as common in some parts of the country as they were in the distant past.
More than 500 pairs of the indigenous raptors were found living in the Scottish Highlands, a new report has revealed.
RSPB Scotland and the Scottish Raptor Study Group, who conducted six months of research into eagle populations in 2015, said they had recorded a 15 per cent rise – from 442 to 508 pairs – since 2003, when the last survey took place.
It is likely the entire UK population of "Scotland's national bird" now live in that country.
Earlier in 2016, it was reported England's only resident golden eagle could be dead. Eddy had been living near Haweswater in Cumbria, but he failed to appear last Spring, leading RSPB staff and volunteers in the Lake District to fear the worst.
The results from the fourth national golden eagle survey are significant because the eagle population, having surpassed 500 pairs, now meets the UK government criteria for "favourable conservation status", which means the species' recovery is considered sustainable.
Andrew Bachell, director of policy and advice at Scottish Natural Heritage (SNH) said: "It's wonderful to see golden eagles reaching favourable conservation status nationally. These beautiful birds are such an important part of Scotland's nature, a species which people love to see when they visit our wilder landscapes."
The increase in pairs is part of a steady recovery of the eagle population in Scotland, since a dip to low numbers in the mid-19th century. Before this, golden eagles were common across Great Britain, but widespread persecution damaged the population in Scotland and wiped out the birds almost entirely in England and Wales.
Part of the surviving population in Scotland suffered a sharp decline in breeding success in the 1960s, due to organochlorine pesticides used in agriculture, which caused mass infertility and eggshell thinning.
The raptors tend to live in remote areas, but can often be seen performing impressive, undulating flight displays in spring. The northern Highlands and the central spine of Scotland, between the Great Glen and Stirlingshire, saw the greatest increase in eagle numbers between 2003 and 2015, the RSPB reported. Recovery also continues in much of the west Highlands and islands with modest increases noted there. However, the positive progress is not consistent across Scotland.
The number of eagles stagnated in part of the Highlands west of Inverness between 2003 and 2015, following a significant drop between the first survey in 1982 and the second in 1992. The RSPB said in a statement the reasons for the lack of recovery in this area are not clear, but likely involve a number of factors.
A spokesperson said: "Previously, grazing pressure by deer reducing habitat quality for eagle prey, persecution, recreation and forestry have all been identified as potential factors affecting eagles in this area. The poor spring and summer weather also had an adverse impact on breeding success, especially in the western parts of Scotland.
"Golden eagles also continue to be absent from many parts of the eastern Highlands. Less than one third of the traditional 'home ranges' in this area were occupied by a pair of eagles and no eagles were recorded at all in over 30 per cent of them, despite the fact that these should be very productive landscapes for these birds. Many of the vacant territories in this area are on ground managed intensively for driven grouse shooting and in recent years, four eagles fitted with satellite tags have been found illegally killed in the central and eastern Highlands."
But Duncan Orr-Ewing, head of species and land management at RSPB Scotland, emphasised that the situation had got better. "Across many parts of Scotland there's been a very welcome turnaround in how people respect these magnificent birds," he said, "part of a more enlightened public attitude towards birds of prey."
He added: "Increased monitoring and satellite tagging of eagles, as well as stronger sanctions against wildlife crime may be serving as effective deterrents against illegal activity, therefore helping their population to increase. However, the continued absence of golden eagles in some areas of eastern Scotland remains a real cause for concern and suggests that much more work needs to be done."
British man kept golden eagle in 'disgusting' kitchen

Show all 4
The national survey was co-funded by the RSPB and SNH. Fieldwork was carried out by expert licensed volunteers from the Scottish Raptor Study Group and professional surveyors from the RSPB Centre for Conservation Science.
Daniel Hayhow, lead author of the study, said the project was a massive undertaking.
"The huge national survey effort required a minimum three visits to over 700 known traditional golden eagle sites, the length and breadth of Scotland," he said, adding that in addition to voluntary work by surveyors at the Scottish Raptor Study Group, the researchers relied on help and support from farmers and landowners "who provided invaluable logistical support on the ground".
Register for free to continue reading
Registration is a free and easy way to support our truly independent journalism
By registering, you will also enjoy limited access to Premium articles, exclusive newsletters, commenting, and virtual events with our leading journalists
Already have an account? sign in
Register for free to continue reading
Registration is a free and easy way to support our truly independent journalism
By registering, you will also enjoy limited access to Premium articles, exclusive newsletters, commenting, and virtual events with our leading journalists
Already have an account? sign in
Join our new commenting forum
Join thought-provoking conversations, follow other Independent readers and see their replies