Ecuador's embassy in UK claims threat over Julian Assange
Rob Hastings
Thursday 16 August 2012 10:55 Comments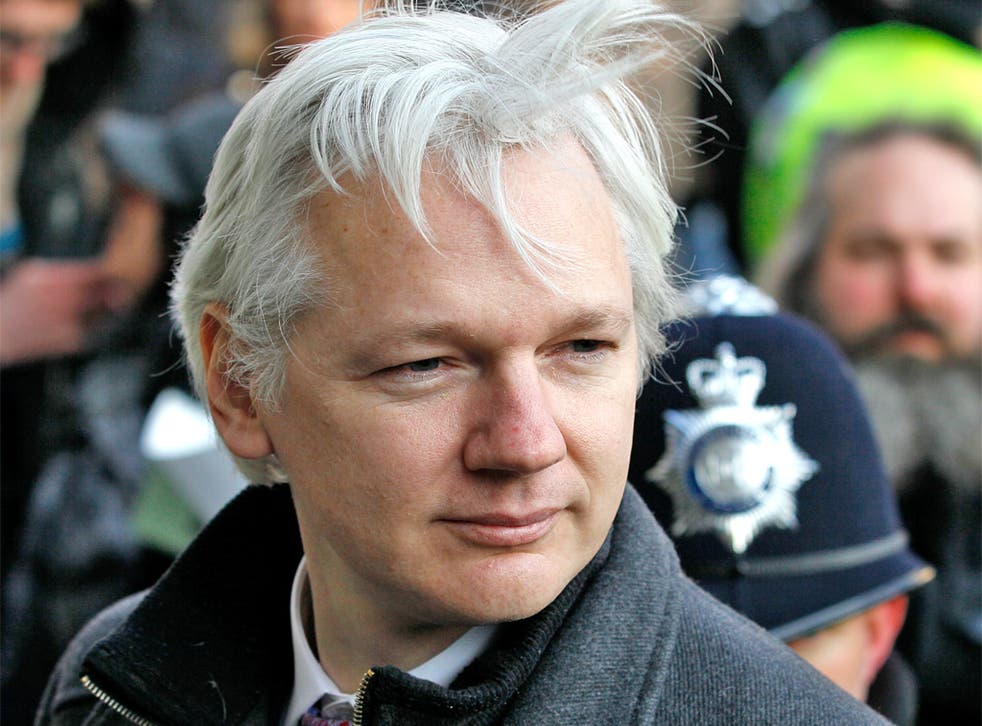 British authorities have threatened to force their way into Ecuador's London embassy to arrest Julian Assange even if the WikiLeaks founder is granted asylum in South America, the country's Foreign Minister claimed yesterday.
"We've received a threat by the United Kingdom... that they could storm our embassy in London if Ecuador refuses to hand in Julian Assange," Ricardo Patino said, indicating a decision on Mr Assange's application will be announced at noon today. After a meeting with Ecuadorian President, Rafael Correa, he later added: "We are not a British colony."
Mr Patino released a letter he said had been sent to the Ecuadorian government in the capital, Quito, by a British embassy official. It read: "You need to be aware that there is a legal base in the UK, the Diplomatic and Consular Premises Act 1987, that would allow us to take actions in order to arrest Mr Assange in the current premises of the Embassy. We sincerely hope that we do not reach that point, but if you are not capable of resolving this matter of Mr Assange's presence in your premises, this is an open option for us... "We need to reiterate that we consider the continued use of the diplomatic premises in this way incompatible with the Vienna Convention and unsustainable and we have made clear the serious implications that this has for our diplomatic relations."
A Ecuadorian government spokesman said last night: "We are deeply shocked by the British government's threats against the sovereignty of the Ecuadorian Embassy and their suggestion that they may forcibly enter the embassy. This a clear breach of international law and the protocols set out in the Vienna Convention.
"Throughout out the last 56 days Mr Julian Assange has been in the Embassy, the Ecuadorian Government has acted honourably in all our attempts to seek a resolution to the situation. "This stands in stark contrast to the escalation of the British Government today with their threats to break down the door of the Ecuadorian Embassy. Instead of threatening violence against the Ecuadorian Embassy, the British Government should use its energy to find a peaceful resolution to this situation which we are aiming to achieve."
Mr Assange entered Ecuador's embassy in west London in June after his final appeal against extradition to Sweden, where he is wanted for questioning on allegations of sexual abuse, was turned down by the Supreme Court.
The online activist claims that, should he be flown to Sweden, he will ultimately be passed on to US authorities for trial on charges of treason for publishing state secrets. A Foreign Office spokeswoman said last night: "We have consistently made our position clear in our discussions with the government of Ecuador. The UK has a legal obligation to extradite Mr Assange to Sweden to face questioning over allegations of sexual offences and we remain determined to fulfil this obligation. We have an obligation to extradite Mr Assange and it is only right that we give Ecuador the full picture.
"Throughout this process we have drawn the Ecuadorians' attention to relevant provisions of our law, whether, for example, the extensive human rights safeguards in our extradition procedures, or the legal status of diplomatic premises in the UK. We are still committed to reaching a mutually acceptable solution."
Register for free to continue reading
Registration is a free and easy way to support our truly independent journalism
By registering, you will also enjoy limited access to Premium articles, exclusive newsletters, commenting, and virtual events with our leading journalists
Already have an account? sign in
Join our new commenting forum
Join thought-provoking conversations, follow other Independent readers and see their replies