Ecuadorean government holds talks with Labour over Julian Assange embassy impasse
WikiLeaks founder hoping for change of UK government in 2015 to resolve his situation
Kevin Rawlinson
Friday 29 March 2013 18:27 Comments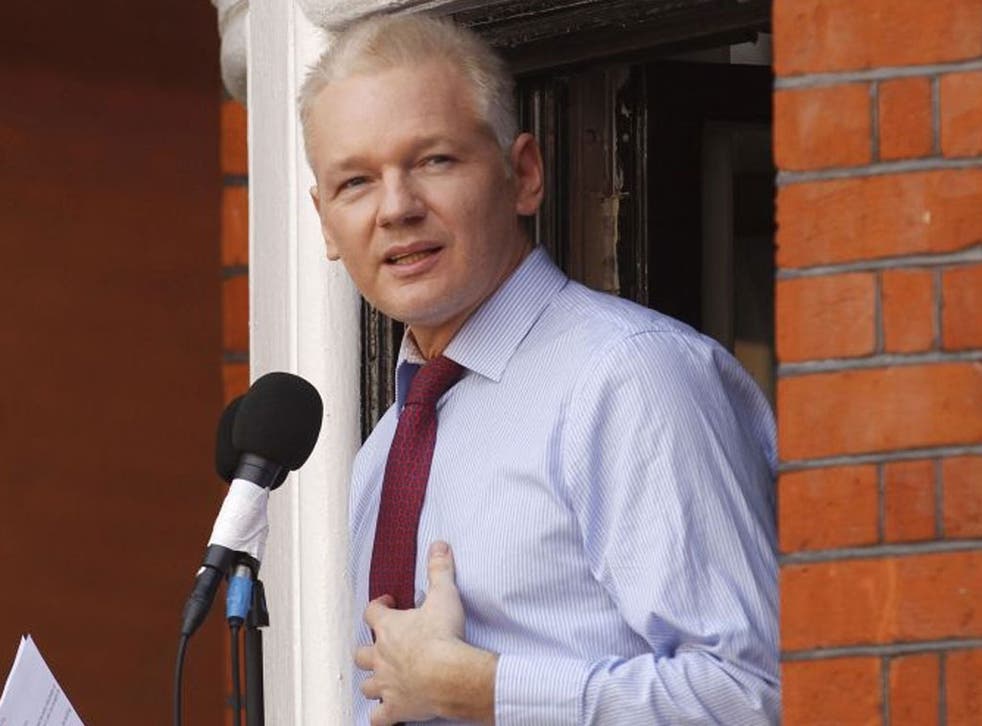 The Ecuadorean government believes there is so little prospect of Wikileaks founder Julian Assange leaving its London embassy in the near future that it has held talks with the Labour Party in a bid to strike a deal that would see him sent to Sweden, where he faces rape charges, after the 2015 election.
Officials at the London embassy want to see an end to the legal and political impasse which has seen Mr Assange holed up inside the building ever since his asylum claim in June last year.
Yet the South Americans believe they could still be housing him for years to come, having failed so far to negotiate a resolution with the Coalition. As a result, Ecuadorean officials are hoping to persuade a future Labour government to offer assurances that Mr Assange will not be onward-extradited from Sweden to the US and thus persuade the Australian to leave.
Mr Assange has refused to go to Sweden for questioning unless he has assurances that he will not then be sent on to America, where he reportedly faces trial for espionage over his work with WikiLeaks. But Theresa May, the Home Secretary, whose authorisation the Swedish authorities would need before agreeing to any US extradition request, has rejected repeated calls to say that she would refuse permission.
A source told The Independent that Ecuador has "lost all faith" in the present government ever agreeing to offer such a commitment and believes that convincing the Labour Party to promise to block the onward extradition – should they form the next government – is their best chance.
Any deal would leave Mr Assange, who claims he would travel to Sweden to prove his innocence if the US threat were lifted, with little choice but to surrender himself to the authorities.
A source said: "Ecuador wants to see the current situation… resolved but has lost all faith in the current government's willingness to do that. They have approached the Labour Party in the hope of striking a deal for after the next election. They do not believe that it is beneficial for Mr Assange to be resident permanently in the London embassy."
Quito has maintained from the day Mr Assange walked into its west London embassy that it wants him to go to Sweden to face the allegations, which date back to 2010. But Ecuador supports his refusal to do so as long as the implied threat of onward extradition remains.
The South American nation's change of strategy all but guarantees that Mr Assange will remain in London at least until the summer of 2015.
The Metropolitan Police estimated in February that the cost of the constant police presence at the embassy was nearly £3m to that point.
Ms May's refusal to offer assurances to Mr Assange, and her failure to find an alternative solution, has left her open to criticism.
In September last year, Amnesty International said it believed that the prospect of a US trial has "played no small part" in the stand-off which remains to this day. It said that a "forced transfer" would represent a "real risk of serious human-rights violations".
A Labour Party spokesman said no meeting has been called solely to discuss Mr Assange but the talks are believed to have taken place on the periphery of a meeting between shadow Foreign Minister Kerry McCarthy and representatives of the Ecuadorean government in London.
Party sources said that Labour would not take a formal position on Mr Assange before the election.
Q&A: Assange's legal position
Q. Why is Julian Assange in the embassy in the first place?
He claimed asylum there after the Home Secretary ordered his extradition to Sweden, a move which followed a lengthy legal battle. His request was granted and he has been living there since last June.
Q. What's it like in there?
A police officer is on permanent guard in the lobby ready to arrest Mr Assange as soon as he leaves. He has his own room within the embassy but cannot go outside.
Q. Why is he refusing to go to Sweden?
He believes the extradition to Sweden is a ruse to get him on a plane to America. His critics point out that the Swedes cannot onward-extradite him without the British Home Secretary's permission but he takes her refusal to rule it out as an implication that it would be granted.
Q. What's the situation there?
Julian Assange has not been formally charged. In Sweden, that can only come after a formal 'questioning' stage; hence why the Swedes want him extradited.
Register for free to continue reading
Registration is a free and easy way to support our truly independent journalism
By registering, you will also enjoy limited access to Premium articles, exclusive newsletters, commenting, and virtual events with our leading journalists
Already have an account? sign in
Join our new commenting forum
Join thought-provoking conversations, follow other Independent readers and see their replies