EDL and anti-fascists clash with police in London
One protester says if Islamist attacks continue: 'I'll be the first white suicide bomber in England'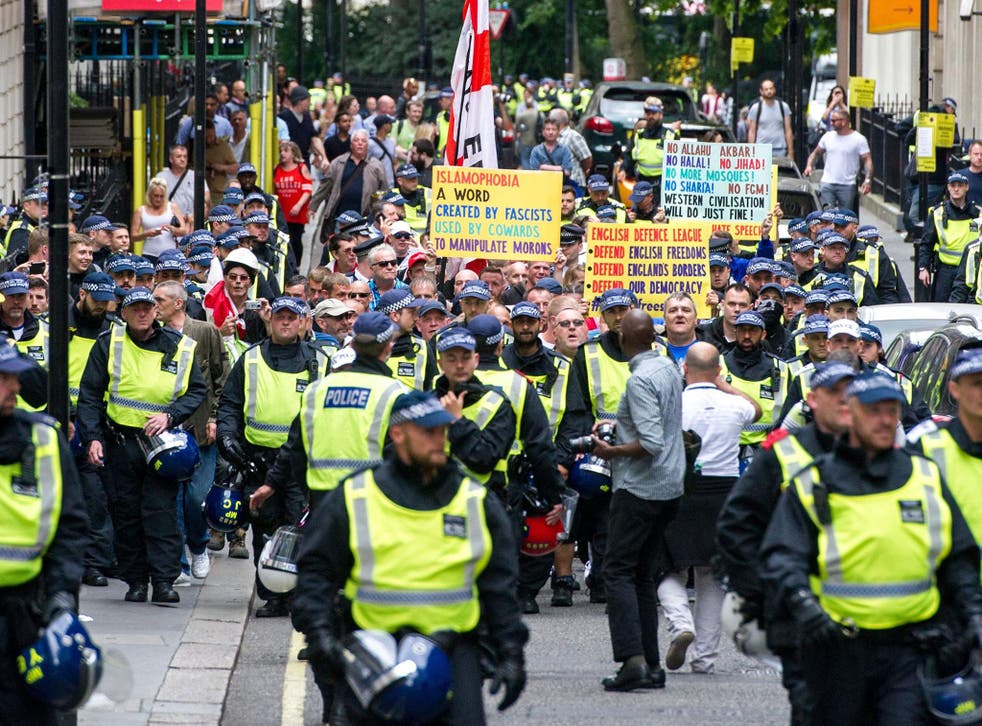 Far-right English Defence League protesters clashed with anti-fascist groups amid a heavy police presence as they marched through central London.
Around 50 EDL protesters made their way from a pub near Trafalgar Square to a rally on the Victoria Embankment on Saturday afternoon.
Some members of the group were carrying banners and St George's Cross flags, while others covered their faces as they chanted "EDL" and "Whose streets? Our streets."
A public disorder arrest was also made in Birmingham city centre on Saturday, where an estimated 250 supporters of the far-right Britain First held a rally, with a similar number attending nearby counter-protests.
EDL supporters in London were met with cries of "Nazi scum, off our streets" as officers kept them separated from anti-fascist groups, including Unite Against Fascism (UAF), who were holding a counter-demonstration on the Embankment some 50 metres away.
Speakers made reference to recent deadly terror attacks in Manchester and London.
One was greeted with cheers as he said if the Islamist attacks continued: "I'll be the first white suicide bomber in England."
EDL marchers were greeted by more counter-protesters as dozens of police officers escorted them along a pre-planned route to Charing Cross Station.
Members of one rival group scuffled with police as they came within yards of the far-right group.
One man, who was dressed in black, was detained by officers as the march continued with the voices of the EDL drowned out by anti-fascist chants.
But tensions died down as EDL demonstrators talked among themselves in smaller groups while music played within a metal cordon, surrounded by police.
On Friday, Scotland Yard said it was taking action under public order laws over the marches planned for Saturday "due to concerns of serious public disorder, and disruption to the community".
Superintendent Emma Richards said: "We have made the decision to impose conditions based on current tensions and concerns, information about the intentions of the organisers of these events and intelligence from previous marches held by similar groups."
Rules laid down by police mean the EDL march was only allowed to legally take place for 90 minutes from 1pm.
The counter-demonstration by UAF was allowed to take place on the Victoria Embankment only between 12.30pm and 3pm.
UK news in pictures

Show all 50
Meanwhile, a Britain First rally passed without any major disorder after a high-profile policing operation in Birmingham city centre.
Officers said one man from a counter-protest group was arrested for breach of the peace after several roads were closed briefly to allow protestors to move from the Hill Street area to Centenary Square.
During the protests, a smoke bomb was let off and a plastic bottle was thrown at officers, who repeatedly had to form cordons to prevent rival protestors from confronting each other.
In a statement issued prior to the march, West Midlands Police said: "We recognise the impact such protests can have on the city but we have no power to ban a static peaceful protest.
"In fact, we and the council have a duty to facilitate the fundamental democratic right of peaceful protest."
Join our new commenting forum
Join thought-provoking conversations, follow other Independent readers and see their replies