One in four elderly people struggling financially as billions of benefits go unclaimed
Nearly three million pensioners are having money problems, with hundreds of thousands unable to pay regular bills or keep their homes warm, survey finds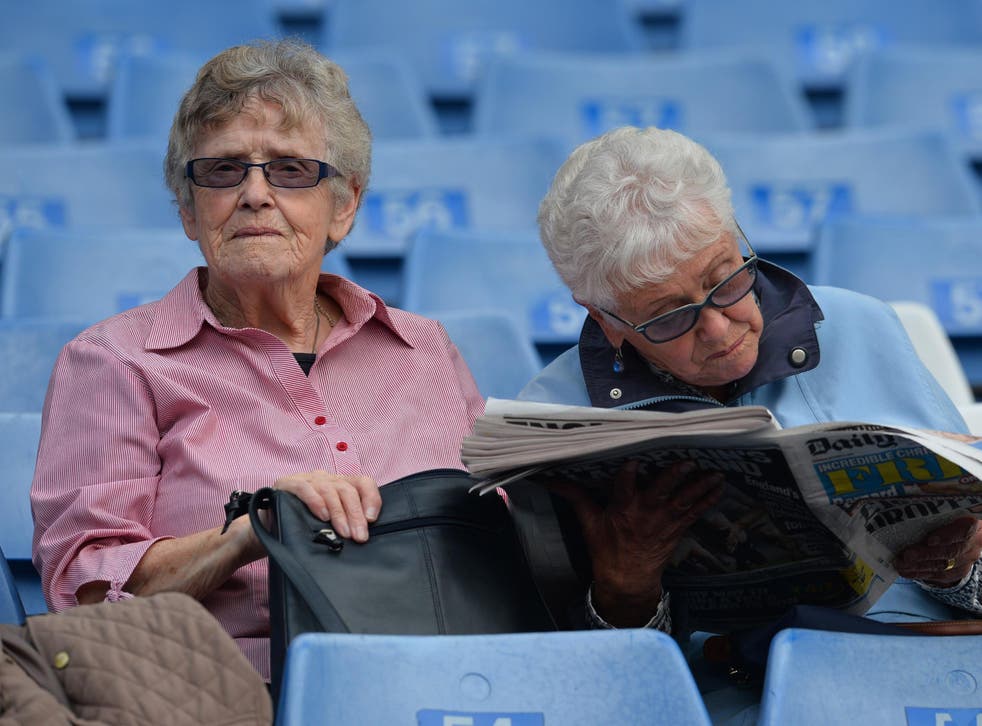 One in four older people are struggling financially, new research shows, as more than £3.5bn worth of benefits for pensioners is going unclaimed each year.
Nearly three million elderly people are having money problems, with hundreds of thousands unable to pay regular bills or keep their homes warm, according to a study by Age UK.
The charity said that despite so many older people experiencing financial hardship huge sums are going unclaimed every year in benefits, including help with council tax, as pensioners are not receiving adequate support in claiming the money for which they are eligible.
A survey of more than 1,300 people over the age of 65 suggested that more than half a million (572,600) are unable to keep their homes adequately warn, while 286,300 are unable to pay regular bills and 708,800 are unable to keep their homes damp free.
Almost a million (945,100) would be unable to replace a cooker if it broke down, the research found, and well over a million (1,299,600) have no access to a car and can't afford a taxi.
The latest Government figures show that 800,000 pensioners are living in "material deprivation", unable even to afford the basics.
Last year the number of pensioners living below the poverty line rose to 1.9 million.
The charity's research showed that those who are in advanced old age or are single or who rent homes rather than own them were at increased risk of living in poverty, with nearly one in five (19 per cent) of all 80 to 84-year-olds and 21 per cent of over-85s in poverty, compared with 13 per cent of 65-69 year olds.
One in five (20 per cent) single pensioners live in poverty, compared to 13 per cent of couples, the figures show.
Separate research meanwhile shows that £3.5bn worth of pension credits and housing benefit are not being claimed by pensioners, with campaigners warning that the overall figure of unclaimed benefit for the elderly is likely to be much higher.
Sally West, Policy manager at Age UK, told The Independent: "Some people just don't know that there are benefits out there; they just haven't heard of benefits like the pensions credit. Often even if people know there is support out there they think it won't apply to them.
"This is combined with other concerns. For example, people think they might have to fill in long forms, give lots of personal information. It might be difficult for them getting out of the house or to get someone to help.
"And people often just don't like to ask for help. They feel there's something not quite right about claiming benefits.
"In some cases, local authorities are encouraging council tax support applications to be done online, which can be particularly difficult for older pensioners."
Caroline Abrahams, charity director at Age UK, said: "Today we are at risk as a society of blithely assuming that every older person is comfortably off, but these new figures show that to be way off the mark.
"In fact the most recent Age UK research suggests that one in four are finding it a struggle to manage. With so many older people worried about being hard up it is certainly not 'job done' when it comes to ending pensioner poverty.
"Trying to make ends meet on a low income is a big challenge at any age. But if you are an older person living on your own and praying that your ageing television somehow keeps going, because you know there is no way you'll ever be able to afford to replace it, life becomes especially grim.
UK news in pictures

Show all 50
"Yet despite so many pensioners struggling financially, as much as £3.5bn in financial help is going unclaimed by older people every year when this extra income could make a real difference to their peace of mind."
Responding to the findings, a Department for Work and Pensions spokesman said: "By introducing the triple lock and protecting the poorest through Pension Credit, we have reduced pensioner poverty close to historically low levels, lifting the incomes of millions of older people.
"Other support, such as winter fuel payments, should give older people the assurance that they can turn up their heating when they need to, without the fear of an unaffordable bill."
Join our new commenting forum
Join thought-provoking conversations, follow other Independent readers and see their replies