Conservative party billboard van overturns in the wind overturns on M6
Van was delivering message about Brexit while driving along M6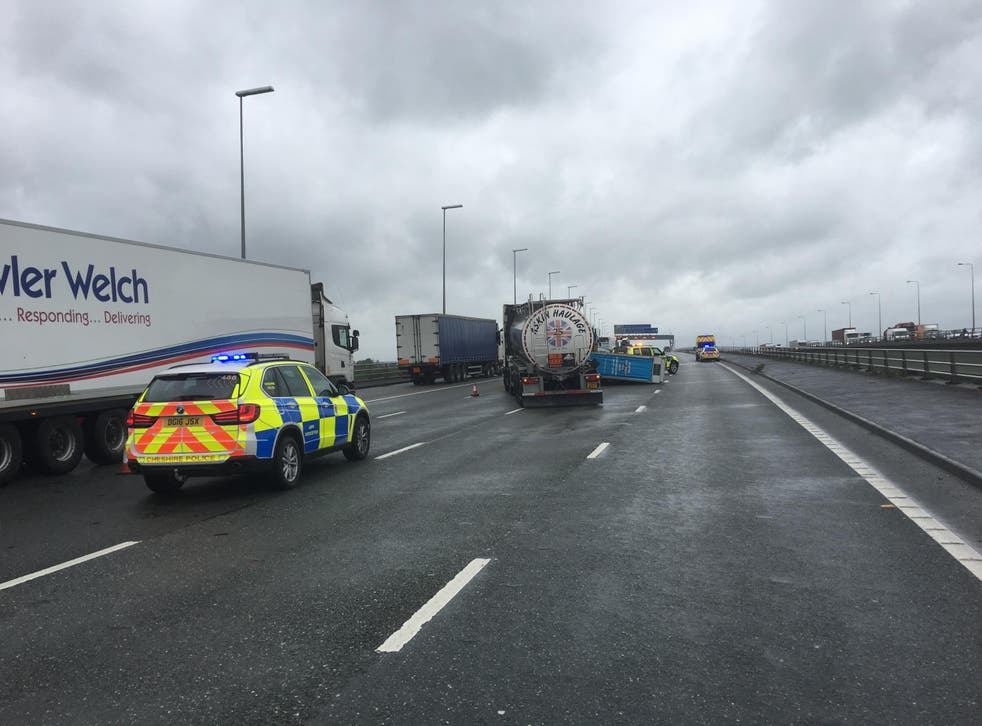 Social media users mocked the Tories' "strong and stable" slogan after a party advertising van overturned on a windy motorway.
Nobody was injured in the accident.
The van, which displays the words, "For the best Brexit deal vote Conservative on 8th June", turned on its side as it was driving north along the M6 between Lymm and Woolston.
Motorists consequently faced long delays, a 30 mile-per-hour speed limit was put in place and emergency services attended the scene.
Highways England was made aware of a fuel spillage by the accident.
After it was clear that there were no injuries, as reported by the Warrington Guardian, Labour councillor Faisal Rashid added: "It seems as though the fate of this wagon is telling us all something!
"Clearly it is neither strong nor stable and is a symbol of Theresa May and the Tories' weak and wobbly campaign."
Theresa May defends her 'strong and stable' soundbite in Andrew Marr interview
People on social media were also keen to make jibes at the Conservatives.
"Oh god this is too perfect - a 'strong and stable' Tory ad van that had been driving round town blew over on the motorway," tweeted one user.
"May's weak and wobbly campaign's crashed, an overturned Tory 'best Brexit deal' Ad Van shutting the M6. It's a sign!" said another.
Should I vote Tory? May's biggest policies explained

Show all 7
A Cheshire Police spokesperson said: "At 10.10am this morning police received a report of an overturned van on the Thelwall viaduct M6 northbound.
"An advertising van had overturned as it crossed the viaduct blocking a lane. No one appears to have been injured.
"There is disruption to traffic in the area and it is advised to use alternative routes until the carriageway is clear."
Should I vote Labour? Corbyn's biggest policies explained

Show all 9
Ms May has urged voters to choose Conservatives to "strengthen her negotiating hand" when it comes to two years of talks over leaving the European Union.
In most polls her party has a significant lead over Labour, despite the lead narrowing over the past seven weeks.
Join our new commenting forum
Join thought-provoking conversations, follow other Independent readers and see their replies