Estranged father charged with defacing Constable's The Hay Wain at the National Gallery
Attack comes after a painting of the Queen by Ralph Heimans was vandalised with spray paint in Westminster Abbey
James Legge
Saturday 29 June 2013 13:21 Comments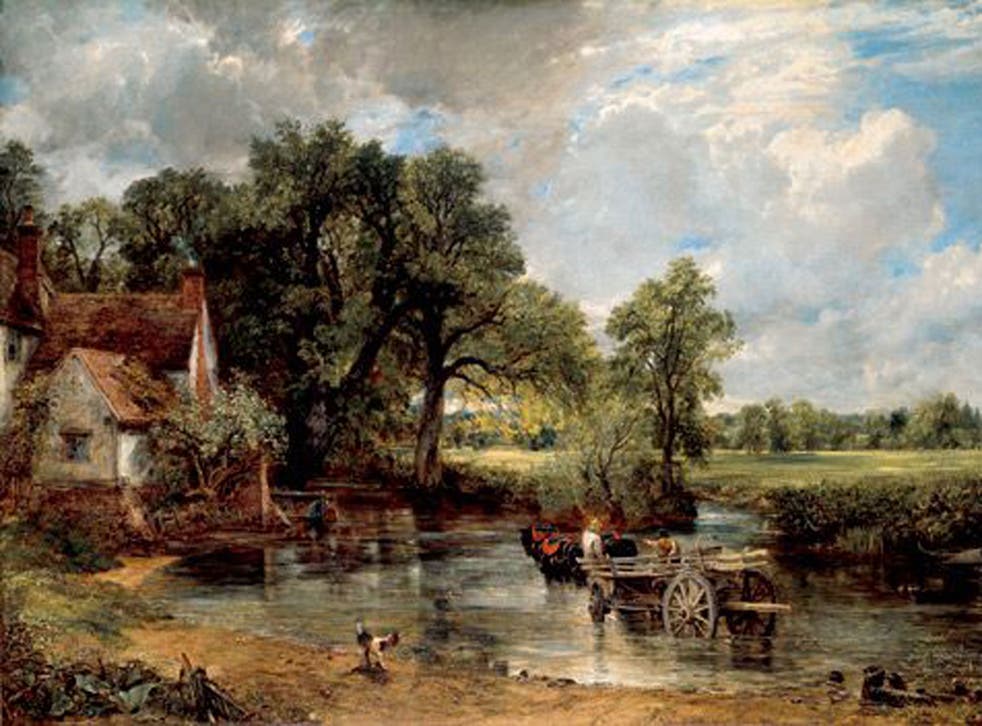 A man will appear in court today, accused of gluing a picture to a famous Constable painting at the National Gallery.
The Metropolitan Police charged Paul Douglas Manning, 57, with criminal damage, and he will appear at Westminster Magistrates' Court, in London.
Manning, of Kirkstone Road, Sheffield, was arrested at the gallery yesterday, after somebody glued a four-inch photograph of a young boy to The Hay Wain. The word "help" was written on the photograph.
He lost a child in a custody battle two weeks ago.
According to a gallery spokeswoman, no lasting damage was done to the 1821 painting.
The spokeswoman said: "Conservation staff were on the scene very rapidly and the painting was removed for treatment.
"No damage to Constable's original paint occurred and there is no lasting damage to the painting."
The incident happened as Fathers4Justice said it was abandoning its five-year "attempted engagement with the political establishment" and called on fathers to take "independent weekly direct action" in the spirit of the Suffragettes 100 years ago.
Constable's oil painting shows an idyllic rural scene with a cart - the eponymous hay wain - in the river Stour in Suffolk.
The attack is the second on a work of art in a fortnight, coming after a painting of the Queen by Ralph Heimans was vandalised with spray paint in Westminster Abbey in what was believed to be a Fathers4Justice protest. Tim Haries, 41, went before Southwark Crown Court in London with criminal damage to canvas.
Fathers4Justice has previously been associated with high profile protests by fathers, often wearing superhero outfits, designed to cause public disruption.
The statement said the group was "abandoning its five-year long attempted engagement with the political establishment" and called on fathers "to take independent weekly direct action" in the same spirit that the Suffragettes campaigned for votes for women. It claimed 1,000 families are "destroyed in the secret family courts" each week.
It announced it will refuse "to deal with the government, police, courts, judiciary and any other organisations involved in family law". It also cut ties with the national media, blaming "deliberately inaccurate and misleading reporting".
A spokeswoman added: "We can no longer stem the tide of desperation and anger of fathers who have had their families destroyed and their hopes betrayed by a government that promised equal parenting but only delivered desperation."
Register for free to continue reading
Registration is a free and easy way to support our truly independent journalism
By registering, you will also enjoy limited access to Premium articles, exclusive newsletters, commenting, and virtual events with our leading journalists
Already have an account? sign in
Join our new commenting forum
Join thought-provoking conversations, follow other Independent readers and see their replies